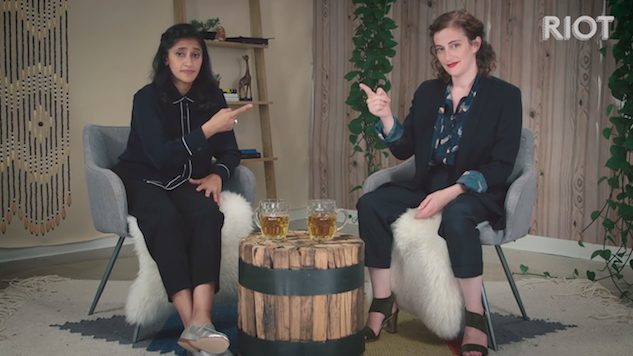 Two very different festivals are taking place on the coasts this weekend: while Washington, D.C. ushers in the beginning of a four-year horrorshow with the world's dumbest celebrity being handed the literal codes to nuclear annihilation, a more light-hearted gathering is scheduled in Los Angeles as the fifth annual RIOT LA comedy fest kicks off this weekend.
There are a lot of great shows we're looking forward to, not least of which is one show that features two of comedy's most delightful voices: Aparna Nancherla and Jo Firestone. It's a show called Aparna 'N' Jo, which makes sense.
Both comics share a taste for the dryly absurd and whimsical and they've been blowing up in the last few years. Perhaps you've seen Nancherla on her Comedy Central Half Hour or Conan or Inside Amy Schumer. Firestone was one of this year's New Faces at the Just For Laughs festival and a Comedy Central's Comics to Watch in 2015. Probably you recognize them most from our Top 25 comedians of 2016 list.
Now they'll be bringing their show to LA. We caught up with the comics for a few questions on the eve of the festival (and possibly the end of the world).
Paste: Tell us how you guys met. How did you decide to start working together?
Jo Firestone: I think we met when I asked Aparna to be a celebrity judge at my pun competition. After that, we kept running into each other, which was always a good time. I can't remember exactly when we started being real friends. Aparna, do you remember the exact moment? I don't remember the details but I think lightning and thunder were involved.
Aparna Nancherla: Jo DID ask me to be a celebrity judge at her pun competition. I can verify that. Little did she know that I already knew about her because of this real great video she was in called Tiny Comedy Club! I highly recommend a watch. It's strange and wonderful, like Jo. I mean strange in a highly complimentary way. Jo's also right in that I don't remember the exact moment we became friends except that she invited me once to a brainstorming session for her games radio show and then to her birthday, and that's when I thought I was officially "in" with Firestone. About fifty years and three divorces later, Jo asked me if I wanted to co-host an advice series with her for Refinery29's new comedy channel. And here we are.
Paste: Last year, you two co-created and wrote the very funny YouTube series Womanhood. How did you decide on an advice show about being an adult woman?
Firestone: What can I say, we are women-identifying millennial creatures.
Nancherla: Yes, and might I add we are also both part-time water goblins (see our aqua-cycling episode for confirmation).
Paste: Your jokes often deal with depression and anxiety but there's also a sense of wisdom about it too. How have depression and anxiety affected or informed you? Do you still deal with it, how do you handle it, and what helped you?
Nancherla: I would say I've dealt with them both since I started comedy, so for better or for worse, they've informed my journey. I only started talking about them when I was in a serious rut, and decided all I could do was try and write about it. I wasn't sure I had anything to add to the conversation, but now here we are talking about how it informs my jokes!
Paste: Jo, you've found fun ways to experiment with how you express your comedy: creating the card game Punderdome, hosting a game-filled soft-rock dedication show on WFMU. Can you talk a bit about incorporating your interests into your comedy?
Firestone: I like experimenting with forms, and it's not always the funniest product, but it's generally always worth a shot to try it.
Paste: What's your favorite thing about comedy right now?
Firestone: Sometimes a comedian will make something that's so stupid and funny, and it just makes your whole day, but you know that! This is old news!
Nancherla: That there is always someone doing something that can really get you going. Also, the best comedy for me is when I see something I never even realized I was missing, and now I can't imagine living without having seen it.
Paste: What's the hardest thing?
Firestone: I feel sad and angry when I think about the state of America, so on a personal level, I've been trying to delve into the sad/angry feelings so I can eventually see the comedy in it.
Nancherla: I think trying to be funny while the world is burning (it's always been burning, but now it's UP CLOSE and PERSONAL).
Paste: How are you guys feeling about performing at a comedy festival this weekend, with Trump's inauguration?
Firestone: I think it will be exciting to be downtown for the LA march. We're planning on coming from the march straight to the show, so I imagine we will be feeling very inspired (sweaty).
Nancherla: Yes, we both wanted to try to go to the march in DC this weekend, but we couldn't manage it with our work schedules, so we're both marching in LA. And we will march right to our show with fire in our eyes and Change.org petitions in our hearts.
Paste: Your YouTube show was on a channel called Riot and your show this weekend is at a festival called Riot but they are not the same thing. Why is comedy so into riots?
Firestone: Fierceness in brands must be in right now!
Nancherla: Because it's a backlash against the system, man.
---
Aparna and Jo will perform Aparna 'N' Jo on Saturday, January 21st at 4 p.m. at North Hall. Tickets are $20.