Watch a Behind-the-Scenes Preview of Michael Schur's New Sitcom Rutherford Falls
Photo by Colleen Hayes, courtesy of Peacock
Comedy
News
Rutherford Falls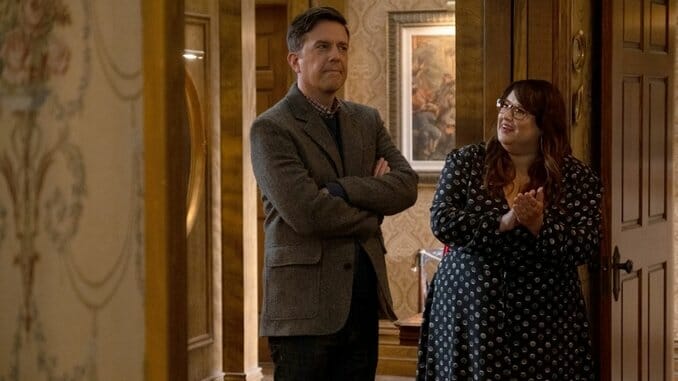 Michael Schur—the maven of smart, feel-good sitcoms like The Good Place, Parks & Recreation and Brooklyn Nine-Nine—has a new comedy launching on Peacock today. Schur joins co-creators Sierra Teller Ornelas and Ed Helms to bring us Rutherford Falls, a sitcom that tries to grapple with serious issues about colonialism, how to appropriately remember our past, and the United States' deplorable treatment of the indigenous population. But, y'know, funny. If anybody can thread the needle between inherently non-comedic subjects and legitimate humor, it's Schur, who has done just that on Brooklyn Nine-Nine and The Good Place. And with Ornelas, who is part Navajo, and has written for shows like Happy Endings, Superstore, and Nine-Nine, serving as showrunner, Rutherford Falls is in the hands of a Native American writer with deep experience working on great sitcoms. In addition, half of the show's writing staff is also of indigenous heritage.
It's crucial to have that kind of experience on the writing staff not just to insure that the show's indigenous characters are portrayed respectfully and accurately, but also because part of the show's focus is on the national reckoning with American history that's been playing out over the last few years. Ed Helms plays Nathan Rutherford, a descendent of the founders of the town Rutherford Falls, who runs a museum devoted to a white-washed version of its history; Jana Schmieding plays his close friend Reagan Wells, a member of the Minishonka Tribe whose land was taken by Rutherford's white ancestors, and who wants to create a new cultural center that more accurately reflects the history of the town. When a statue of Nathan's colonizing ancestor becomes a point of contention, he fights to preserve it, which puts him in some problematic territory. It would be understandably difficult for many viewers to feel kindly towards a character defending a statue that honors somebody who stole land (and probably more) from indigenous people; to find the kind of nuance that could make that character at all likable would require not just a really impressive actor but also writers that deeply understand the issues at play and how to deal with them with intelligence and sensitivity. With Ornelas in charge, Rutherford Falls will hopefully clear that hurdle.
If you want to learn more about Rutherford Falls, and the approach it takes to dealing with such thorny issues, here's an exclusive behind-the-scenes clip featuring Helms, Schmieding, and the rest of the cast discussing the show. In addition to its two leads, the cast also includes Michael Greyeyes, Jesse Leigh, and Dustin Milligan. The full 10-episode first season landed on Peacock today, so feel free to binge away—after you watch the video below, of course.