Watch Samantha Bee Make Marianne Williamson an Offer She Can't (But Did) Refuse
Image via TBS/YouTube
Comedy
News
Samantha Bee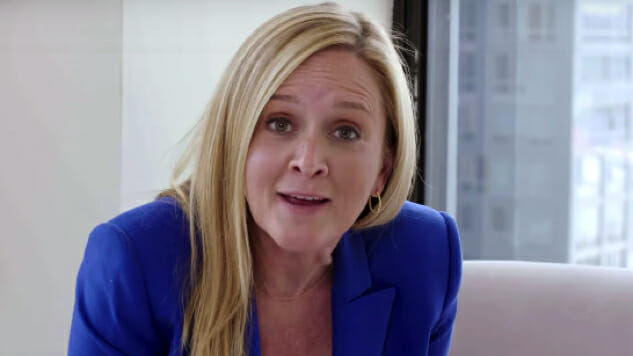 Late-night host Samantha Bee pulled a Godfather and threw out an offer one can't possibly refuse when she asked author and presidential hopeful Marianne Williamson to drop out of the 2020 race so Williamson could come on Bee's late-night show. However, defying all odds, Williamson said no and plans to "win" the presidential race.
An ongoing bit on Full Frontal with Samantha Bee, Bee has promised free airtime on her show to any Democratic primary candidates who drop out of the 2020 election on their own accord.
In Bee's latest plea, she reached out to Williamson and tried to persuade the magnificently odd author to drop out and come "read her aura" on Full Frontal.
Trying to appeal to Williamson's relaxed, offbeat character, Bee even bribed her with throat lozenges, agave and anything else that helps make Williamson's voice so "angelic."
In a fun turn of events, Williamson replied to Bee's offer via an Instagram caption of her photo backstage at The Late Show with Stephen Colbert. Fitted with an emoji and a "ha ha," Williams turned down Bee's offer with all the sass in the world.
Bee has previously called on Democratic candidates to drop out of the presidential race and instead run for Senate. Bee name-dropped Montana Gov. Steve Bullock and former Colorado Gov. John Hickenlooper in an older clip.
"Winning the presidency would be great, but real change is impossible unless the Senate changes hands, too," Bee states in the clip.
Currently, all three of the candidates named by Bee are headed into night one of the second round of Democratic primary debates on July 30. The round will mark Bullock's first time on the debate stage after not qualifying for round one.
Watch Bee's full clip about presidential candidates who should run for Senate below.