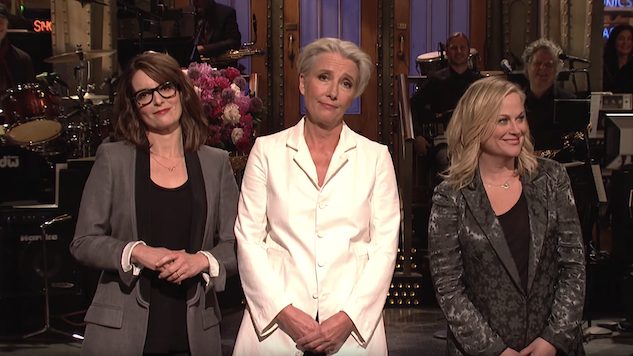 There are only really two kinds of Mother's Day gifts. You've got the thoughtful present, something personal that lets your mom know you've reflected on what she means to you and found a symbol of your love. And then there are the "oh crap I forgot to get something, what's still available at CVS" gifts. It's the thought that counts, right? In keeping with that tradition this Mother's Day weekend, Saturday Night Live gives us a Toblerone and a mylar balloon. And even if it isn't pearls, you appreciate the effort behind it.
Tonight marks Emma Thompson's Saturday Night Live hosting debut and good lord should they have actors with theater backgrounds on more. Over Thompson's illustrious career she's starred in everything from Oscar-winning classics (Howards End) to big budget shlock (Men in Black 3). She's also a storied stage actor, used to the stresses and quirks of live performance.
Her stage time shows throughout the episode, never missing a line or glancing at the cue cards. It's remarkable to see a first-time host feel so comfortable on the Studio 8H stage. On a night when the big hits were notable, and everything fell a little flat, Thompson's enthusiasm for being on the show kept the energy high.
Rather than break into song or try stand-up Thompson's opening monologue is a love letter to mothers. Bringing out Saturday Night Live alumni Amy Poehler and Tina Fey, Thompson leads the crowd through a lesson in what moms are really saying. The gems, like "When she says let's not talk politics" she means "Don't ruin Joe Biden for me, he's what I picture," make the segment an overall success.
This week's sketches are a mixed bag, even as Thompson shines in each of them. When the show hits gold, it's still a lot of fun to watch Saturday Night Live. The "Happy Mother's Day" digital short is a darkly sweet goof on rose-glasses family history. "Judge Court" is a strong premise when it focuses on the terrifyingly loyal friendship between the three judges. Aidy Bryant is one of the criminally underrated cast members on the show, with a ridiculous gift for delivering brilliantly over the top dialog without breaking character.
"Chopped" proves fertile ground for absurdist comedy and delivers some of the best impressions of the season from the cast. If you're already a fan of Chopped, it's almost eerie, but by pushing the premise to almost horror movie levels Saturday Night Live avoided a lot of the easy Chopped jokes to make something their own.
Horror seemed to be a theme this week, particularly in "Disney's Beauty and the Beast Live." I've never considered the nightmarish lives of the gym equipment in Beast's castle or what the freakish offspring of Beast and Ms. Potts would look like, but now I know.
As a critic of the show, it's important to acknowledge that Weekend Update was on a roll this week. Jost and Che's political humor was a little more pointed than usual, making a pleasant change from the softballs they typically throw. It was unexpected to see them swing as hard at the pro-life movement as Jost's joke, "This week is Mother's Day, a holiday Georgia is trying to make mandatory" or describing Mitch McConnell as "always looking like he's watching a man slowly drown."
Heidi Gardner brought back Bayley at the Movies, her teenage girl movie correspondent that's exponentially funnier than the premise might suggest. Gardner is a gifted character actor, and Bayley is simultaneously goofy, innocent, smart, and ignorant. Impressions of teenagers rarely feel nuanced, and the joke isn't that teenage girls are idiots, but that developing human beings are adorable. I dig it.
Update rounds out this week with a desk segment from Pete Davidson about living with his mom still at 25 in a house he bought. If you've seen Davidson on late night recently, you might have heard some of this material, but it's sweet. Maybe I'm a sucker who misses his mom, but if you bring your mom out for a sketch in any capacity, you get a pass from me.
There's a lot of fun, if unremarkable, material in this week's episode. Great performances elevate the weaker moments, making gems out of half baked ideas. But when it misses, dear lord is it harsh. What's most frustrating about it is the most significant issues are ones Saturday Night Live viewers have come to expect. Sick of cold opens where they make half baked impressions of political figures kind of talking about the news? Too bad! This week we get an episode of Meet the Press and Christ am I tired.
Did you see the coffee cup on Game of Thrones? Now enjoy a seemingly never-ending sketch about forgotten products in Roots and Shakespeare in Love. Ever wish you could see Emma Thompson and Cecily Strong play a 200 level improv game as actresses who can't let the other person get the last word? Oh boy, are you going to love this episode.
The two worst sketches of the night, one about the royal baby and one about an out of control teenager on a talk show, both revolve around the idea of Emma Thompson teaching a black woman how to behave in public. One sketch felt a little strange, but by the time we get to the second one it stuck out. Was there a need for two of these sketches?
Also this week I learned there's no "The" in Jonas Brothers. Unless they dropped "The" when they became adults. Maybe before they were The Jonas Brothers, a group of boys, but now they've returned as sexual men, so they've dropped "The" to be Jonas Brothers. Their new single sounds a lot like "Feel it Still" by Portugal. The Man.
Overall it's a fine episode of Saturday Night Live, with a surprisingly strong Weekend Update and a few moments of brilliance. Emma Thompson is a delight in general, so hopefully, she gets to come back and host again sometime. Next week marks the final episode of the season, with host Paul Rudd and musical guest DJ Khaled. Hopefully, it will be the best.
---
John-Michael Bond is
Paste
's assistant comedy editor. He's on Twitter @BondJohnBond.