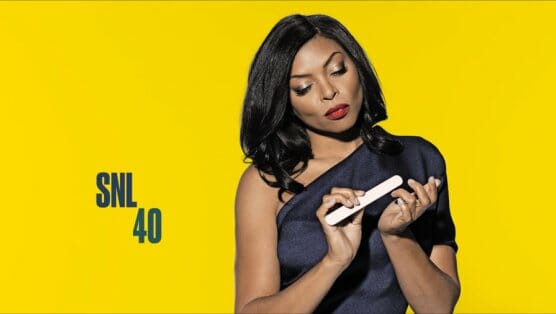 You may recognize first-time Saturday Night Live guest host Taraji P. Henson from the hit Fox show Empire, but it was her Oscar-nominated performance in The Curious Case of Benjamin Button that elevated her from hard-working character actress to movie star. Henson certainly has the chops for SNL hosting duties, but the show lets her down by never quite figuring out what to do with her beyond the most obvious: slight variations on Empire's manipulative would-be matriarch "Cookie." Case in point, the last sketch of the night, "Connectatron." Though Henson is funny enough as a perpetually pissed off Power Rangers-styled kid hero, the sketch is just a standard-issue riff on the super-lame "sassy black girl" trope. A talent like Taraji P. Henson deserves better than that, SNL.
Still, the episode mostly holds together through a few awful moments because of the continued world domination by best-in-cast Kate McKinnon, who can certainly make a case for leaving SNL at season's end to embark on a much deserved and far more lucrative film career.
Cold Opens have been weak this season, but with Presidential politics finally heating up, we are privied to Kate McKinnon's superb Hillary Clinton. SNL's running Hillary joke seems to be some combination of Clinton's bald-faced ambition and practiced personal perfection, but it is the promise of Darrell Hammond's Bill Clinton return to Studio 8H that should make us all look forward to the upcoming election. Hammond has served as the show's live, in-studio announcer since the passing of Don Pardo, though one can imagine he's been chomping at the bit to get back in front of the camera. "Did somebody say women everywhere?" may actually be this season's funniest joke.
"Depend Legends," a commercial parody about adult diapers emblazoned with classic movie star faces and famous works of art, is a deeply funny piece that skewers aging Baby Boomer's obsession with celebrity and materialism. One hopes that the generation that founded SNL can appreciate so personal a dig, as its style is as much an homage to old Saturday Night Live as it is generational smack talk.
Though its premise is quite troubling (teenage boys who have sex with their public school teachers are pretty much thrilled about it), "Teacher Trial" provides a good example of the strength Cecily Strong brings to the current SNL cast. Strong's flirty high school teacher is just one of dozens of well-crafted utility characters she brings week in, week out. If Kate McKinnon is SNL's new Kristen Wiig-Molly Shannon, Strong is the show's new Phil Hartman.
In "QVC" Kate McKinnon gives us another variation on her squirming and slurring showbiz diva character. Taraji P. Henson and Aidy Bryant get the QVC shine just right in support, but the sketch's aim is to highlight McKinnon, who dominates yet another SNL40 episode on her way to a second "breakout" season. Incidentally, whoever wrote McKinnon's Cecilia Gimenez monologue on Weekend Update (and why do we still not know who writes SNL sketches?) deserves recognition. True, McKinnon wows with incredible character work, but this is a writer's bit. And it's great.
And speaking of Weekend Update, it was good to see Billy Crystal take a 40th anniversary season bow, as Jacob the Bar Mitzvah Boy's (Vanessa Bayer) father. Crystal was a Saturday Night Live cast member for just one season (1984-1985), but made a big enough impression that year to elicit a few audience woots with a catchphrase tease: "You look mahvelous!"
Fans were thrilled earlier this year when Mumford & Sons released what is essentially the new Coldplay album…and this was a pretty solid performance from the group in their second SNL appearance. Marcus has banished the banjos, but his boys still strum and bellow with their rock star guitars. Unlike many musicals guests this season, Mumford & Sons brought the right kind of energy to the show, which served to keep the episode's pace swift.
Two big gripes. One, "Hollywood Game Night" is no "Celebrity Jeopardy," SNL. Can we retire this lackluster bit? And two, what a wasted opportunity "Sesame Street Promo" was! So…the Children's Television Workshop opens their iconic studio and cast to SNL, and all we get is a half-assed Empire spoof? There had to be better ways to bring Taraji P. Henson's "Cookie" to life…and more appropriate uses for this chance to make comedy with the Sesame Street puppets.
"Their Own League" is a brilliant mess of a sketch that may have worked better as a fully realized scene apart from the "Cinema Classic" frame. Many will argue that it shouldn't have even made it out of the table read—it's as dark a sketch as you will see on Saturday Night Live, and feels unfinished, rushed, preachy. But what an idea! When Kate McKinnon says "Okay, okay, here's the thing…while our husbands are away, we're the racists," you can actually hear the studio audience gasp a little…unsure if they should laugh or sit quietly. It's a great moment—more efficiently making its sharp point than any recent Hollywood melodrama.
SNL40 has shaped up to be a pretty strong incarnation of NBC's iconic show, with all the benefits and limitations that implies. Three solid episodes in a row have set us up for a promising season finale run.
Chris White writes and directs independent feature films. His latest, a showbiz comedy about looking for Bill Murray, is called Cinema Purgatorio and screens at the Sarasota Film Festival later this week. Follow Chris on Twitter.