T.J. Miller's The Gorburger Show Canceled by Comedy Central
Multiple women have now accused the actor and comedian of sexual misconduct
Photo by Rich Polk/Getty
Comedy
News
T..J. Miller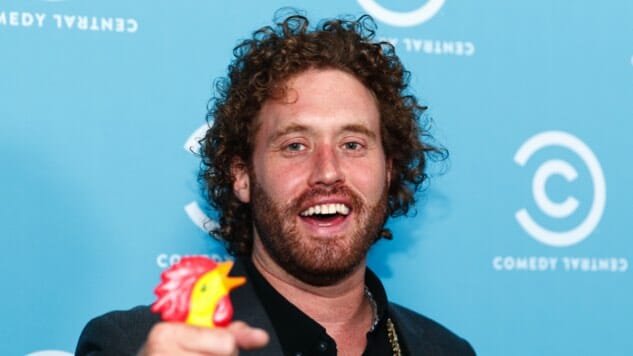 On Tuesday morning, actor and comedian T.J. Miller was accused of sexually assaulting and punching a woman in 2001. Hours later, on Tuesday afternoon, Comedy Central canceled Miller's animated series The Gorburger Show after just one season.
Per THR, a Comedy Central rep claimed that the decision to cancel the show was made well before the disturbing allegations against Miller were made public. Regardless of the order of events, pulling the plug on The Gorburger Show was the overwhelmingly correct call.
The accusations against Miller, made by an anonymous woman in a detailed and graphic report published by The Daily Beast, described a horrifying assault at the former Silicon Valley star's hands that occured while the two were dating at George Washington University. The woman said that Miller choked her, "anally penetrated [her] without [her] consent, and "used [a beer] bottle at one point to penetrate [her] without [her] consent." On Tuesday evening, adult film star Dana DeArmond also accused Miller of sexual misconduct, tweeting that Miller and director Jordan Vogt-Roberts had harassed her while shooting Comedy Central's Mash Up, which aired in 2012. And in the hours since, other stories about Miller's alleged awfulness have begun to circulate on social media, including accounts of him sending an abusive and transphobic email to a film critic, acting suspiciously around a woman's drink at a bar and threatening a female comedian's career.
It's safe to say that his career is over now. Nobody ever wants to be on the receiving end of this kind of transphobic abuse. This was the email that found its way to my inbox just one week after the Emoji Movie was released. https://t.co/Nh4T7l0Djf

— Danielle Solzman (@DanielleSATM) December 19, 2017
I've been encouraged to publicly share my story. So if you're ever talking about TJ Miller to me and I exclaim "Fuck that guy" this is why. pic.twitter.com/IgYyN6m2cZ

— Dalia (@darent85) December 19, 2017
TJ called the night before my restraining order hearing with my abusive stalking ex who was his buddy. he threatened to destroy my career if i went through with it. i won the restraining order anyway. i know this girl. believe her. https://t.co/1GkoNAQIGi

— lauren ashley bishop (@sbellelauren) December 19, 2017
Miller and his wife Kate denied the allegations made in The Daily Beast's report in a joint statement on Tuesday, claiming that the alleged victim "began again to circulate rumors online once [their] relationship became public" and "is now using the current climate to bandwagon and launch these false accusations again." They added, "It is unfortunate that she is choosing this route as it undermines the important movement to make women feel safe coming forward about legitimate claims against real known predators."
The Gorburger Show aired eight episodes on Comedy Central from April 9 through June 4, with Miller serving as its star and executive producer. He voiced and puppeted the show's host, a giant blue alien who, after invading a Japanese television variety show and enslaving its staff, stuck around as host in an attempt to understand what it means to be human. Guests on the show included Rob Corddry, Larry King, Tig Notaro and Reggie Watts.
Miller has a number of feature films coming up, made by many nice people who are now likely horrified by the prospect of having worked alongside such a person. The actor had become something of a go-to comic relief for big studio movies, and thus is set to appear in Steven Spielberg's Ready Player One, DreamWorks' How to Train Your Dragon 3, the Kristen Stewart-starring Underwater and, as it is currently known, The Untitled Deadpool Sequel. It remains to be seen whether the producers of any of these films will attempt to remove Miller from their projects, a la Ridley Scott wiping Kevin Spacey from his All the Money in the World.
Read Paste Comedy contributing writer Jamie Loftus' powerful essay on the allegations against Miller here.