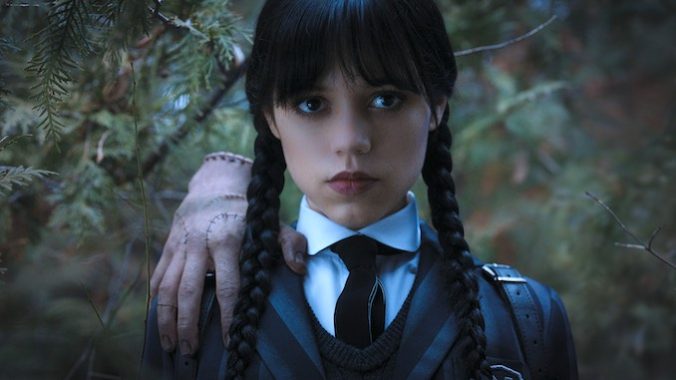 Saturday Night Live has revealed the slate for its upcoming episodes, starting with Woody Harrelson on February 25, Kansas City Chiefs tight end Travis Kelce on March 4, and Wednesday star Jenny Ortega on March 11.
This will be Harrelson's fifth time hosting, and he's a safe bet for sure. He's willing to be goofy and go big. Harrelson has proven his comedy chops time and time again, including in iconic roles like his eponymous character in Cheers. Fellow SNL veteran Jack White will be the music host for the episode in his fourth time performing solo on the show.
Kelce is definitely a bit more of a gamble. SNL has a history of bringing on sports stars—the Brothers Manning, J.J. Watt, and Ronda Rousey to name a few—but unless they're big personalities like former NBA star and four-time SNL host Charles Barkley, they can easily get lost in the shuffle. For what it's worth, though, Kelce seems very comfortable onstage, as seen in his confident karaoke performance of Beastie Boys' "Fight for Your Right" on The Tonight Show with Jimmy Fallon. That March 4 show definitely seems designed to appeal to a demographic outside the usual SNL viewers, with Grammy-nominated country pop artist Kelsea Ballerini making her Studio 8H debut. She released her most recent EP, Rolling Up the Welcome Mat, on Valentine's Day.
And finally, something for the youths with Jenny Ortega (in her SNL debut) and The 1975 (their second appearance on the show). Ortega is well on her way to becoming a scream queen thanks to her roles in the horror films X, The Babysitter: Killer Queen, and Scream VI, the latter of which is in cinemas March 10. And that's not to mention the fact that she's starring as Wednesday Addams in one of the few Netflix shows that the streamer hasn't pulled yet. Ortega is an enthusiastic and committed performer, so our hopes are high for her episode. We'd also place our bets on Sarah Sherman bringing her signature body horror humor to an Addams Family sketch.