Pepe the Frog Creator Matt Furie Pens New Comic Showing Pepe's Alt-Right Nightmare
Art by Matt Furie/The Nib
Comics
News
Pepe the Frog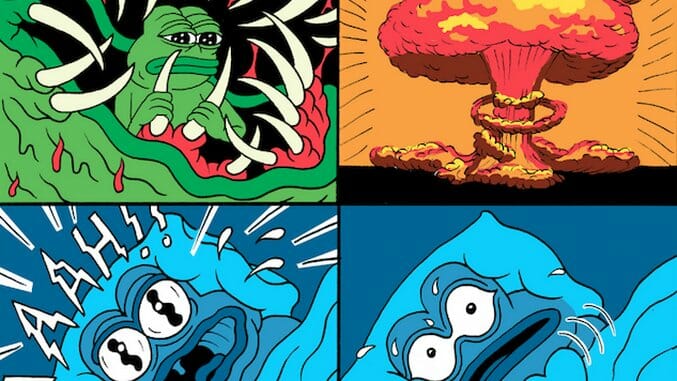 The story of Pepe the Frog is perhaps the perfect internet-era pairing for this increasingly bizarre election. Pepe began as a character in the comic strip Boy's Club by Matt Furie in 2005 and, because of his goofy and slightly grotesque face, the frog became a popular meme a few years later. But Pepe has seen an explosion in visibility recently, for all the wrong reasons.
As easy comedy fodder for the, let's say, uncouth part of the internet, Pepe often found himself used in alt-right image macros and memes. The association between Pepe and the alt-right grew so strong that he was the subject of a Daily Beast article, the official Hillary Clinton website has a page on him, and he appeared on CNN in a discussion about alt-right and white nationalist imagery.
Pepe's creator, though, isn't at all fond of the association. In a statement issued by his publisher, Fantagraphics, Furie came out strongly against Trump and the alt-right, saying that he "condemn[s] the illegal and repulsive appropriations of the character by racist fringe groups linked to the alt right movement and the Donald Trump presidential campaign."
Now Furie has authored his own comic to rebuke the Trump connection to his creation. Furie's new comic, called "Pepe the Frog: To Sleep, Perchance to Meme" has been published on The Nib, a hub for political comics. Described as an "alt-right election nightmare," Pepe morphs into a Cronenberg-esque version of Trump and then gets swallowed by his bed Nightmare on Elm Street-style.
You can see the whole comic here.