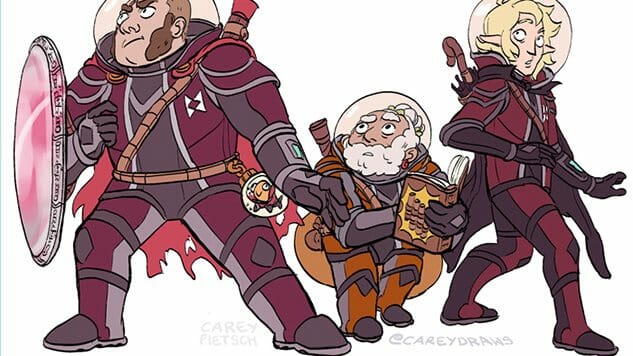 The barrier between creators and fans of their work is thinner than it's ever been thanks to the internet. Devotees have instant, direct access to giving creators feedback and suggesting narrative and art tweaks. This new status quo follows centuries of pre-internet fan communities having little agency to express their admiration or displeasure, aside from letters, meet-and-greets and the occasional stalking. With fans accessing direct channels to the creators, the boundaries of entitlement have blurred between consumer and producer, and a new aggression is building in corners of viral fandom.
Fans caused Lauren Zuke, a storyboard artist on the Cartoon Network series Steven Universe, to leave Twitter. The artist experienced days of harassment from circles of fans following an episode they wrote that featured two major characters reconciling a series-long feud. The bulk of the criticism accused Zuke, who identifies as queer and non-binary, of "queerbaiting," a storytelling tactic in which a queer character or relationship is teased to appeal to queer audiences, but is ultimately not realized on screen or in text. They deleted their Twitter account following the uproar, but not before addressing the public:
"I decided I don't want to be accessible to thousands of people who think because I work on a TV show that I owe them myself all the time… Remember you're tweeting at a literal human being and life exists outside of Steven Universe."
Their parting statement shed light on a fan climate becoming comfortable with violating creators' boundaries. But this trend isn't exclusive to one medium.
The Adventure Zone
The Adventure Zone is a live tabletop fantasy roleplaying game podcast by the McElroys, brothers who also co-host the comedy advice show My Brother, My Brother and Me. Justin, Travis and Griffin spun the series off from a one-time game of Dungeons & Dragons played on their flagship show. Adding their dad, Clint, the McElroys took their first steps into serial fiction podcasting. As Dungeon Master, Griffin writes and oversees the campaign arcs the other participants play out. Clint voices Merle Highchurch, a dwarf and lapsed cleric; Travis plays Magnus Burnsides, a human fighter with a fondness for rushing into conflict; and Justin plays Taako, a mischievous elf wizard on a quest to invent the taco. The show was well received, averaging five stars on iTunes from thousands of listeners and garnering a cult following on Twitter and Tumblr.
Last December, publisher First Second Books announced a graphic novel adaptation of the podcast, The Adventure Zone: Here There Be Gerblins, tapping artist Carey Pietsch (Adventure Time: Marceline Gone Adrift, Lumberjanes) as illustrator. Pietsch (pronounced peach) had been active in the fan community online, posting sketches and illustrations of full scenes from several campaign arcs.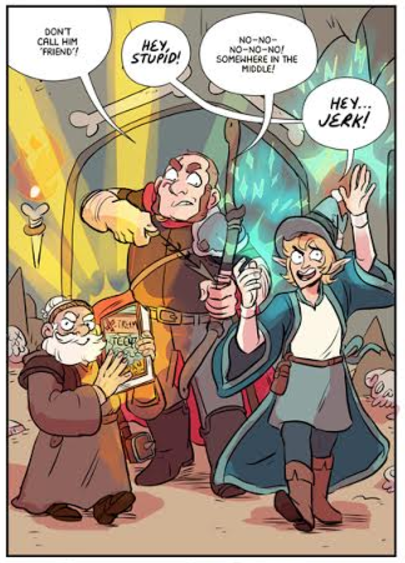 Original Adventure Zone Sketches By Carey Pietsch
The character designs Pietsch used in the preliminary graphic novel art were adapted from her own fan art, which consisted of an all-white main cast. This sparked discussion within the communities on Twitter and tags on Tumblr, questioning why the characters were all Caucasian, and if they should remain white. Within the community, many other fans' interpretations of the main cast depicted them as people of color.
Justin McElroy responded to the criticism, assuring that the team would revisit the designs. He also noted that the featured interpretation in the book wasn't canon, and that the artist's designs are only one of countless valid interpretations.
"1. Yup, fuck, you're right. We'll be revisiting the designs before the book launches. We made them white cause we're white and that's BORING.
2. I also want to make it 100 percent clear that this book is not canon on how these characters look. It's just one interpretation.
2a. As far as I'm concerned, every single interpretation of these characters is just as valid as any other forever and ever amen"
In late May, First Second re-announced the graphic novel featuring revised designs in a five-part thread on Twitter. Merle became a few shades browner, Magnus donned a head of red-brown hair and thick beard like Travis himself and Taako was rendered blue.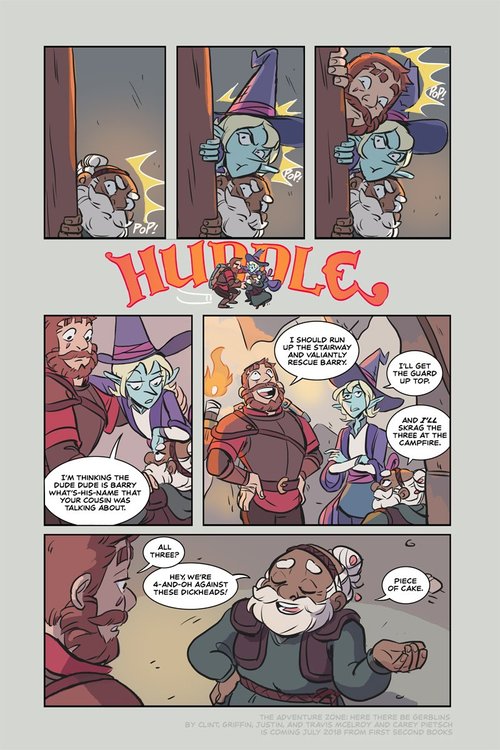 The Adventure Zone: Here There Be Gerblins Interior Art By Carey Pietsch
The redesigns were met with a largely positive response. Some fans criticized the team for not making Taako Mexican or a fantasy-Latinx equivalent, nodding to his taco quest. Compounding the conversation, groups of fans criticized the team for making the thieving, bumbling and murderous heroes people of color, falling into stereotypes against marginalized groups.
Following the dialogue on Twitter, Griffin released a statement on the show's Tumblr from the team directly addressing blue Taako, their struggles with handling representation and how to move forward regarding all sides of feedback they received.
"The solution the whole team landed on for this graphic novel is imperfect. It has disappointed some people, and it is going to continue to disappoint some people. But there is no non-disappointing solution … And for that, we're so, earnestly, deeply sorry."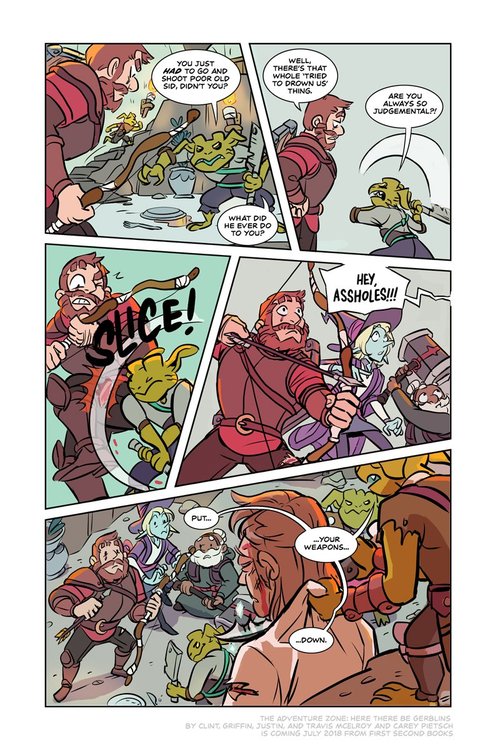 The Adventure Zone: Here There Be Gerblins Interior Art By Carey Pietsch
The Fandom Contract
merritt k hosts Woodland Secrets, an online talk show featuring artists and authors. Before the re-announcement of the graphic novel, she spoke with Griffin about navigating feedback from a large, vocal fanbase, particularly across the several shows he produces. Griffin explained, "Showing that you listen to peoples' feedback, and want to incorporate that feedback and make better stuff and become a better human, makes more people come in to give you feedback because they see that you have that relationship. Which we do, I would never stymie that."
Within fandom lies an unspoken agreement between creators and the supporters of their work, where both parties build an experience greater than the sum of its parts. A healthy fandom is a delicate balance in which fans understand that they have limited ownership over a project while giving creators the space to fulfill their vision. It's built on empathy and mutual respect.
A healthy fandom also realizes the limits to how its feedback will be implemented, if at all. McElroy continues in his interview, "When you have a certain number of people telling you what they want, it's going to become too much to listen to. We can't do everything, we can't appease everyone and we can't take on every piece of feedback that we get because it's in conflict with what other feedback is and what we think is important. I'll be honest, it causes a lot of anxiety, a whole lot."
The need for fans to feel representation is valid, especially in a media landscape in which marginal cultures aren't equally reflected. That doesn't mean fans can demand that small projects and independent creators pick up the slack left by a larger systemic issue. Doing so puts creators under a pressure that paralyzes them from making work according to their vision, or at all.
What has developed around The Adventure Zone is worth keeping an eye on, as it could serve as a disappointing precedent. If the community understands Griffin's statement and the fact that representation can't be perfect, the work can move on healthily. The discussions around the work can move on healthily. If not, we may see fans alienate another beloved series and establish a deeper, more antagonistic gulf between creators and their audiences.
[A previous version of this story mentioned an incident in which an animation studio in South Korea was held "ransom" by a fan with sensitive materials. There's speculation that this was a fabricated event, hence its omission from the current version. The story has also been updated to reflect Lauren Zuke's preferred pronouns.]