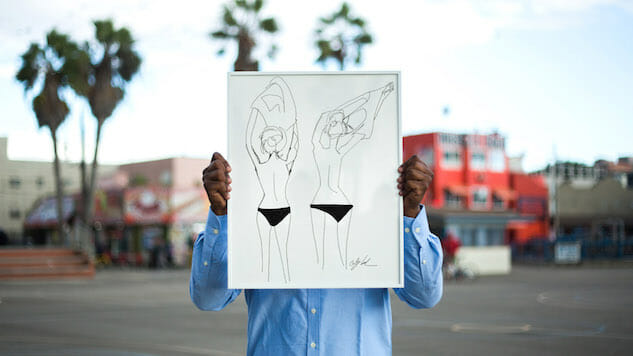 It's been nearly three decades since the anonymous female artist collective and activist group Guerilla Girls asked the world: "Do women have to be naked to get into the Met Museum?" adding their then novel finding that "less than 5% of the artists in the Modern Art sections of museums are women, but 85% of the nudes are female." The Guerilla Girls, who assume the identities of prominent dead female artists while sporting guerilla masks, have since been on a crusade to not only increase female representation in art institutions, but also to open the conversation to the limited lens through which women have been customarily (albeit indecently) depicted in art throughout history.
These once provocative findings are now the very ideology behind a new female-forward collaboration between social marketplace Tictail, an e-commerce platform and permanent Lower East Side storefront dedicated to the promotion of emerging artists and designers, and online retailer Absolut Art, which brings museum-quality works from evolving international art scenes to a sustainable and accessible global online market. Women X Women is a new public art initiative seeking to challenge these massive discrepancies in gender representation through eleven Lower East Side installations. Whether affixed to Irving Farm Coffee Roasters' shop window or purposefully half-shrouded in the local vegetation outside neighborhood Vietnamese spot An Choi, each projected image is an artist's response to her own unique understanding of the female experience, specifically as it relates to her own lived setbacks and qualms with women's portrayal in art.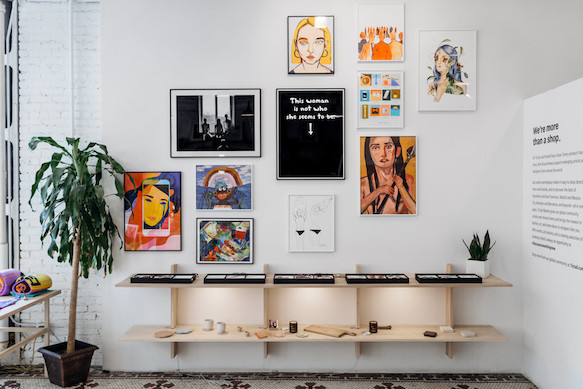 Photo courtesy of Tictail, Raleigh Norris
"At Absolut Art, our mission is to connect people with dynamic artists from around the world – one of the best parts of this job is the ability to provide a platform for fresh female voices. In our opinion, the problem isn't that diversity of thought doesn't exist in the art world, but rather that it's rarely given the microphone it deserves," says CEO and cofounder of Absolut Art, Nahema Mehta, and she's not wrong. In a 2015 interview with New York Times culture reporter, Melena Ryzik, Guerilla Girl Frida Kahlo, regarding the art world's long-documented woman and minority problem, remarked "How can you really tell the story of a culture when you don't include all the voices within the culture? Otherwise, it's just the history, and the story, of power."
The history and the story of power—it's one that certainly looks male—and white—especially when considering the history of art. But with Women X Women, the curatorial minds of Tictail and Absolut Art are positioning female artists to reclaim the history of both art and power. One example is Elise Peterson's "Mammy Wata," which reclaims a traditionally derogatory term aimed at black nursemaids or nannies who cared for white children during a time when slavery held prominence in the old American South. Considered one of the most well known and enduring racial caricatures of African American women, the character of the "mammy," generally depicting a wide grin and loyal servitude, was once used as propaganda to convey that black women were happy as slaves. By reclaiming such an archetype, Peterson also reclaims the female Black American experience.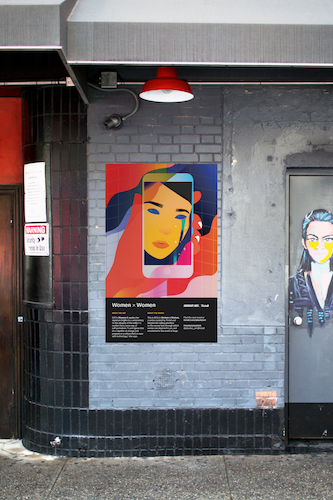 Photo courtesy of Tictail, Raleigh Norris
Other artist prints envision women as entire biological wonders, with visible roots in place of a heart and vines that make their way through the neck and reveal themselves as blossoms that shoot through eye sockets, as with Berlin-based artist Andrea Wan's "If Not Now, When?" or a spear-wielder with vulnerable eyes, as depicted in Barcelona illustrator and painter Maria Herreros' "Untamed Women," or an abstract series of cutouts, as with Malin Gabriella Nordin's "Can you grab smoke?," a hymn to the Swedish painter Sigrid Hjertén (1885-1948) whose own career was marked by derision in response to her struggle for independence as a female artist. Despite varying aesthetics, each work reflects an artist's singular visual response to society's "woman problem." Together with the above artists, Miranda July, Carly Kuhn, Kristin Texeira, Carla Fuentes, Shawna X, Jeanette Getrost, and Jenny Källman, confront this problem with images of joy, chaos, strength, and home.
Women X Women goes a step further to address the exclusion that so plagues the traditional art world landscape by selling prints of each public art piece at an affordable price tag. All prints are available for sale on both Tictail and Absolut Art, with most selling in the $100 to $200 range. It's a win-win as far as maintaining a mission that's carefully aligned with that of the Guerilla Girls, who in 2015, projected the message "art is sooo expensive!" on the new Whitney Museum shortly after its opening.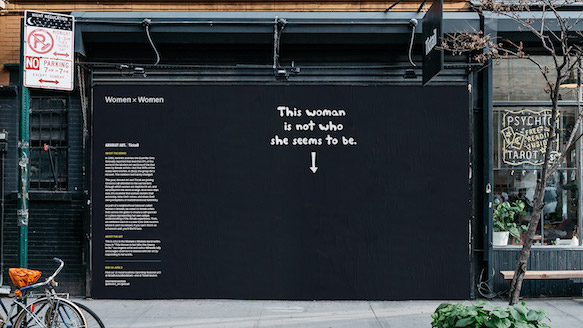 Photo courtesy of Tictail, Raleigh Norris
For the two mostly online markets, the education aspect is one of the most critical pieces of Women X Women. Tictail CEO and cofounder, Carl Waldekranz, comments "Our aspiration is for Women X Women to be more than an art fair, but an opportunity to start a conversation." In reality, though, these publicly displayed works are restarting a much older conversation about representation, but with artists whose works (and Instagram accounts) resonate more strongly in this digital age of creativity. We want to know everything about an artist—from her humble beginnings to her rise to internet fame. "We're inspired by the thought that anyone on a walk around the city could suddenly stumble upon these women's stories," adds Mehta. Take for instance Carla Fuentes whose degree in fashion design spiraled into a successful career built from her illustrations, which she describes as evoking a "precious ugliness." One of the few female—and Spanish—artists to participate in Shepard Fairey's "Obey Icon Tour" in 2014, Fuentes' "Self Portrait" is a bold lined, unapologetic depiction of a woman unafraid of the world.
Then there are the artists whose portfolios read less overt when it comes to tackling issues of female representation. Los Angeles fashion illustrator Jeanette Getrost has worked with contemporary brands like 7 For All Mankind and Reformation. Her work is often inspired by the classicism of fashion, displaying exaggerated figures and free sweeping lines. Getrost's "Male Gaze" takes a subtle yet poignant depiction of women posing, seemingly innocently, and makes it suddenly less innocent by illustrating a crowd of male onlookers. A would-be perfect picture of feminine joie de vivre interrupted by the male stare—a reflection of the lens through which we have been depicted in art and scrutinized within the world, only this time the reflector is in our hands.
Women X Women will be exhibited throughout various Lower East Side locations until June 2. In solidarity with women across the globe, 10% of the proceeds from all works sold on Absolut Art and Tictail will go towards international non-profit organization, Women for Women.