You think beer has gotten weird in 2015? Try ordering a cocktail. Yeah, we've been reliving some of the classic cocktail culture over the last few years, but now things are getting interesting. We're talking about cocktails you inhale instead of drink, and drinks where the garnishes are given as much attention as the booze inside. Maybe my favorite trend we saw emerging this year? Table-side bar cart service. It's old school, classy, and makes you feel like a boss. Here are our favorite cocktail trends from the year.
Women Embracing Whiskey
A traditionally masculine drink, whiskey invokes images of gentlemen's clubs, pipes, and evening jackets. Increasingly, women confidently stand up at the bar and order whiskeys neat. Carefully selecting their favorite make, they know exactly how to assess all the notes, flavors, smells, and shades of a good whiskey, using language of a PHD candidate. A club, Women Who Whiskey, founded in 2011 in NYC, continues to grow its chapters globally, showcasing a formation of a ladies' club. –Madina Papadopoulos
---
Room Temperature Cocktails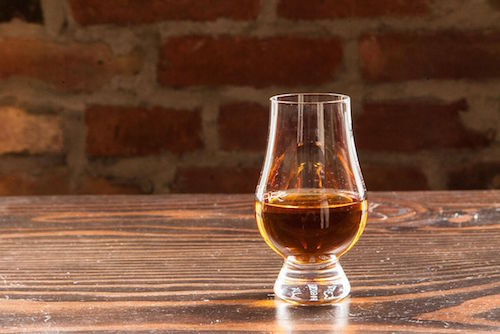 When something is described as lukewarm, it means it's pretty boring. Cool and hot, now those imply excitement. For food and drink, there is rarely an in between. Rarely. But then, when that rare result is successful, it's freaking delightful. The new cool/hot thing: room temperature cocktails. These tepid cocktails are yet another pleasant rediscovery of vintage cocktails. —Madina Papadopoulos
Try this room temp cocktail: Warm and Toasty
Courtesy of Lucinda Sterling of Middle Branch
Ingredients
1 ¼ oz. Louis Royer "Force 53" VSOP Cognac
½ oz. Domaine de Canton
¼ oz. Rhum Orange
Preparation: Stir and pour into a wine glass.
---
Matcha Cocktails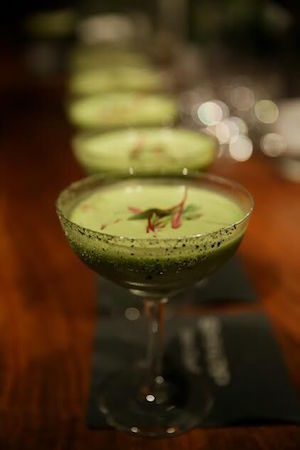 Suddenly, last summer, matcha became a "thing." And it was a delicious, energizing, healthy thing. Then, suddenly, this summer, matcha cocktails were a "thing." So it goes with mixologists, tempting us away from our healthy habits by dipping a carrot into vodka. Matcha has a distinct, earthy taste, and makes for a flavorful yet not too sweet, not to sour, cocktail base. And it's supposedly detoxing, which might or might not balance out the most definitely intoxicating alcohol. —Madina Papadopoulos
Try this: Matcha Pineapple Cocktail
Courtesy of Tea-Ceré
Ingredients
1 1/2 oz. Vodka
1/4 tsp. Matcha Powder
1/3 cup chopped Pineapple
1/3 cup Sparkling Mineral Water
2 – 3 drops of honey
Preparation: Using Tea-Ceré to grind tencha leaves into fresh matcha powder (use for ease). Pour your vodka, pineapple and honey in a glass and muddle the ingredients together. Add matcha and stir until well-blended.? Pour the mixture over ice, and top with sparkling mineral water.? Stir well and garnish with fresh matcha powder before serving.
---
Tea in Cocktails
Imbibers divide in the afternoon: high tea fans on one side, happy hour on the other. This trend reaches across the street to bring the two together. Tea in cocktails, whether infused in the alcohol or splashed in, adds a subtly softens alcohol with its effervescent aroma, and in turn the alcohol gives the leaf a nice kick. —Madina Papadopoulos
Try this: Flower Power
Courtesy of Home Bar Girl
Ingredients
1 1/2 oz. Rose Tea infused Tito's Vodka
1 oz. Yoshinogawa Winter Warrior Junmai Ginjo Saké
1 oz. Carpano Dry Vermouth
1 tsp. Chartreuse Jaune
1 tsp.?St-Germain
1 tsp. Crème de Violette
1/2 tsp. Orange Flower Water
1 dash Bar Keep Lavender Bitters
Garnish: Grapefruit peel rose
Preparation: Combine ingredients over ice and stir until proper dilution has been achieved. Strain into coupe. Express Grapefruit peel and swirl into a Rose.
---
Dehydrated Fruit Garnishes
Food and drink are being objectified all over Instagram, and consequently chefs and mixologists have been paying more attention to presentation, accessorizing their creations like fashionistas. Garnishes galore top cocktails, but they have been elevated from maraschino cherries and umbrellas to chic dehydrated fruit. Like the teeny tiny hats so popular at the royal wedding, these dehydrated fruits add a certain "je ne sais quoi," with the added plus of flavor and scent. –Madina Papadopoulos
---
Inhalable Cocktails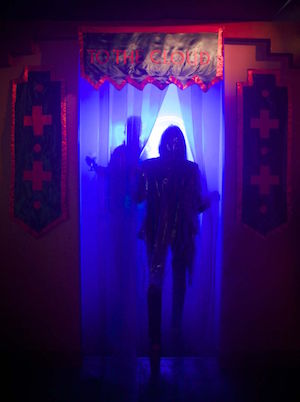 Photo Courtesy of Ann Charlott Ommedal
Definitely one of the most inventive of 2015's drinking trends was the one that got rid of drinking. Bompas & Parr's six-month inhalable cocktail installation, Alcoholic Architecture, ends with 2015. There, the air was infused to make a cloud of inhalable alcohol. While only in London, the venue caused a worldwide buzz. On this side of the Atlantic, Café ArtScience in Cambridge, Massachusetts, offers Le Whaf, a carafe that vaporizes flavors, bring them from concrete to amorphous.—Madina Papadopoulos
---
Tableside Bar Cart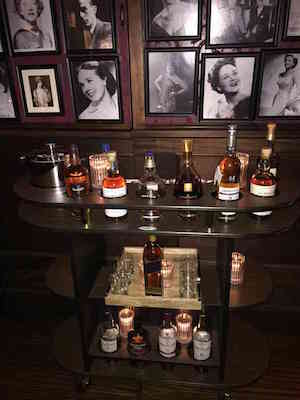 The rare Scotch cart at the Strip House
Restaurants across the country have been bringing back the old-school concept of tableside cocktail and spirits cart service, from classic scotch carts (Strip House in New York City) to Bloody Marys concocted while you watch (LA's Morel's French Steakhouse and Bistro). Sure, it's all about the theatrics – does it really matter if you see your drink being made or watch your whiskey being poured when you're seated in a restaurant? No, but it looks really cool, and it makes you feel a little special.
—Jonah Flicker
---