Stella Artois Is Recalling Bottles Across the U.S. Due to Potential Glass Shards
Photo via Getty Images, Craig Barritt
Drink
News
AB InBev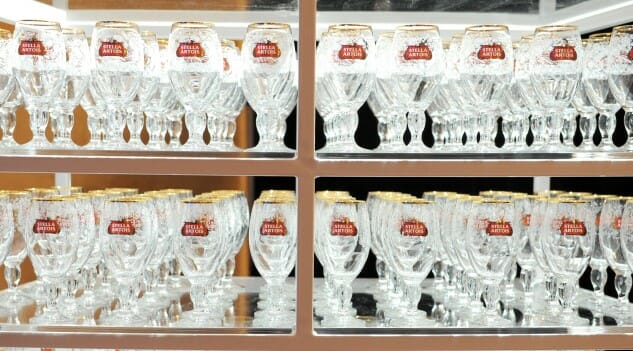 If you've purchased some Stella Artois in the last few days—although you probably shouldn't do that under the best of circumstances—you're going to want to check the production codes to make sure your bottles aren't potentially dangerous. The AB InBev-owned Belgian lager beer brand is recalling a variety of packaged 11.2 ounce bottles of its beer throughout the U.S. and Canada.
The recall affects a variety of Stella Artois packages in the U.S., including six-packs, 12-packs, 18-packs, 24-packs and "Best of Belgium" multi-packs, along with Stella Artois Légère 6-packs and 12-packs. So in other words, a lot of different packages are potentially affected, although the brewery assures this isn't a big deal because "the affected bottles are less than 1% of the glass bottles sold in North America annually."
"The safety of our consumers is our top priority. While the number of potentially-affected glass bottles is very small, we are recalling these Stella Artois packages as a precautionary measure," said Christina Choi, Global Brand VP of Stella Artois. "Our team of technical experts has been working with our third-party glass bottle supplier to ensure this packaging flaw has been addressed."
This website has more information on the recall, and may be able to help you determine if any bottles you've recently purchased might be affected. You can also consult the following list of production codes—do not consume any bottles of Stella Artois that fall under the following dates and codes.
U.S. Stella Artois Production Codes
2/13/18 49 02:00-06:00
2/13/18 52 22:00-23:59
2/14/18 52 00:00-02:00
2/14/18 52 22:00-23:59
2/15/18 52 00:00-05:00
2/19/18 52, 5502:00-12:00
2/20/18 52, 5500:00-05:00
3/4/18 55 21:00-23:59
3/5/18 55 00:00-22:00
4/22/18 55 22:00-23:59
4/23/18 55 00:00-23:59
4/24/18 55 00:00-03:00
5/7/18 55 22:00-23:59
5/8/18 55 00:00-11:00
6/6/18 49 08:00-20:00
6/7/18 49, 5222:00-23:59
6/8/18 49 00:00-13:00
6/8/18 52 00:00-07:00
8/29/18 55 04:00-10:00
9/13/18 55 23:00-23:59
9/14/18 55 00:00-22:00
9/15/18 55 06:00-23:59
9/16/18 55 00:00-18:00
9/18/18 55 01:00-08:00
9/21/18 55 03:00-23:59
9/22/18 55 00:00-03:00
9/23/18 52 09:00-23:59
9/24/18 52 00:00-12:00
9/25/18 52 12:00-23:59
9/29/18 52 04:00-14:00
10/6/18 52 19:00-23:59
10/7/18 52 00:00-02:00
10/9/18 55 02:00-07:00
10/12/18 49 05:00-10:00
10/27/18 52 01:00-13:00
11/3/18 55 18:00-23:59
11/3/18 52 20:00-23:59
2/2/19 55 18:00-23:59