For a few minutes, just disassociate Athens, Georgia with college kids and the Dawgs. Yes, the University of Georgia dominates the town and is a steady factor in the local economy, but in a sea of college students and football fanfare, Athens has managed to create an impressive craft beer scene. It may not be a big city, but Athens does beer well—and Athenians appreciate a good brew.
The Breweries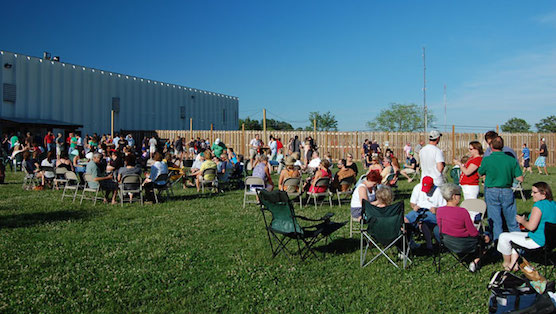 1. Terrapin Beer Co.
Established in 2002, Terrapin was the beer that started it all for Athens. Two friends created the Rye Pale Ale and forever changed beer in Athens. Terrapin beer is essential to Athens—it runs through the city's veins and intoxicates our brains. Living there without visiting Terrapin is strange, and visiting Athens without downing a Terrapin product is even stranger, especially because they make so many varieties.
2. Creature Comforts Brewery
Creature Comforts opened to a strong start in the spring of 2014. Its immediate acclaim began specifically with its association with the Slingshot Music Festival and sponsorship of the annual Twilight Criterium, during which the brews debuted. Their Athena Berliner weisse and spectacularly fruity Tropicalia IPA just hit store shelves in cans for the first time, and the new brewery also won bronze at the Great American Beer Festival for its Curiosity No. 2 Brett beer in the highly competitive American Brett Beer category.
3. The Southern Brewing Company
The Southern Brewing Company started on the back of a napkin in 2007. Co-founders Brian Roth and Rick Goddard met and plotted out the course of a brewery together. Despite their longtime involvement in the industry, neither knew anything about running a brewery, so they've spent the last seven years researching and planning to make it right. The upcoming brewery is finally under construction, and is expected to open in mid-March. Learn more about the Southern Brewing Company here.
The Brewpubs
4. Copper Creek Brewing Company
Copper Creek is the only restaurant in Athens that brews its own beer in house, and that beer is good. It's a small selection, with four beers on tap at a time, but seeing how it comes from across the room, freshness and quality are guaranteed. The only thing better than these pints are their prices—regularly, it's $3.50 a pint, but Tuesdays, Wednesdays and Sundays offer great discounts. Copper Creek's beer goes great with their burgers—the bison burger is incredible—and hot wings, which are available on Thursdays (at a discount) and Sundays.
The Beer Bars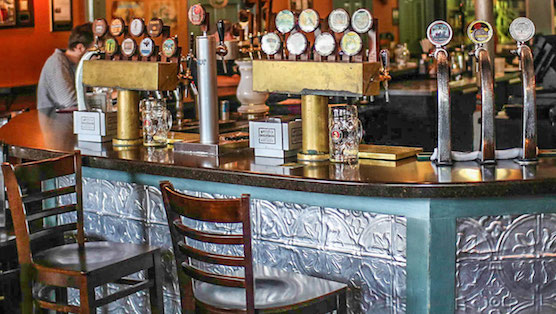 5. Trappeze Pub
Trappeze has the biggest beer selection in downtown Athens, which is a mighty feat when you consider all the drinking that goes on there. The 33 beers on tap change almost every day. Trappeze has a strong partnership with the local breweries and offers exclusive releases of seasonal beers, such as Terrapin's annual Wake-n-Bake Imperial Stout. Then there's the food. Trappeze has skills with cheese and bacon, and their brunch is great as well. French fry enthusiasts should go for the rosemary garlic fries, served with aioli.
6. The Pine
The Pine is a sort of resurrection of Aromas, an intimate, classy bar that was secluded from downtown's raucous energy. Over the summer, Aromas transformed into The Pine, which is pretty much Aromas with a larger and better selection of food. The Pine's beverage selection is heavily influenced by the Five Points Bottle Shop (more on that later), because they share the same owner. Sachin Patel, who studied chemistry at UGA, has a great understanding of what distinguishes different spirits, beer and wine.
7. South Kitchen + Bar
South follows the same philosophy as its older sibling, Trappeze and even has the same beer buyers. The little sister has a wide bottled and canned selection, and South's 15 draught lines are reserved for quality craft beer. Food-wise, South carries a more mature version of the Trappeze menu.
Bottle Shops
8. Five Points Bottle Shop
In 1985, Five Points Bottle Shop opened on Lumpkin St. and the liquor business changed in Athens. Selling more than 1,500 domestic, import and craft beers, Five Points Bottle is the place you want to go. Five Points Bottle Shop has become a major player in Athens, occasionally teaching brewing classes and often participating in tastings and beer festivals with local restaurants and breweries. Both locations also feature growler shops with 45 taps. The Westside growler shop also sells homebrewing supplies.
Three Standout Beers You Have to Drink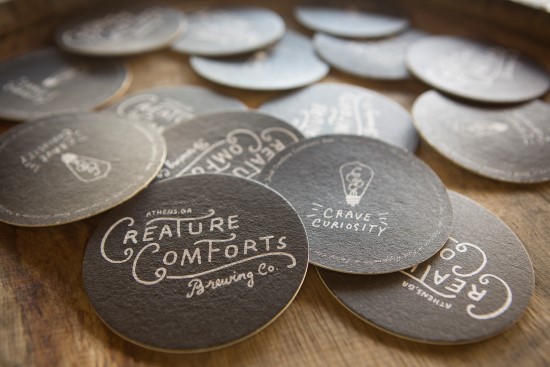 Creature Comforts' Athena Weisse
Athena is like a mix between a Gose and a cider—it's slightly sour and salty, but it's also light and refreshing. Now that it's available in cans, residents of Athens and Atlanta will have access to this superior Berliner weisse all year long.
Copper Creek's Espresso Stout
Copper Creek does pretty much every beer well, but their espresso stout goes above and beyond, and is also one of their most requested beers. For those who aren't into dark beer, Copper Creek's IPAs are popular as well.
Anything by Normaltown Craft Beers
Damien Schaefer is a brew connoisseur and craftsman, and his creations provide strong evidence of his skills. Examples include the peach and basil saison, or the aged barley wine. Because these beers are homebrew, they're not for sale, but if you talk him up, you may get a chance to try it for free at Damien's house. Follow @normaltowncraftbeers on Twitter for more information.
Events
Classic City Brew Fest
On April 12, Athens will hold its 20th annual Brew Fest, featuring around 350 regional and world craft beers and a Cask Ale Pavilion with more than 20 different ales. Tickets are $39.99 and are available now.
Twilight Criterium
Okay, so technically Twilight is about bike racing instead of beer, but when an event's main sponsor is usually a brewery and open containers are allowed downtown, it's just as much about drinking.
Fill Your Belly
Pulaski Heights BBQ
Pulaski Heights BBQ is the epitome of Southern comfort. Standouts include the catfish tacos and mac n' cheese. At Pulaski Heights, you'll have to BYOB, but you'll be glad you did. Sit on the patio and watch people walk along the train tracks.
Ted's Most Best
Downtown restaurant Ted's Most Best is known for two things that go well with beer: pizza and a patio. Ted's fare is more refined and experimental than your classic pizza joint, featuring thin-crust pies covered in arugula or topped with bacon and a fried egg. It's also a very kid-friendly space, if you've got little ones to bring along.
Seabear Oyster Bar
Beer and oysters taste great together, and the two share a history. There are only a few taps flowing with local beer, but the bottled selection is impressive. Not an oyster fan? Everything at Seabear is great (no, really), so finding the right dish shouldn't be a problem.
The Royal Peasant
Athens has several pubs, but The Royal Peasant is top-notch. It's also conveniently close to the original Five Points Bottle Shop. A word of advice—go for the lamb burger.
The Blind Pig Tavern
The Blind Pig is home to some of Athens' best bar food. Go for wings or a hamburger, which Garden & Gun enjoyed enough to place on their list of the best burgers in the South.