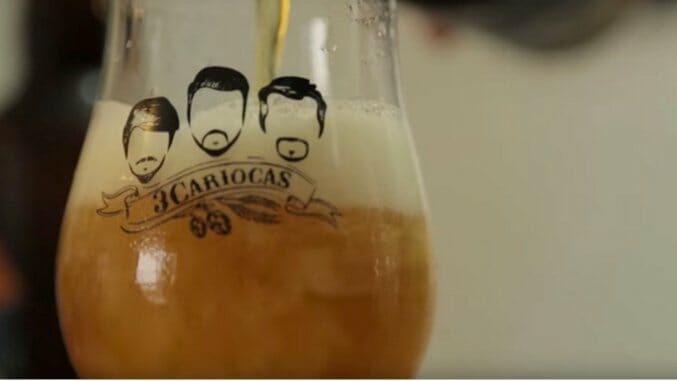 In Brazil, beer is king. Cachaça may be the key to a delicious caipirinha, but almost two-thirds of the alcohol consumed in the country is beer, making it the third biggest beer market on Earth. It's also home to the largest beer company in the world, AB InBev. While the beer Goliath's headquarters are in Belgium, InBev's roots go back to two Brazilian breweries operating since the 1800s—Antarctica and Brahma.
But in the state of Rio de Janeiro, craft beer is still very new. The beer scene is mostly made up of gypsy brewers working out of neighboring Minas Gerais, because real estate in the city is so expensive. Rio is quickly gaining recognition for its craft beer scene, however, with brewers such as Hocus Pocus, 3 Cariocas and Three Monkeys making beer worth traveling for.
The challenges facing these breweries are many: Taxes remain oppressively high for craft beer. Until recently brewpubs were relegated to industrially zoned areas. And raising money to build breweries in the expensive real estate market is difficult when investors are unfamiliar with the business model. Most of the great brewers we discovered contract brew outside the city.
We tasted beer throughout the state, including the nearby cities of Nitoroi and Peteropolis and down the coast to Paraty, curious if Brazil had something to offer to craft beer geeks like us, spoiled on great American and Belgian brews. And we're pleased to report that there's great beer to be had in Rio if you know where to look. Tour the craft beer scene in Rio above and read on to find out which breweries impressed us most:
1. Hocus Pocus (Rio de Janeiro)
Founded in 2014 by three homebrewers—Pedro Butelli, Vinicius Kfuri and Bruno Mansur— Hocus Pocus is just about to open their first bar in the Botofogo neighborhood of Rio, where they were kind enough to allow us to sample their new food menu and latest beer. They launched their company with a Belgian strong golden ale called Magic Trap, weighing in at a hefty 9% ABV, signaling just what kind of brewery they wanted to be. Their lineup also includes an American Pale Ale (APA Cadabera), an amber ale (Hush) and an American IPA (Interstellar). There's no better place to try the beers than their bar of the same name.
Recommended beer: Overdrive Imperial Northeast-Style IPA
On a recent trip to New England, head brewer Kfuri fell in love with the cloudy, tropical take on IPAs from breweries like Treehouse and Trillium. He was determined to create something similar in Brazil, even if it meant smuggling the right yeast from California home in his suitcase. Overdrive is an 8.2% monster of an IPA with peach and mango hitting you as soon as you put your face near the glass. They've managed to capture that Northeast juiciness and hide the high alcohol with an abundance of tropical hops. It was the best beer we had in Brazil, and one of the best double-IPAs I've ever tasted.
2. 3 Cariocas (Rio de Janeiro)
As its name implies (a Carioca is a resident of Rio), 3 Cariocas is also the brainchild of three friends who brewed together at a farm/cachaça distillery in the mountains outside the city every weekend for two years. They were just 22 when their first commercial batch of an IPA, cleverly named Ipa Nema, won a gold medal at a Brazilian beer competition. That was just two years ago, and the brewery has quickly made its mark upon the city of Rio, as they struggle to keep up with demand. Now producing 8,000 liters each month, 3 Cariocas hasn't stopped winning awards, including a gold medal at a beer festival in Montreal for their anniversary beer, an Imperial Belgian Black IPA aged in whiskey barrels for four months. With a focus on keeping their beer local, the brewery's line-up features several beers with clever puns on local neighborhoods, including Lapa (an American pale ale), Copacobana (an oatmeal pale ale, brewed in collaboration with Three Monkeys) and of course Ipa Nema. They also make a 9.8% ABV wheatwine called S.Q.N. that we weren't able to taste. Even the shape of the label features the topography of their mountainous city.
Recommended beer: Saison du Leblon
The second beer these young brewers made is a delicious saison with white peppercorn, mango and vanilla beans. It's a great example of a Brazilian beer getting everything right about the base style and adding a local twist. Leblon is the neighborhood where the three young men keep a home office, and it happens to be named after a French farmer who helped found it. At 6.9% ABV it's full of flavor, but completely refreshing. The fruit is subtle on the palate and the finish is equally dry and spicy.
3. Buda Beer (Petropolis)
Petropolis is Brazil's only imperial city, home to the summer palace of Emperor Pedro II built in 1845. It sits in the mountains about an hour north of the city of Rio and produces most of the state of Rio's beer thanks to the enormous Bohemia Brewery, part of AB InBev. The Bohemia Beer tour is an impressive tribute to the history and science of brewing, which is well worth your time—more interesting to me than the Imperial Museum with its 44 rooms full of 19th Century furniture. But for craft beer lovers, even better is a trip to Buda Beer, with its small but gorgeous brewing system and oasis beer garden. Brewmaster Rolf d'Ottenfels is known for executing traditional styles very well with a regular lineup featuring Vienna lager, weiss, IPA, tripel, red ale and stout. But he also likes to experiment with one-time releases like last month's rauchbier with bacon.
Recommended beer: Musa Paradisiaca Weiss
Buda's Hefeweizen brings a little bit of Munich to Brazil with smooth malty sweetness, a pillowy head and lovely, banana-like ester flavors. It's a light, refreshing gulper very true to style.
4. Rock Bird (Rio de Janeiro)
Rock Bird is a tiny gypsy brewery based near Copacabana, but it's one of the few to release anything sour. Most of the breweries that host the contract brewers are afraid of the wild yeasts infecting other beer, but Rock Bird has made small batches of a sour amber brett, as well as their flagship Berliner Weisse. They also make a rye pale ale called Hoppy Bird and a session IPA called Miwok.
Recommended beer: Umbu Berliner Weisse
This super-refreshing 3.8% ABV beer nails the traditional German style, while giving it a Brazilian touch with the addition of pulp from umbu, a fruit found in the northeast part of the country, which was largely ignored in cuisine until local NGOs started promoting products from indigenous communities to raise their standard of living. The sour umbu blends nicely with the naturally sour beer style, and the bottle will be gone before you know it.
5. Cerveja Complexo do Alemão (Rio de Janeiro)
If it's a challenge to create a gypsy brewery in the asphalta of Rio, imagine trying to launch your own beer company in one of the city's most notorious favelas. That's what Marcelo Ramos has done in Complexo do Alemão. Historically the north zone favela has been one of the most violent and poor in Rio, placing last out of 126 in terms of human development according to a 2000 census. But since 2011, pacifying police have brought some stability to the neighborhood, enough for Marcelo to open a bar and eventually serve his very own beer. The brewer's flagship is an American-style lager, which is what his community is used to drinking. But his heart is with the IPAs and stouts of the craft beer world, and the enthusiastic ambassador for his neighborhood has now made a variety of styles.
Recommended beer: Weiss
Ramos has won awards for his lager, but my favorite was the true-to-style Weiss beer, which was light and bready like a perfect croissant. It may be much harder to find than the lager, but don't visit Rio without finding something from this brewery.
6. Cazzera (Petropolis)
A very new and very tiny gypsy brewery from Petropolis, Cazzera is the brainchild of an Italian-born industrial engineer, Mário Signorini. The brewery makes just two beers, but both are very well crafted with an original twist.
Recommended beer: Coisa Linda
It's a bold move in Rio to start out with a 7.2% strong dark ale with lemongrass and orange peel, but this is a passion project for Signorini. Coisa Linda is indeed a "beautiful thing."
7. Oceanica (Nitoroi)
Just across Guanabara Bay from Rio lies its sister city Nitoroi, where a couple of chemical engineers turned their passion for beer into one of the state's first gypsy breweries. Oceanica has been racking up international awards for their Easy Dive witbier and Slowdown session IPA.
Recommended beer: Year One Anniversary Oatmeal Stout
If you can get your hands on a bottle of this (we found ours at Brewteco, a great craft-beer bar in Rio's Leblon neighborhood), it's a deliciously rich oatmeal stout. It's just dry enough not to feel like desert, but the oats present themselves right up front.
8. Three Monkeys (Rio de Janeiro)
Three Monkeys has been around since 2013, which is enough to make its founders Leonardo Gil, Bernardo Costa and Filipe Oliveira among the venerated elders of the Rio beer scene. The three friends were originally going to call their beer company Three Monks until a group of curious monkeys were lured close by the smell of brewing beer. Their line-up includes a Brownie Ale, a brown ale with cocoa supplied by a local brownie maker; an India white ale and the Copacobana collaboration with 3 Cariocas.
Recommended beer: Golden Ale
Three Monkeys golden ale is made with oats, giving the Belgian-style beer a hint of breadiness to go with its refreshing balance between malts and hops. It hides its 7.5% ABV very well.
9. 2 Cabeças (Rio de Janeiro)
The brewers at 2 Cabeças love to experiment. They even helped host an anti-Reinheitsgebot brew day (Dia da Cerveja Impura), where none of the traditional German ingredients (water, malt, yeast, hops) were allowed. Participants used things like like coconut water, apple cider, coriander, juniper, rice and honey to help with fermentation from wild Brett. Their lineup includes a Caramba saison with star fruit (a collaboration with Baltimore's Stillwater Artisanal Ales), a 4.7% ABV Funk IPA, Hi5 black IPA, Maracujipa IPA with passion fruit pulp, and Rio de Cologne.
Recommended beer: Rio de Cologne Stout Com Pitanga
Rio de Cologne is a collaboration between 2 Cabeças and German brewery Freigeist. The dark brown stout features a tart Brazilian cherry called a pitanga or Suriname cherry. Very subtle in the mix is a dash of sea salt. Friegeist's hometown of Cologne, like Rio, hosts one of the world's biggest Carnivales, and its "Karneval Prinz" adorns the label with a pitanga for a head.
10. Paraphernalia (Rio de Janeiro/U.S.)
Rubens Komniski was the first homebrewer in Rio in 2010. Rather than bother with the local bureaucracy, he travels to the States to brew his beer and imports it back home. His first beer, La Vie Belle, was brewed in Virginia just outside Washington, D.C., and his next one will be brewed at Dorchester Brewing Company in Massachusettes. "I can get fresher hops and good malts in the U.S.," he said. "And use top-notch equipment."
Recommended beer: La Vie Belle
An IPA brewed with Chamomille, La Vie Belle is an unusual and creative twist on a style growing in popularity here.
Other Rio brewers to check out: Therezopolis (Petropolis), Allegra, Noi, Mistura Classica, Trópica, Mohave, Lahma Loca, Jeffrey, Praya, Antuérpia, Green Lab, O Motem, Fraga, Antuérpia, Beertoon, Caborê.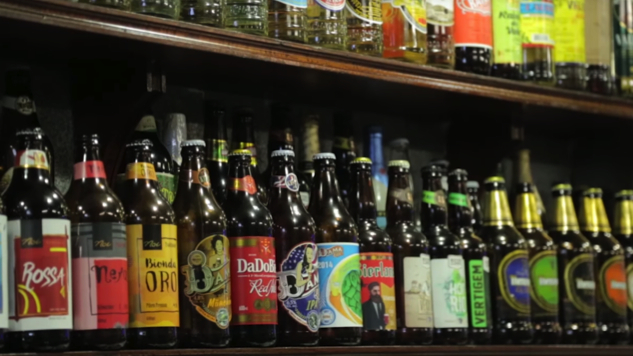 Places to find good local beer:
1. Brewteco – Rua Dias Ferreira, 420, Leblon / Avenida Olegário Maciel, Barra, Rio
With a wide range of bottles from Rio and neighboring states (check out Cerveja Tupiniquim), Brewteco's two Rio locations are a great place to start your beer tour. The Leblon location just has a few taps and a good bottle selection, but in the west zone, Brewteco Barra boasts 21 taps.
2. Bier en Cultuur – Rua Maria Quitéria, 77, Impanema, Rio
Proprietor Conrado Sanches quit his job as a lawyer to run a beer bar and to-go store. It's a little hard to find, upstairs in one of Rio's many hidden retail centers, but it's worth the hunt. Three rotating taps, along with bottles and bottles of beers from Brazil, Belgium, Germany and the U.S. mean you might want to budget a long time there. Sanches is a stickler for quality, cleaning the lines between every new beer and instilling an expectation of consistent quality in the local brewers who supply his store.
3. Delirium Café – Rua Barão da Torre 183, Ipanema, Rio
You'll always find their namesake Delerium Tremens on tap, along with local brews from places like Noi and Mistura Classica. And the bottle list is impressive, whether you're looking for Brazilian beers or international ones. The best thing about this place, though, may be the shrimp empanadas.
4. Carioquissima – Rotating location (Rio)
Carioquissima is a craft food, beer, spirits and arts festival hosted at a different location each month, but it's a great place to find a half-dozen local brewers all in one place.
5. Hocus Pocus bar and eatery – Botofogo (Rio)
Enjoy taps from the brewery and their friends, as well as creative snacks like chicken-fried olives and a tasty beef tongue sandwich.
6. Bohemia – Rua Alfredo Pachá, 166, Petropolis
The new brewery tour really is impressive, and you can finish with a flight of the AB ImBev giant's beers, which include a Brazilian fruited IPA, a Belgian-style blond and other styles that Budweiser tends to mock. And the live band we heard was fantastic.
7. Buda Brewery – Rua Rocha Cardoso, 166, Petropolis
It's an hour north of the city of Rio, but the imperial city has set up a tour of several local breweries including this beautiful one.
8. Hop Lab – Rua Barão de Iguatemi, 292, Central Rio
If there's one place in Rio I regret having (so far) missed, it's Hop Lab near the city center. A quick look at their tap list shows they appreciate great beer wherever it comes from, with a special place in its heart for Rio. And the burger looks pretty amazing, too.