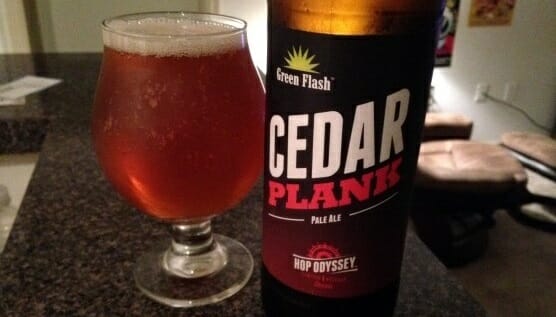 Ask yourself a quick question: If you're a beer geek, how-many brews have you consumed in the last few years that involved oak barrels at some point in the process? Odds are, the answer is "a whole lot," between the ongoing proliferation of whiskey barrel-aged brews and the rise of so many other forms of barrel-aging: Neutral oak, wine barrels and other spirit barrels, among others. Yes, it's safe to say oak is all over the place in craft beer. But why just oak? Have we forgotten that there's a nearly infinite number of woods that could potentially be employed in wood-aged beer?
Well, the not-so-complicated reason is pure ease of access: Spirit and wine-makers already use oak barrels for their products, meaning well-seasoned bourbon or wine barrels aren't that hard for brewers to lay hands on. But there are other options out there as well, and that was presumably the thought behind Green Flash's new Cedar Plank Pale Ale, the latest entry into their intriguing Hop Odyssey series. As the name suggests, the otherwise West Coast-style pale ale is aged on cedar wood instead of the far more common oak, which lends it some truly unique characteristics.
The orange-red brew pours with a lightly hoppy aroma and plenty of woodsy, spicy notes. It reminds me of green, still-growing wood and the spice of cracked, multi-colored peppercorns, quite a bit different from the sour tang of oak—more like a fragrant walk in the woods.
The flavor is also a bit unusual. There's a good charge of caramel malt to form a fairly malty pale ale backbone, and then a rush of wood and spicy hops with a bit of citrus as well. The flavor of the wood is more mellow than comparable oaking, however—once again, there's no tart or tangy quality, but a woodsy, herbaceous, green flavor that is at first odd but ultimately pleasant. It's fairly dry despite the caramel malt, with the wood and hops exhibiting a sort of palate-drying effect and moderate bitterness.
It's a beer that may very well grow on you in the course of your session with it. On first taste, the raw woodiness may be a complex or unknown flavor to deal with, but the ultimate effect is a unique pale ale with an appreciably different, spice-forward wood presence. Whether that flavor appeals to you will likely be highly subjective, but it makes me curious what other types of wood might have applications in the world of beer.
Brewery: Green Flash Brewing Co.
City: San Diego, CA
Style: American pale ale
ABV: 6.0%
IBU: 44
Availability: Oct.-Nov., 22 oz bottles