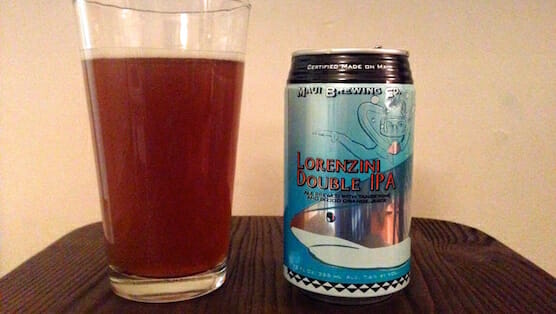 Confession time: I've never had a beer from Maui Brewing before. As much as I'd like to visit Hawaii, I just can't seem to make that trip happen. True, Maui Brewing distributes to most of the West Coast and a couple of spots in the middle of the country, but I've yet to come across their beers in any of my travels. If this double IPA is any indication, I need to start looking a little harder.
Lorenzini, which sounds like the name of some washed up magician from the '30s, is named after a shark's "electro sensory organ that's used to detect changes in electric fields," (you mean you didn't know that?) pours a deep, cloudy red with a thin head. It smells fruity, like, I don't know, the way I imagine Hawaii smells. All mangos and pineapples.
It's zesty and tropical as hell, which makes sense because Maui Brewing uses tangerine and blood orange in this beer. You get soft orange and mango notes up front, and a full, creamy mouthfeel throughout the sip. You can definitely detect some blood orange—it's sweet, but not cloying the way some fruit beers tend to be. The use of the adjunct fruit here is restrained, and a really good addition that compliments the tropical nature of the hops. There is a bitterness that follows all that tropical fruit punch, but it feels like it comes more from the rind of an orange than from the El Dorado and Sorachi Ace hops that Mauis uses.
So what's with the shark? The brewery collaborated with the Shark Research Program at the Hawaii Institute of Marine Biology for this beer (thus, the esoteric name and ominous shark on the can), and a portion of the proceeds goes to the institute's shark lab so they can help sharks who can't read good. Okay, that last bit isn't true, but a guy can dream.
Bottom line, this is a big IPA for people who like their big IPAs to be on the fruitier side of the spectrum. If that's you, the beautiful state of Hawaii is calling. Aloha.
Brewery: Maui Brewing Company
City: Maui, Hawaii
Style: IPA
ABV: 7.6%
Availability: Limited, winter in four-pack cans