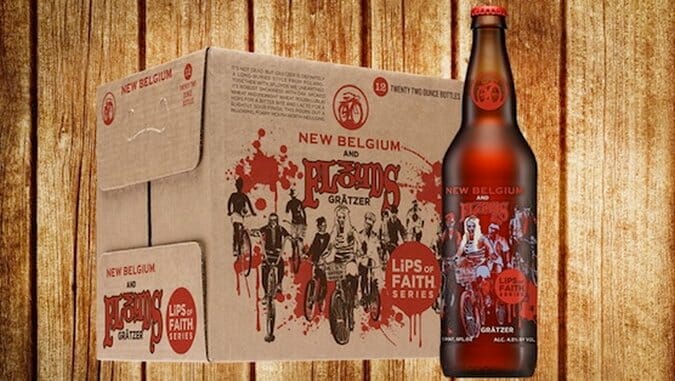 You know that old trick of buying wine based on the label? It applies to beer, too—and if you're a fan of zombies, skulls, or The Misfits, you'll probably pick up a bottle of the Gratzer the moment your eyes catch it on the shelf. We're talking punk rock zombies with long hair and striped shirts wearing ties and riding bikes with freakin' baskets and low-rider handlebars.
And if you don't buy into the zombie craze, but still consider yourself a serious beer-head, you'll still probably pick up a bottle, because the Gratzer is the result of a collaboration between New Belgium (the king of Colorado craft brewing) and 3 Floyds (one of the better-kept secrets in the beer world, originating from the unlikely locale of Munster, Indiana, who specialize in producing "not normal" beers). "Not normal" is an apt description of this limited release. They unearthed the base recipe from a very old style original to Poland, using oak-smoked and midnight wheat with target and Polish lublin hops, a German ale yeast, and a small addition of lacto added to the wort.
Unless you wander willingly on the dark side of oddball, ancient, and strange beers, it's like nothing else you've ever experienced. It pours a deep brown, almost black, reminiscent of deep soil, with a heady blast of smoke on the nose with hints of chocolate, leather, and coffee. The taste reinforces the smokiness, along with a malty sweetness and molasses. Despite its dense color, it drinks light, with a bubbly carbonation. The sour elements are there, but just barely; I yearned for a bit more lactic punch to help balance out the more aggressive flavors on the front side. I admire the brewers' ambition—it's totally unique, but it didn't dance on my palate. Nevertheless, the label is pretty awesome. If only it wasn't literally printed on the glass.
As with other New Belgium collaborations, the Gratzer is part of the brewery's Lips of Faith series, and should be available in most bottle shops that carry their other products.
Brewery: New Belgium and 3 Floyds
City: Fort Collins, Colorado, and Munster, Indiana
Style: Gratzer
ABV: 4.5%