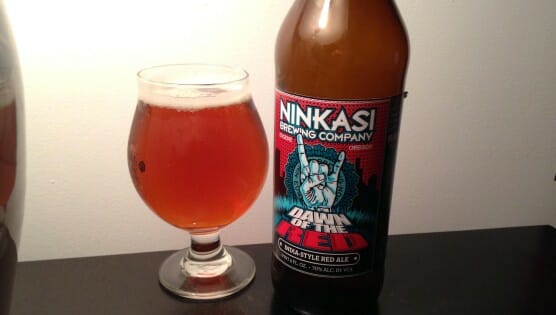 First things first—how great is Ninkasi's humorous response video to the Budweiser Super Bowl commercial fiasco? I submit that it is pretty great. Let us bask in its greatness.
Now then—with that out of the way, let's get on with a beer review. Ninkasi's new Dawn of the Red is what is occasionally referred to as an "IRA" or "India Red Ale," although the term doesn't really seem all that necessary, seeing as IPAs have always run a wide range of the color spectrum from the lightest gold to deepest reds. Still, one can see why some craft brewers are using the term—it immediately tells the drinker that they should probably expect a fuller body, richer beer and more crystal malt flavors than in what one typically thinks of as the archetypal American IPA. And ultimately that's the important thing: Framing the name in such a way that the customer knows what to expect at a glance.
For its part, then, Dawn of the Red is pretty much exactly what you'd expect. The nose is caramel-forward, with plenty of toasty malt, backed up by moderate hop aromas of mango and pineapple. I have to admit that I tend to like the tropical fruit flavor palette that new hop varieties such as Mosaic provide, but it's a little concerning to see them go into such heavy use throughout the entire craft beer industry—one hopes it's not a fad that becomes totally universal and overstays its welcome, but for now they're usually quite pleasant. Dawn of the Red is no exception, as the pineapple note in particular is nice—between that and the warmth of the malt character, it almost makes me think of a grilled pineapple slice or a luau.
With that said, the hop presence isn't really commanding, or at least less so than most beers with "India" in the name these days, and the same of true of the flavors in Dawn of the Red. This is easy-drinking, malt-driven beer, with a very clean, crisp grain character and a hint of crystal sweetness, backed up by lightly fruity hops. It stays quite dry, all things considered, which raises the drinkability even more. One might even say that if there's such a thing as a "full-strength session IPA," as oxymoronic as that is, this would fit the bill nicely.
Bitterness is medium-low, right in line with the volume of flavors. If you're looking for a well-balanced IPA with no shortage of malt and tropical hop flavors that won't hit you over the head, this would be your beer. It will be a new year-rounder for the brewery starting in February.
Brewery: Ninkasi Brewing Co.
City: Eugene, OR
Style: India Red Ale
ABV: 7%
IBU: 75
Availability: Year-round, 12 and 22 oz. bottles