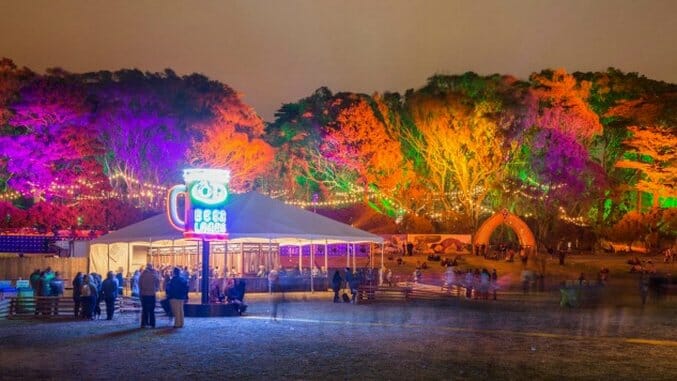 Outside Lands officially kicks off this weekend in San Francisco's Golden Gate Park. This year, just as year's past, some of San Francisco's best bars will set up for Cocktail Magic, where attendees can see some of SF's greatest mixologists mix up some libations and enjoy a few of their own.
BeerLands is also back this year. Unlike other music festivals that exclusively sell high-priced tall boys of light beer, Outside Lands has its own mini beer festival of sorts on the grounds where attendees can enjoy beers from California's best breweries.
There's a ton of selection this year. Given the fog that's likely to be quite heavy during this year's festival, I recommend checking out the fog-themed beer on the menu to celebrate. Namely, Calicraft's Karl the Fog, named after San Francisco's foggy Twitter presence.
And if the sun goes come out to play you can't go wrong with Anderson Valley's Framboise Rose Gose and Local Brewing's Let's Get Tropical. And you can't let an Outside Lands go by without giving Sierra Nevada's Outside Lands exclusive brew a try. Sierra's Outside Lands Saison is bound to be worth the lines to snag one.
Here's a full list of everything being poured this weekend:
21st Amendment
Hell of High Watermelon
Blood Orange Brew Free or Die
Ace Cider
Ace Space Blood Orange Cider
Ace Berry Rose Cider
Almanac
Love IPA
Interstellar Apricot
Altamont
Maui Waui
Berry White
Anchor
Anchor Steam
San Franpsycho IPA
Anderson Valley
Framboise Rose Gose
Hop Hyzer
Bare Bottle
Any Beans Necessary
Nintendo Cartridge Dust
Bear Republic
Racer 5
Double Aught Pils
Calicraft
Rose Ale
Karl the Fog
Drake's
Flyway Pilsner
Denoggenizer
Faction
Faction Pale
Summer IPA
Fort Point
Animal
Export
Hard Frescos
Guava Cirico
Hoopy Tamarindo Ale
High Water
Campfire Stout
Hop Riot IPA
Holy Craft
Angel's Gold
Harajuku Girl
Laughing Monk
Coffee and Creme
Irreverent Wit
Local
Let's Get Tropical
Hazy Hellman Hollow
Lost Coast
Great White
Revenant IPA
Mad River
Steelhead Extra Pale
Jamaica Red
Magnolia
Kalifornia Kolsh
Station 12
North Coast
Scrimshaw
Old Rasputin
Oakland United
Black Lager
Pilsner
Old Kan
Aoklan
Old Kan Classic
Seismic
Alluvium
Shatter Cone
Seven Stills
Eight Pounds
Pattern Recognition
Sonoma Springs
A3
Dave's Energy Guide
Speakeasy
Big Daddy
Metropolis Lager
Sufferfest
Flyby Pils
Shakeout Blonde
Strongbow Cider
Gold Apple
Sierra Nevada
Outside Lands Saison
FOMO IPA
Southern Gothic Pilsner
Otra Vez Lime & Agave