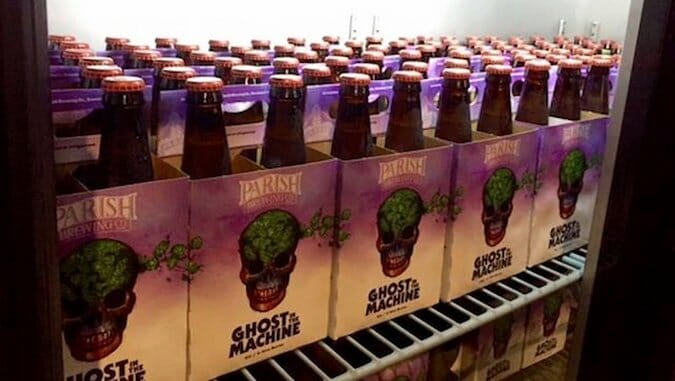 Excitement lies in the hunt. Ask any bourbon-fiend who spends time tracking serial numbers for Pappy Van Winkle, or any hophead traveling north of San Francisco to wait in line for Pliny the Younger, a product may deliver, but the experience elevates.
In greater New Orleans, underrated Parish Brewing already has one beer that registers on the Pliny hype scale—fans line up annually to buy tickets for a barleywine called Grand Reserve. But these last two springs, a different Parish release has become the most sought after brew in town. And the newer beer even outdoes the beloved Grand Reserve in BeerAdvocate rankings (98 to 94, but to be fair both are "world class").
Parish's Ghost In The Machine Double IPA hit the market for only the second time in 2015, and it disappeared before most even knew it had been released. Last month, New Orleans' beer mecca Avenue Pub added Ghost as one of their nearly 50+ taps on a Monday. It ran out Tuesday. Grocery stores seemed to lose it just as fast.
Luckily, Avenue Pub consoled thirsty detectives with a list of locations where bottles could still be found. It required an impromptu three-mile jog, but that day I found Ghost in the Machine at an unassuming local market called Breaux Mart, the kind of place most wouldn't mistake as a craft destination.
Upon entering I was worried I'd be running home empty-handed, but Ghost turns out to be the kind of beer you must ask customer service about. Even then, they'll only sell one four-pack per customer.
This beer is a paradox. Ghost misleads you slightly with its light color and equally airy aroma, coming across as pleasantly citrusy (grapefruit, orange, apricot?) with hints of pine. But that first sip lets you know everything about the beer's motives. Ghost packs more hops than Blake Griffin, Bugs Bunny or Tigger too. After drinking one, sentences like that become funny.
That's exactly the reaction brewmaster Andrew Godley wanted. When previewing the beer in 2013, he told local press that years of clamoring for IPAs made drinkers desensitized. "We need a beer that is capable of satisfying the most voracious appetite for hops," he thought, so Parish allegedly used 10 pounds of hops per barrel during brewing—no wonder it's been suck a limited release so far. When Parish officially introduced the beer commercially for the first time last Spring, they put the premise in even simpler terms on Facebook: "It's probably too hoppy for you."
Despite a high ABV (8%) and undeniable bitterness (Parish said IBUs are 150+), Ghost in the Machine goes down smoothly; it's likely too smooth considering the punch it packs. But for those who dismiss the idea of lesser-known brewers producing something world-class or of drinking Southern IPAs in general, Ghost in the Machine is the beer ready to change your mind. Running across town may sound sillier than waiting in an hour-plus line, but this kind of beer rightfully demands a little effort.
Brewery: Parish Brewing Company
City: Broussard, La.
Style: Double IPA
ABV: 8%
Availability: Limited, four packs of 12-ounce bottles