Pizza Hut Is Delivering Beer Now … Just Don't Expect Any Craft Beer
Photos via Pizza Hut
Drink
News
Pizza Hut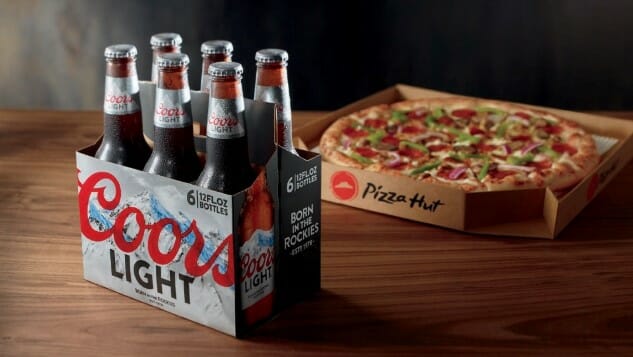 Pizza Hut has discussed the possibility of whisking cold six-packs of beer to customers in the past, but now the folks at the world's largest pizza chain are actually doing it, starting with 100 test locations in Arizona and California. Order from one of those Pizza Hut locations, in cities such as Phoenix, Tucson, Glendale, Los Angeles, Sacramento and more, and you'll have the option to add a six-pack of beer to your deliver order. And you even get a bonus for doing so, in the form of free delivery. The beer will arrive "in a custom cooler designed to deliver the beverage cold," which is to say, in the same way that any cooler functions.
"Pizza Hut has and always will be focused on serving customers a great pizza experience. And nothing complements an oven-hot pizza like an ice-cold beer," said Zipporah Allen, CMO, Pizza Hut, in the brand's press release. "In addition to our extensive delivery network, many Pizza Hut restaurants are already licensed to serve and distribute beer, without third party services, additional fees, or extended wait times. Expanding the pilot program is a natural way for Pizza Hut to get our customers the perfect pizza and beer combo they're craving, delivered right to their doors."
Ah, but this is Paste, so we're going to have to make a judgement on that "perfect pizza and beer combo" that Pizza Hut mentions. Given that this is a partnership with MillerCoors, your options are as follows: Coors Light, Blue Moon and Miller High Life. Of those three, your choice should probably be clear: High Life all the way. It recently finished at #3 out of 30 in our blind tasting of macro lagers, and was a clear favorite in a Miller-dominated top five.
Still, it's a shame to not see any kind of craft beer option, is it not? There are obvious increases in difficulty with such a program when you're offering craft beer—availability, freshness, logistics, etc.—but it could have been a nice way for Pizza Hut to market itself as something other than "the pizza equivalent of Big Beer" to find at least one Arizona or California-based craft brewer to partner with in addition to MillerCoors. Surely the likes of Anchor Brewing or Stone would have been thrilled to ship some Anchor Steam or Stone IPA along with your pizza. Of course you're probably not going to find Stone alongside MillerCoors anytime too soon, given that they're still embroiled in an increasingly bitter lawsuit over the marketing of Keystone and Keystone Light.
If High Life is your regular go-to, though? This might actually be your lucky day.