The Macallan's New 50-Year Scotch Will Cost You a Mere $35,000
Photos via The Macallan
Drink
News
scotch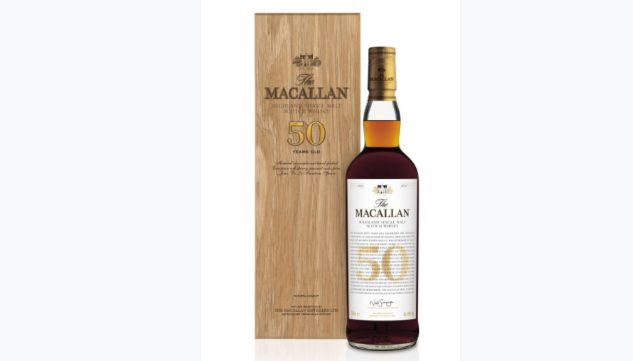 Whiskey collectors, you're going to have your work cut out for you on this one. The Macallan has announced the release of a staggeringly old 50-year-old single malt scotch, in quantities so small that they can hardly be said to exist at all. Bottled at an ABV of 44%, The Macallan 50 Years Old exists in a grand total of 200 bottles worldwide … 35 of which are allocated to the USA. Suggested retail price: A mind-blowing $35,000.
Or in other terms, a bottle of this whiskey costs more than the yearly salary I received for working full-time at a daily newspaper after graduating with my journalism degree. Let that one sink in.
The Macallan 50 Years Old is "presented in a solid oak box featuring an etched face inlaid with a matte gold badged age statement." Well yes, I imagine that folks would hope the box is "solid" if they're paying the price of a new sportscar for it.
The Macallan, which describes itself as "the world's most admired single malt scotch whiskey"—I'm not sure how admiration is measured, exactly—describes the flavor profile of the 50 Years Old thusly. Whiskey nerds, listen up:
A rich and complex whisky presenting sweet oak vanilla and blackcurrant characters with a beautiful, vibrant amber natural color. Wood vanillas open on the nose with a hint of spice before ripe blackcurrants and an earthy tone combine, with a background of subtle peat. The palate leads with flavors of sweet oak vanilla, fudge and toffee, soon making way for black peppercorns to provide a gentle warming, with deep sweetness joining from orange peels and figs. The finish is an incredibly viscous mouth coating, which is long and slightly dry from the subtle peat notes.
Well, that sounds pretty good, we must say. A few things to note: "Natural color" implies that after 50 years in the wood there was no need to use artificial colorings, even though scotches are typically matured in used American whiskey casks, which contribute less color naturally. Also as you would expect for The Macallan, there are several references to any peat character being "subtle," as The Macallan is known for being one of the least peaty/smoky of the classic Speyside single malts. This is part of the reason why The Macallan has often been advanced as one of the more approachable Scottish single malts for American palates more accustomed to the rich (and non-peated) flavor profile of bourbon.
Nick Savage, Master Distiller at The Macallan, described the whiskey with the following: "After being left to mature for half a century, this wonderfully rare single malt is full of rich flavor and beautiful natural color. Coveted by whisky connoisseurs and collectors around the world, The Macallan 50 Years Old is an incredible addition to our expanding range of unique, mature whiskies and marks another pinnacle of The Macallan whisky makers' art. With a finite volume of only 200 individually numbered bottles worldwide, this highly limited 2018 release will likely be in very high demand."
We'll be waiting for our own Paste bottle, which will surely arrive in the mail any day now. We'll just wait by the door until then.