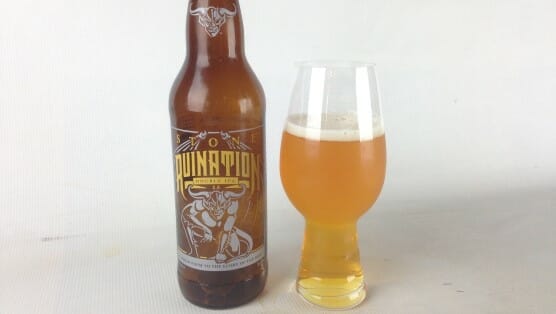 In nearly any form of media or artistic expression, reinventing a classic is a thankless task, and this is certainly the case with beer. Even as sales ebb away year by year for a classic, genre-defining beer such as Stone's original Ruination DIPA, the brand still retains ardent supporters. To cancel it outright, the brewery runs the risk of disappointing fans who have loyally been purchasing the beer for years. To ignore the changes of the market, on the other hand, they run the risk of the beer's name and market share dwindling away to nothing. There's really no perfect solution.
Stone's decision, therefore, was a prudent one: Refresh the brand by redesigning the beer to fit modern tastes a little bit better. In short, try to make a classic beer into an even better beer. And at this, I believe they've actually succeeded.
I must admit, it's been a while since I actually had an original Ruination, which is exactly why I'm the sort of consumer that Stone is targeting here. In my mind's eye, I remember it as a classically dry, bitter West Coast DIPA, all pine needles and perfume. This new variant, on the other hand, takes a few hints from the way the wind is blowing and includes a few of the currently popular hop varieties alongside old classics—Citra (of course) and the trending Azacca, supported by Centennial and Simcoe, to create a modern take on the original concept.
Filling one of our Spiegelau IPA glasses with Ruination 2.0, the beer pours a dark gold, just on the edge of orange. The aroma is immediately dank—super dank and resinous, piney, just West Coast classic turned up to 11, before giving way to grapefruit and orangey fruit notes and grassiness. It smells like your really discerning pothead friend's special occasion weed stash, the shit he only breaks out during celebrations. It's a pleasantly complex set of aromatics.
On the palate, bitterness is big—it's clear that they wanted to at least partially bring back the "ruination" aspect, although it never goes overboard. This is a big, dry, bitter, in-your-face DIPA, especially for only 8.5% ABV. Truth be told, I often like the lower-ABV DIPAs more because it helps them stay dry and focus on assaulting me with hops, rather than venturing into barleywine country.
Flavors, unsurprisingly, are almost 100 percent hops—the malt aspect of this beer is like some special forces stealth squad that infiltrates the base that is your taste buds in order to unlock all the doors and allow an army of hops to pour through and take you unawares. Yes, I realize that was an odd simile, work with me here. There are lots and lots of tropical fruit flavors here; juicy pineapple, mango and citrus, with grassy, green hops backing it up. There are certainly some similarities with the Enjoy By series, and I would be curious to taste the two of them side by side in order to make a more thorough comparison. The fruit flavors continue to intensify and pop as it warms up a bit.
I can't help but conclude that Stone has likely done exactly what it set out to do in reformulating Ruination. As long as big bitterness doesn't kill your palate and you like big, West Coast DIPAs that merge dank and tropical influences, this is a great beer, and one you should seek out to reevaluate.
Brewery: Stone Brewing Co.
City: Escondido, CA
Style: American DIPA
ABV: 8.5%
IBU: 100+ (Stone is not messing around here)
Availability: Nationwide, 12 and 22 oz bottles