The Macallan Is Releasing a 72-Year-Old Scotch at $65,000 a Bottle
Photos via The Macallan
Drink
News
whiskey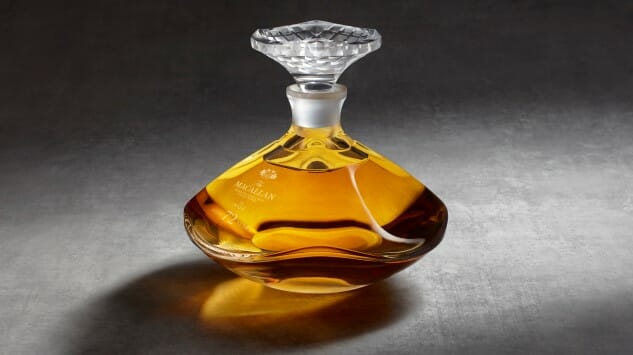 In what surely must rank among the oldest and most expensive single bottles of whiskey of all time, The Macallan has just announced the oldest bottling in its history—an incredibly old, 72-year-old single malt. Official name: The Macallan 72 Years Old in Lalique, The Genesis Decanter. Official price: $65,000. The unique Lalique crystal design of the decanter is a tribute to The Macallan brand and its new Macallan Distillery and Visitor Experience which opened its doors on June 2, 2018.
As the distillery states of the liquid inside:
Distilled back in the 1940s, The Macallan 72 Years Old is a peerless spirit which began its journey to maturation during the optimistic post Second World War period and this atmosphere of reinvention inspired the new Distillery and the whisky and design of The Genesis Decanter.
For its seventy-two years of maturation, the deceptively light color hints that this is not an ordinary single malt. Reminiscent of a time gone by, it carries an exquisite balance of strong, sweet oak with the peaty spirit shaping its refined character. The whisky delivers surprise and delight with aromas of fruit followed by distinctive hints of peat, all the way through to the back of the mouth where it is finished off with a lingering hint of rich fruit and oak.
Because we can only assume you're wondering (exactly as we are) what a 72-year-old scotch would taste like in more detail, here's the full tasting notes as provided by the distillery. Make of them what you will.
Whisky Makers Notes:
ABV: 42%
Color: Golden amber
Nose: A delicate peat starts, leading to a soft, aged oak smoke. A body of refreshing citrus lemons and green apples, with a background of vanilla pods and raisins, with the smallest hint of ginger.
Palate: Delicate peat smoke combines with a soft vanilla, and a surprising sweet oak smoke. A gentle wood spice combines with a delicate peat smoke, which gradually fades to leave a viscous mouth coating of citrus fruits and subtle green apples.
Finish: Medium and fruity, with a sweet oaky mouth feel.
So there you are. By the way, in case you're thinking "I'll just order a shot rather than splurge on that $65,000 bottle," by our calculations, a standard 1.5 oz shot of this 72-year-old Macallan would run you about $2,569 … plus tax.
Unsurprisingly, there are very, very few decanters of this stuff in the world. Rolling out globally in Sept. of 2018, The Macallan states that there will be a total of 600 decanters worldwide, with 156 of those being allocated to the U.S. Not a bad share of the total for U.S. scotch fans, actually.
So you know, if you happen to be friends with any eccentric millionaires … this really might be the time to implant the thought into their heads.
You can enjoy a few more tempting images of the ultra-ornate bottle below, courtesy of The Macallan.