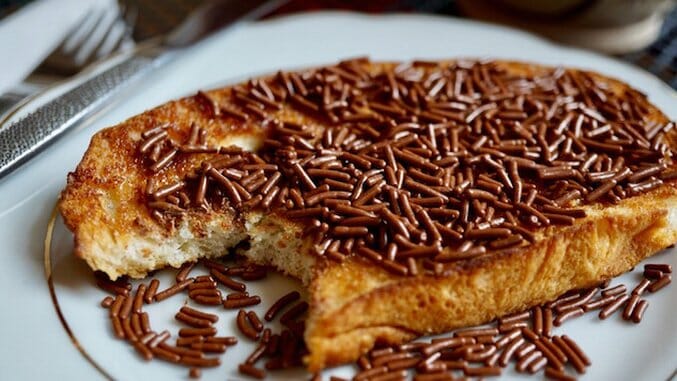 Can we all agree that avocado toast's 15 minutes of fame are up? Don't get me wrong, I love the creamy green stuff on bread, in a salad or by itself with a little sprinkling of salt. However, they are pricey these days. Just last week avocados rang up for $2.50 each due to heavy rains in California and an off growing year in other parts of the world. While we wait for prices to fall, why not try different delicacies to satisfy our growing appetite for loaded toast? Here are five toppings from around the world that are perfect for smearing on bread for breakfast, lunch or anytime a sweet or savory craving kicks in.
1. Chocolate Sprinkles (The Netherlands)
I'm sure there are healthy foods in Holland, but when I did my semester abroad in the picturesque city of Maastricht, I did not search them out. Instead, I developed a taste for stroopwafels, salty licorice, late night fries with curry sauce and toast with sprinkles. I have the two sweet ladies who ran the small campus kitchen to thank for my love of hagelslag (Dutch for sprinkles). In the Netherlands, real chocolate sprinkles (not the waxy kind Americans heap on ice cream cones) on buttered toast is a perfectly acceptable breakfast or snack. The type of bread is up to you, but the squishier the better. Toast until golden, slather with butter and pour on a mountain of hagelslag.
2. Halva Spread (Middle East)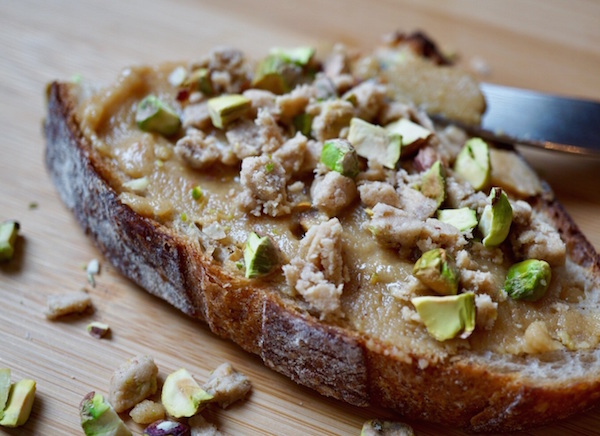 Photo by Kristin Amico
It wasn't until a trip to Tel Aviv that I fully appreciated Halva. I'd tried the packaged bars found in the U.S., but sampling the freshly made confection of tahini and honey straight from a vendor at the open-air market made me a convert. I took home a brick of chocolate pistachio in my carry on and searched the Middle Eastern markets in my neighborhood to keep feeding my new habit. There I found halva spread, which consists of ground sesame seeds, honey (or sugar) oil and nuts such as pistachio. It's equally delicious spread on bread or drizzled on ice cream. Not surprisingly, halva sandwiches have replaced peanut butter as my afternoon snack.
3. Dulce de Leche (Chile and Argentina)
For the several years I called Providence, R.I., home, I was fortunate enough to live minutes from some of the best Latin restaurants and grocery stores in the city. A walk around the block and my tote and belly would be bulging with arepas, alfajores, sweet biscuits and cans of dulce de leche. I used the creamy dulce de leche as an ice cream topping until my neighbor schooled me on a more traditional Argentinian treat — as a spread for toast, waffles or any other kind of carb associated with breakfast.
4. Tomatoes (Spain)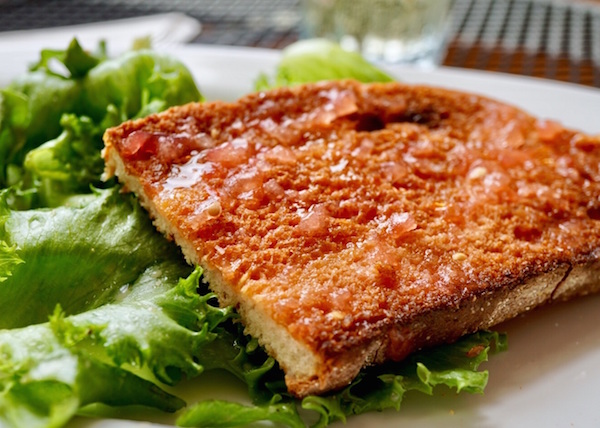 Photo by Kristin Amico
Pan con tomate is one of those snacks that is ridiculously simple yet extremely pleasing. Try it with eggs in the morning, with salad at dinner, topped with an anchovy, or as a simple snack while sipping a glass of Spanish vermouth. How easy is it to prepare? Toast or grill crusty bread. Rub with a clove of garlic, then cut a ripe tomato in half and rub onto bread. Add a sprinkle of salt and a drizzle of olive oil. American recipes call for grating the tomato with a box grater and spooning the pulp onto the bread, but Spaniards don't make such a fuss.
5. Cheese Sauce (Wales)

Photo by Kristin Amico
As a child, I spent quite a bit of time at my grandparents' house, and could always open the freezer to find containers of soup, Pepperidge Farm coconut cake (which my grandfather and I indulged in after dinner) and an orange box of Stouffer's Welsh rarebit. I never tasted it, and at the time imagined it a strange foodstuff that only grandparents ate, in the same category as liver and onions and sauteed dandelion greens. Years later I ran across a recipe for Welsh rarebit in an old cookbook and realized the dish was a delicious combination of toast with cheese sauce — my two favorite foods. The best recipes combine beer, sharp cheddar and dry mustard powder for a thick paste, rather than runny sauce, to be spread liberally on toast and broiled until bubbly. Pair it with a salad for a quick meal.
---
Kristin Amico is a Boston-based writer specializing in food, travel, and culture. She is currently spending a year living nomadically and eating her way across Europe and Asia.