11 Irresistible Dishes to Try at the Viennese Wine Tavern Buffet
Photos by Bernadette Reiter
Food
Lists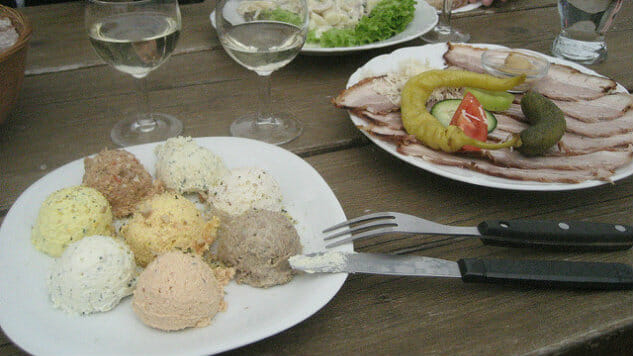 A visit to a heurigen—wine tavern—is a Viennese summertime tradition dating back to the 18th century, when Emperor Joseph II granted vintners the right to sell products from their own recent harvests. On a hot day, a visit to one of the many excellent heurige that lie on the fringes of the city are not only a peaceful way to sample local Grüner Veltliner and Zweigelt offered up by the vintners themselves (most have vineyards nearby). They're also great places to enjoy a casual meal, because any heurigen worth its salt offers a large selection of excellent hot and cold classic dishes cooked in-house and sold by the kilo. Be prepared: there's a lot of meat.
To make sense of the daunting offerings of a typical heurigen buffet, on a quiet, sweltering Friday afternoon we took the number 31 tram to the last stop, to the Stammersdorf neighborhood at the outskirts of the 21st district. We consulted a list of open taverns—called a rauschbaum, literally, tree of intoxication—on a dusty corner. After a brief walk, we chose to park ourselves at Haus Schmidt, which announced it was open with the traditional hanging of fir branches over the front door and a sign announcing "ausg'steckt." We settled onto a green-painted picnic table under the backyard grape arbor, ordered up drinks from the waitress, then headed inside to choose our food:
1. Käferbohnensalat mit Kürbiskernöl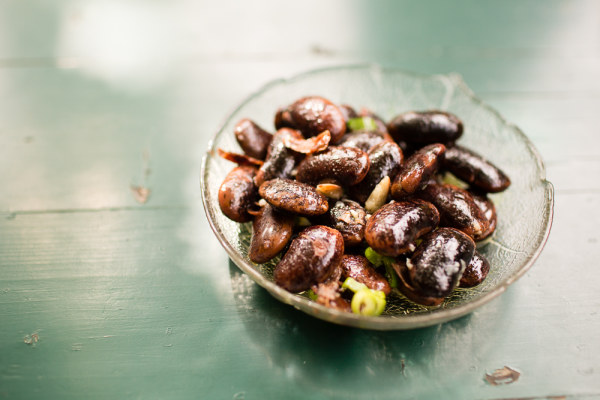 This is a salad made from enormous, dense runner beans, tossed with scallions and pumpkin seed oil, a specialty of southern Austria that gives the dish a mild but distinctive earthy flavor.
2. Wurstsalat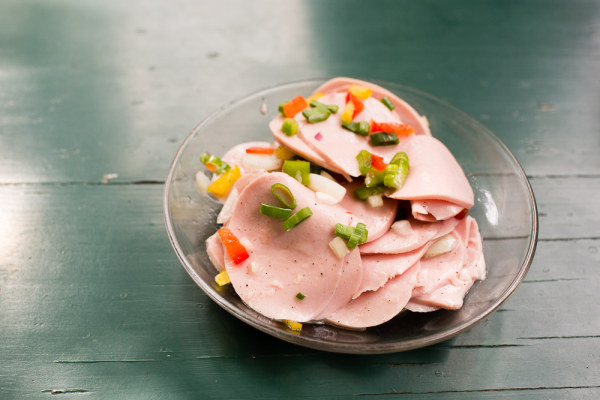 Meat salads are about as Germanic as you can get in the cuisine department, and this was a favorite of the Austrian men in our party, who gobbled it right up. It's made from very thinly sliced extrawurst—usually made from the cheapest leftover bits of meat—that has the consistency of good-quality boloney, and a generous toss of diced red bell peppers and scallions.
3. Krautsalat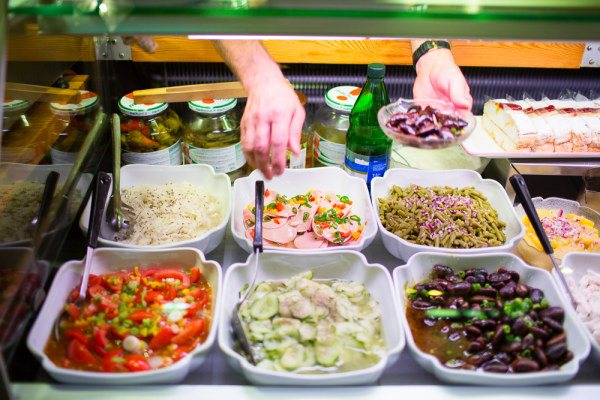 Visible here on the cold side of Haus Schmidt's buffet case, this is the Austrian version of a simple coleslaw, made with shredded green cabbage, caraway seeds, oil and vinegar. Not visible: Schwartzwurzel, aka poor man's asparagus, which our Austrian friends called a heurigen must. Salsify is peeled and boiled in salted water, then dressed with sour cream, oil and vinegar, and scallions.
4. Liptauer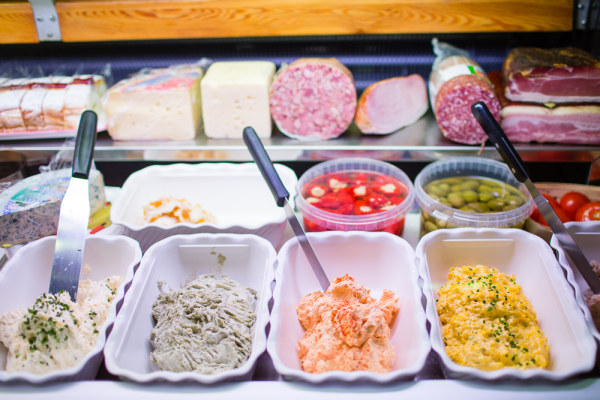 Spreads are big at heurige buffets and this is the most famous of them all. There are lots of different configurations but fundamentally, it's made of mild fresh cheese not unlike cottage cheese that's mixed with margarine and paprika.
5. Topfenaufstrich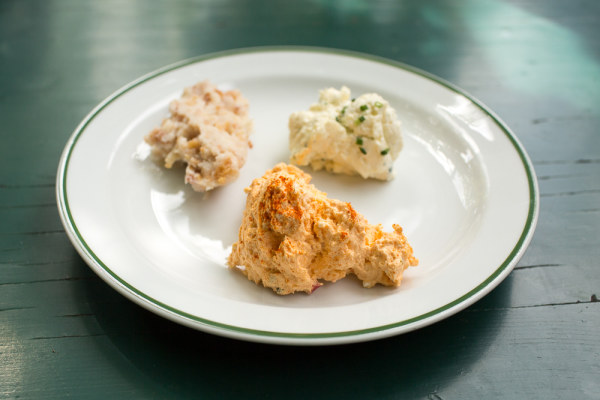 Seen on the far left, this is another fresh cheese spread, this one with a consistency that's more like a cross between ricotta and cream cheese, pungent with garlic and onion.
6. Grammelschmalz
Not for the faint of heart, this spread is made from pure pork fat—we'd call them pan drippings—with tiny, crispy fat bits folded in. It may sound dubious, but when it's done right, the taste is extremely clean and slightly addicting.
7. Breads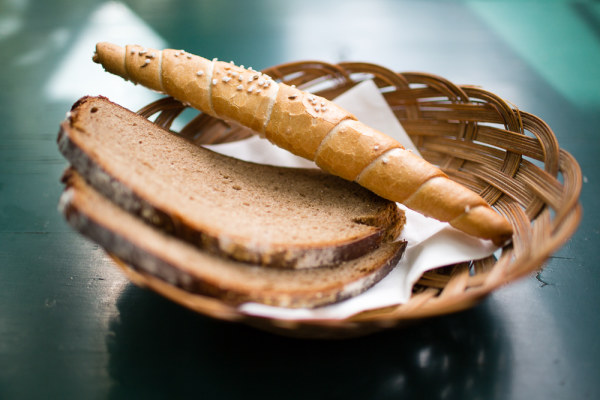 Slices of rye bread and special small loaves called Salzstangerl ("salt sticks"), are sold by the piece. You'll want them for your spreads, but also for sopping up the juices left at the bottoms of the heartier dishes you pile onto your tray.
8. Warmer Krautsalat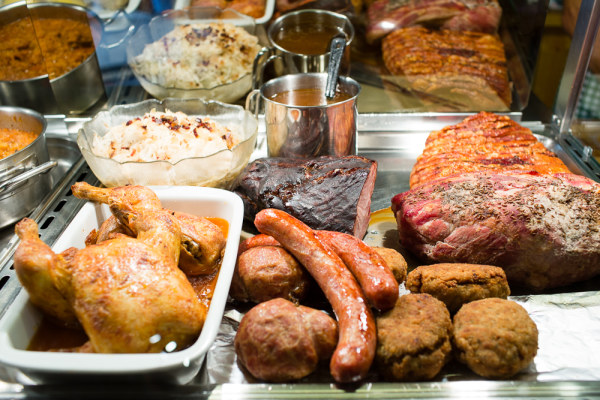 Considered both a warm salad and a vegetable side, this cabbage dish (seen behind the roast chicken) is briefly boiled in broth till it's cooked through but still slightly crunchy, then sprinkled with diced speck.
9. Kartoffel Knödel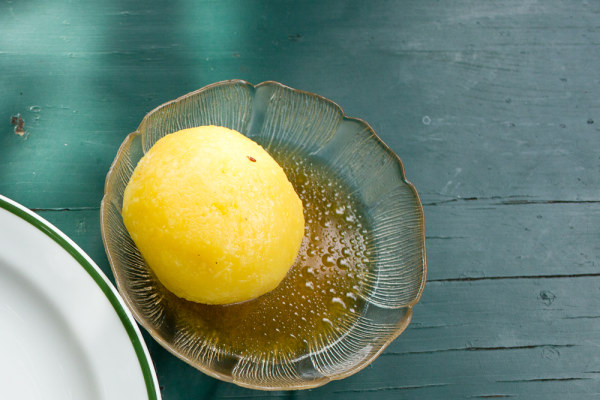 A very slightly, pleasingly chewy dumpling made from potatoes that are boiled, mashed and shaped, then cooked again in rich, fatty broth.
10. Kümmelbraten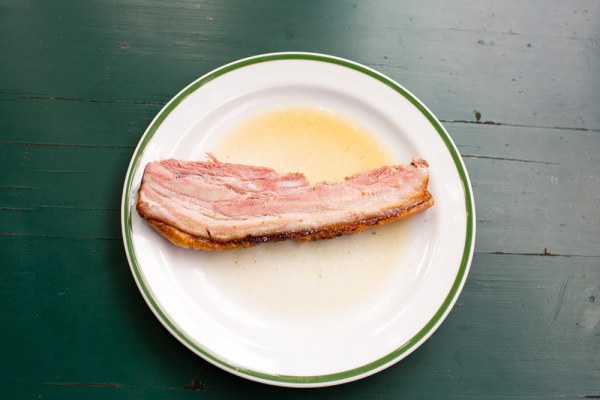 A generous slice of caraway-roasted pork belly served in its own cooking juices, with a very slightly crisp crust.
11. Fleischlaibchen
These are garlicky meatballs coated in a light cornmeal crust, then either baked or fried. Chances are high that you'll head back inside for a second helping of these.
Lela Nargi is a cookbook author and freelance journalist who lives in Brooklyn, NY. Find her at lelanargi.com.
Photos by Bernadette Reiter, except top photo, by Andrew Nash CC BY-SA