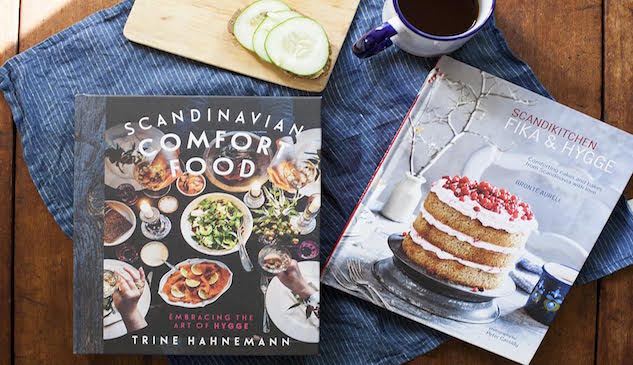 As the daughter of a Swede growing up in the Pacific Northwest, candles were an essential part of getting through the gray and rainy winter. Every morning growing up, breakfast was always eaten by candlelight. I was never allowed conventional American breakfast cereal, it was either oatmeal with fruit (no brown sugar in sight) or open-faced sandwiches.
When you are a child, whatever world your parents create for you becomes your version of "normal." For me, that world was magical and cozy, particularly in the fall and winter, a world of forest walks, wool blankets and a blazing fireplace. Breakfast by candlelight wasn't luxurious or a special occasion, it was just a way to keep a bit of magic in the everyday.
That anyone would find this way of existence revolutionary has always surprised me, but over the last few years, watching how thrilled people get about Scandinavian food, design and culture, it has become clear to me that in our modern lifestyles we are perhaps searching to bring back a little coziness and magic into our everyday lives, no matter what the season.
That coziness and magic is exemplified by the word hygge. The Danish word for cozy — and not just a word, but a national concept for living well — has taken off around the globe. There are books on hygge, candles with the name of hygge, hygge blogs with top 10 tips. Everywhere you look, there's a new article on hygge (here I am adding another one). We seem to be obsessed with recreating this Scandinavian cozy lifestyle.
Of course, while the world embraces hygge with the intensity of a new love, not everyone is
convinced. As Michael Booth, author of The Almost Nearly Perfect People: Behind the Myth of the Scandinavian Utopia, writes in an article featured on The Guardian, "With its relentless drive towards the middle ground and its dependence on keeping things light and breezy, hygge does get a bit boring sometimes. Worse, British anthropologist Richard Jenkins has described it as "normative to the point of coercive". If you don't know the rules, if you like to discuss politics or religion or anything other than your holidays, hygge's appeal may be short-lived."
But while there is a bit of truth in that argument, it shouldn't stop us from embracing a little bit of the cozy Scandinavian lifestyle. There's a reason people get so excited about it: feeling cozy, be it through what you eat, what you do and what wool sweater you wrap yourself in, feels good. You can still argue about politics if you want to (particularly given the current state of affairs) but wouldn't you feel a little better if you did so over a good meal with a few candles, while wearing wool socks? I would.
Hygge probably isn't going to solve the world's problems, but it's hard to imagine that sitting down to meals and sharing warmth with our community is going to make things worse.
This fall, there are two new cookbooks out to help you incorporate a little more hygge into your daily lifestyle, Scandinavian Comfort Food: Embracing the Art of Hygge and ScandiKitchen: Fika & Hygge. These aren't the only hygge books out there. The last year has seen a variety of hygge titles, including even a hygge coloring book. For recipe lovers, there's even more hygge to look forward to: the beginning of 2017 will welcome Signe Johansen's much awaited How to Hygge. And if you want a more factual look at hygge, then keep an eye out for The Little Book of Hygge: Danish Secrets to Happy Living.
But if you're looking for a way to cozy up right now this fall, here's a rundown of Scandinavian Comfort Food: Embracing the Art of Hygge and ScandiKitchen: Fika & Hygge.
Scandinavian Comfort Food: Embracing the Art of Hygge by Trina Hahnemann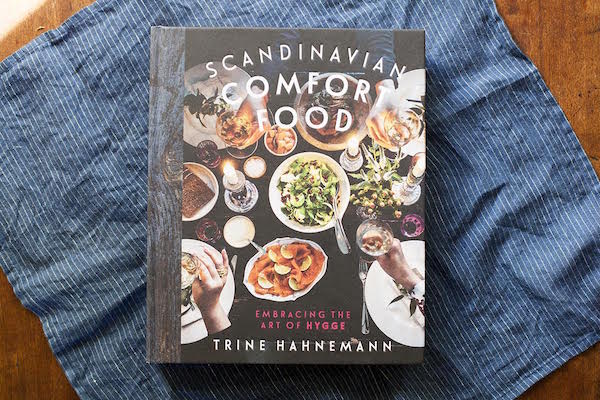 Trina Hahnemann isn't new to the world of Scandinavian cookbooks. This Danish chef and food writer is the author of several books that have become referencing for anyone interested in Scandinavian food and cooking, including Scandinavian Baking and Scandinavian Christmas. In Scandinavian Comfort Food, Hahnemann takes us on a personal journey of the recipes that make up her everyday life. Committed to organic and sustainable food, many of the dishes – be they sweet or savory — are wholesome concoctions made with good ingredients. Her breads are often made with sourdough starter and while there are a variety of meat dishes, Hahnemann believes that vegetables shouldn't just be a side dish. This is a book of whole grains, fresh produce and simple meals rooted in tradition. Items like Rye Bread, Fishcakes with Herb Sauce and Classic Potato Salad are all recipes which are rich in traditional Scandinavian flavors, but Hahnemann complements them with other items that our grandmothers may never have cooked with, but which have become staples of the modern Scandinavian pantry, like Nordic Quinoa Salad.
There is an entire section devoted to Hahnemann's Christmas table, and with no surprise; the Christmas holidays come with an assortment of recipes and traditions, and in a season when the weather is dark and dreary, there's nothing like hygge to get you through it.
What makes Hahnemann's book unique is that while hygge might be a trend, there's nothing about her recipes that are scream "food trend." This is a woman who believes in cooking good, whole foods, and serving it to the ones she loves. Just flipping through the pages, you get a feel for the Scandinavian seasons, of the light meals that are made for enjoying long summer nights and the heartier winter dishes that will always be accompanied by flickering candles. This book is perfect for anyone looking to incorporate not only more Scandinavian food into their diet, but healthier, wholesome recipes that make you feel good.
ScandiKitchen: Fika & Hygge by Brontë Aurell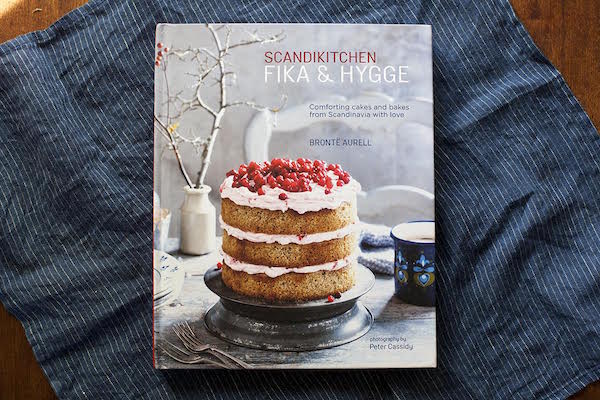 If you have a sweet tooth, Fika &; Hygge is for you. The owner of London's Scandinavian Kitchen, Brontë Aurell takes readers on an in-depth exploration on the cakes, pastries and treats that have made the Scandinavian coffee break iconic. This is the kind of cookbook that makes you immediately want to brew a cup of coffee and sit down for a snack, and that's exactly what Aurell wants. Along with hygge, fika is another popular Scandinavian concept that the rest of the world has grown to love. The iconic Swedish coffee break, fika isn't just about what you drink and eat, it's how you do it. Just as hygge inspires us to slow down and cozy up, so does fika.
Aurell documents Scandinavian classics, but she always brings her own modern spin. Mazarin Tart with Plums and Black Pepper shows off the Scandinavian love for marzipan in baked goods and Rye Bread Layer Cake with Cherries showcases a treat from Southern Denmark that's intended to use up stale bread.
Like in Hahnemann's book, Aurell has plenty of recipes for holidays treats, often taking some of the classic flavors and recreating them in a new way. Saffron buns are common during the month of December, and Aurell takes that distinct flavor and turns it into a cake instead with her Saffron Bundt Cake with Pears. Similarly, the spices of gingersnaps get incorporated into the Gingerbread Cake with Lingonberries. Aurell's book is perfect for those who know the Scandinavian classics but are looking for something with a twist; all of her recipes are fun and fully deserving of the most splendid of fika breaks.