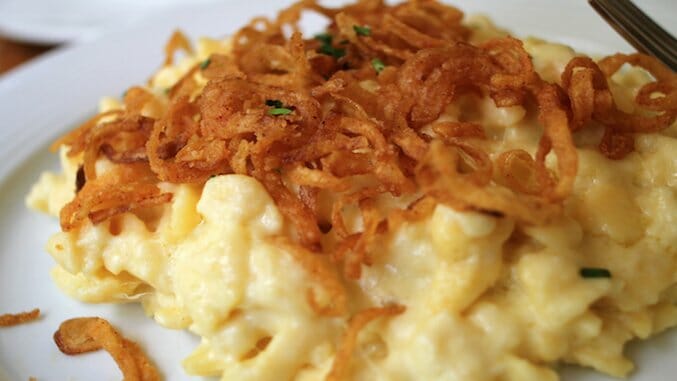 When we're feeling in need of some comfort food, many of us would normally go for Italian, Chinese or a big, greasy burger with fries. But there's one cuisine that's totally overlooked when it comes to providing that warm, fuzzy feeling associated with your grandma's Chicken Parm or a belly full of Lo Mein.
German food gets a bad rap – it's all soggy sauerkraut and massive sausages, right? Well, not quite. Throughout the ages, the Germans have developed some really hearty, super comforting dishes that'll have you thinking twice about your go-to grilled cheese and tomato soup next time you need warming up.
1. Käsespätzle
This southern German speciality (pictured above) is about as good as it gets — soft, fresh, homemade noodles with lashings of oozy cheese. It's basically a German version of mac and cheese, but a lot simpler and way more satisfying.
The noodles start as a super easy dough/batter which is dropped into boiling water using a special implement called a Hobel, but you can just as easily make it at home with a colander or a cheese grater. After cooking in the water for a couple of minutes, the tasty pasta is dropped straight into a mixture of grated cheeses while it's still piping hot. Once those beautiful cheeses have turned into a decadent sauce, the käsespätzle is topped with simple seasonings and caramelised onions.
And if you really want to treat yourself, it wouldn't be out of the question to add some thick-cut bacon lardons to the mix.
2. Eintopf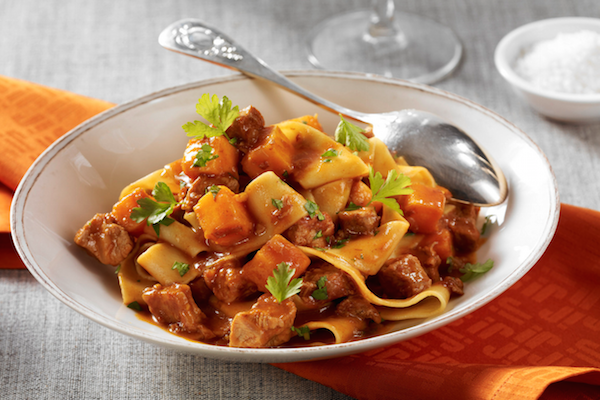 Photo: Butaris
It doesn't get much easier than Eintopf, which literally translates to "one pot." It's a set-it-and-forget-it type of dish that will warm you right through those cold winter nights.
Eintopf is more of a general cooking method than a specific dish, so various different incarnations spring up across the country. Lentils are the favored ingredient in the Thüringen region, while chefs from other areas might choose to base their eintopf around seasonal root vegetables or potatoes and meatballs.
3. Bratkartoffeln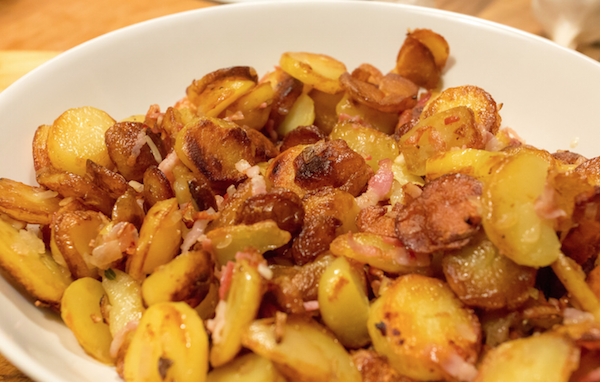 Photo: Oliver Hallmann/Flickr
This dish has everything you could possibly want on a rainy evening — crispy bacon, hearty potatoes and rich onions. The ingredients are sautéed together, much like home fries, and usually served alongside eggs, pickles and salad as a breakfast dish (but we won't tell anyone if you decide to have it for dinner).
4. Bouletten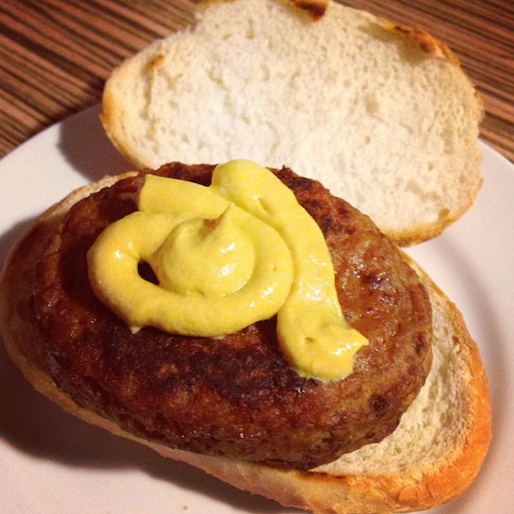 Photo: Jorge Díaz/Flickr
Bouletten is a speciality in the German capital of Berlin, and it's been keeping city-dwellers going through the colder months for decades. Similar to the Frikadellen available in other parts of the country, these big, juicy meatballs are often served up with mashed potatoes and gravy, or in bread with mustard.
Stuck somewhere between classic Italian meatballs and your mom's meatloaf, these Berlin favourites can be found across the city in bars, on street food stands or in restaurants.
5. Schupfnudeln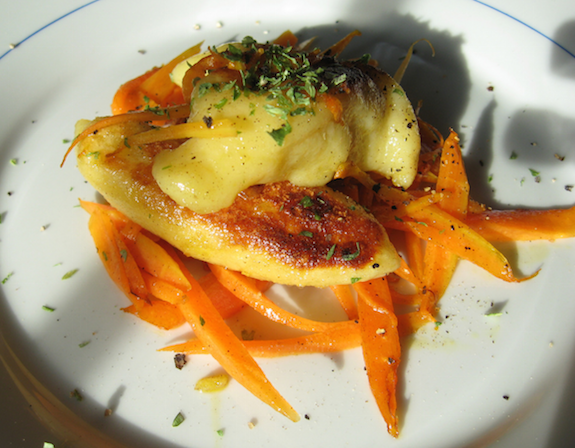 Photo: Seph Swain/Flickr
Schupfnudeln are a delightful treat popular in southern Germany, similar to Italian gnocchi. They're comforting little potato dumplings made with flour, eggs and potato, and they're as versatile as their Mediterranean counterparts. They're delicious when toasted in a pan with garlic, mushrooms and herbs, or can be prepared simply with butter, cheese and bacon bits — to mix it up, try a sweet potato version with brown butter and thyme.
6. Kirschenmichel
Dessert is always the best part of a meal, and this fruity German pudding will give you that cozy feeling we all desire during the winter months. Just like bread and butter pudding, this sweet delight is made with stale bread soaked in eggs, butter, milk and sugar with spices. Cherries are folded into the mixture, and it goes into the oven until golden brown. Kirschenmichel is traditionally served after a meal with hot vanilla custard.
7. Glühwein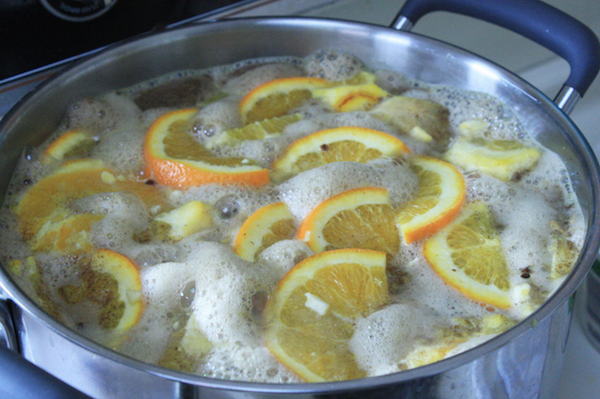 Photo: Wheeler Cowperthwaite/Flickr
If there's one thing Germans love more than beer, sausages and paperwork, it's Christmas. They really go all out during the festive season, and glühwein is an aromatic spiced wine served throughout the yuletide period.
It wouldn't be a traditional German Weihnachtsmarkt (Christmas market) without the hypnotic smell of glühwein in the air. Red wine is heated with various spices, citrus fruits, and sugar before being served in mugs to chilly customers. The warmth of this flavorful mulled wine is sure to brighten up any cold day and put a festive spring in your step.