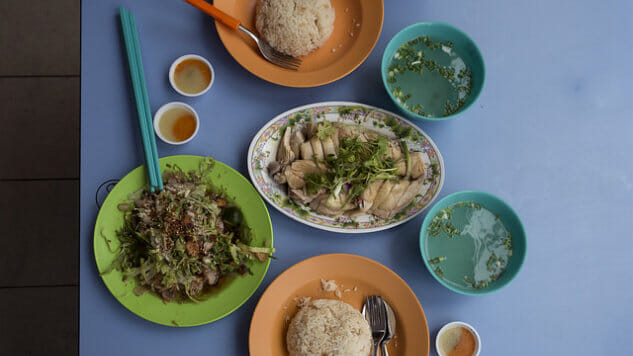 Singaporean restaurant owner Simpson Wong recalled a childhood memory of him running around with his eight siblings at a hawker centre in his homeland Singapore. Each child went for the food stall he or she liked, while one held a communal table for the whole family. With their dishes of everything from laksa to Hainanese chicken rice in hand, his family sat down at their chosen table and together had a feast. "I grew up very poor, so instead of a going to a restaurant, our parents would take us to the hawker centre," Wong reminisced.
Made of various street food stalls, with some housing more than 200 vendors, Singapore's hawker markets attract locals and tourists from different socioeconomic backgrounds because of the variety of choices and affordable prices.
"Everybody loves hawker food," Wong said. And these hawker markets, which were established to offer sanitized and more regulated versions of street-side food vendors, aren't only found in Singapore. They also exist in other Asian countries like Hong Kong and Malaysia. But it's Singapore's hawker food stalls that get the most press — not only is the small country well-known for its street food, but recently two Singaporean food hawkers received a Michelin star each.
In July, the Michelin Guide finally "inspected" Singaporean food, >giving out stars to 29 venues with two of them being street vendors Hong Kong Soya Sauce Chicken Rice and Noodle and Hill Street Tai Hwa Pork Noodle. They are also the first street vendors (and the cheapest) to receive such recognitions.
Wong said that he did hear complaints from some Singaporeans about the Michelin stars. Apparently, they weren't happy because they didn't need the food industry bible to tell them their food is worth eating. And what local hasn't scoffed off a reviewer or critic — whether Michelin expert or Yelper — because they think another restaurant or food venue is better. "The Michelin Guide people, the inspector or the critic, I think they have one thing in mind," explained Wong. "They were trained in a such a way that you are doing this for the tourists that are coming from other countries and not for the local people."
Further proof of Singapore's food fame lies in Anthony Bourdain's plans to open his own food market in New York City designed like a Singaporean hawker centre. Summer Crab, a Singaporean chili crab company, debuted at the Los Angeles Smorgasburg this summer. Chefs like Petrina Loh of Morsels restaurant in Singapore travel to food festivals abroad to show the world what Singaporean food is all about, while Chef Eric Teo has led teams of Singaporean chefs to gold at the Culinary Olympics and the Culinary World Cup. The James Beard Foundation's 30th Anniversary Fall Gala, meanwhile, is called "Singapore's Culinary Crossroads" and will feature chefs LG Han of Restaurant Labyrinth, Yew Eng Tong of Ocean Restaurant by Cat Cora, Cheryl Koh of Tarte and Les Amis, and cocktails by Employees Only, which recently opened a stylish cocktail outpost in Singapore.
When asked we are having a Singaporean food moment, Wong replied: "I think it already is, but people are not aware because they don't know it's actually Singaporean food." That may be because Singaporean food is influenced by other cuisines like Thai, Chinese and, most dominantly, Malaysian. The latter and Singaporean food are much alike as dishes are called the same name but prepared differently, said Wong, who gave two noodle dishes often found in any Singaporean hawker market — hokkien mee and char kway teow — as examples.
In his West Village restaurant Chomp Chomp, Wong serves hokkien mee with two types of noodles, eggs and seafood, while in Malaysia the hokkien mee is braised with a sauce that darkens the noodles. And Wong's char kway teow is sweeter, wetter and darker compared to the Malaysian version, where it's spicier, drier and lighter. Wong has received his fare share of opinions from Singaporeans who compared his dishes to the ones cooked at home by their mothers or grandmothers, apparently claiming Chomp Chomp was not authentic. "But my answer to that is I think that even among the hawker centre in Singapore there are variations of the same dish," said Wong. "I'm not claiming that my food is one-hundred percent authentic. I'm not saying it's not authentic as well. I make it the way I grew up and how I remember eating it, and also bear in mind the ingredients are very different here."
Wong, who is the owner and executive chef of Chomp Chomp, carefully selects his ingredients, purchasing them from the local markets. He also comes in the morning before his staff arrives to make the sauce used for the broth, which at times can pose a challenge when non-Singaporeans want their dishes less spicy. "Sometimes it can be done; most of the time it cannot be done because you already made the sauce for the broth," explained Wong. "As you know, to make it spicy, it's easy, to make it less spicy it's hard. You have to make sure that it's balances as well. You cannot just add water to it."
ISingaporeans' pride for their food runs deep — from the hawker centre bringing people together to talking about the food in and outside their homeland to how a greeting is exchanged among Singaporeans. "For instance, the first thing I ask when I see you is, 'How are you? Hey, what's up?'" Wong said. "But in Singapore, the first thing they ask you is, "Have you eaten yet? Have you had your meal yet?' That's like hello."
Kristina Bustos is a Midwestern-bred writer who likes her food as much as her pop culture. She now calls New York City home. You can find her other work on The Riveter, Digital Spy and Essence. Holla at your girl at @krisbustos.
Photo by Jonathan Lin CC BY-SA