The Laid-Back Vibe of Chris Taylor and Ithai Schori's Twenty Dinners
Bring your friends into the kitchen for Twenty Dinners--and get them cooking
Photos by Nicole Franzen, reprinted from Twenty Dinners
Food
Features
Twenty Dinners is the byproduct of two guys who met and bonded making informal, delicious meals together for their friends. That those two friends happen to be Ithai Schori, a photographer who's worked in professional kitchens, and Chris Taylor, the bassist for Grizzly Bear, makes it a bit more compelling. Twenty Dinners is a laid-back, welcoming cookbook that wants you to invite some friends over, dive in and cook together—no stress, no pretense, no overthinking. Use the recipes—or don't. They're a starting point, equal parts inspiration and instruction, if that's what you're looking for. The authors don't want you to take it all so seriously, though.
"If someone picks this book up and doesn't need it by the end of it, I'm suuuuper pumped," says co-author Schori, 31.
Wait, what? That doesn't seem like a good marketing strategy for a new cookbook, does it?
"We want people to not be stuck with their head in cookbooks. Just let it be a dance," he says.
That's easy enough for Schori, who grew up in the greater New York metro area with Israeli parents, traveled frequently, and developed a wide palette. He wrote his thesis at Bates College about the rhetoric of the Food Network, became a professional photographer and dove head-first into professional kitchens, learning along the way. Taylor, 33, grew up at the proverbial apron strings of his mom and started learning that way, asking lots of questions, ultimately turning him into a well-versed, adventurous home cook. The one thing he misses the most when he's on the road is the most mundane thing possible: grocery shopping. But when you're at the mercy of whatever you can find on the road—some of it good, some of it bad, much of it indifferent—shopping for and then cooking your own food is task to luxuriate in.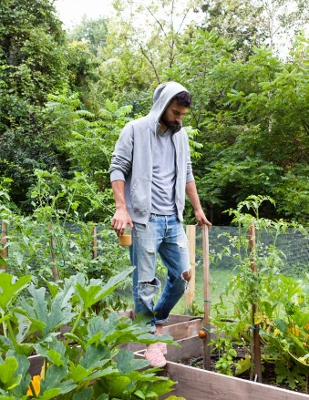 The co-authors met through a mutual friend at a backyard barbecue. "He came over one day and said, ''Can I help?' and within five seconds I knew he knew what he was doing, and we cooked the rest of the dinner together," says Taylor. It was culinary kismet from the start.
Going from freewheeling cookouts and dinner parties to a full-fledged cookbook is a very different undertaking, however. "We tried really hard not to write recipes. That's how now we cook," says Schori.
"We discovered it's really hard to write recipes. We had to reverse engineer it," says Taylor.
That process of reverse engineering results in 20 different dinners that bear the imprimatur of their styles and experiences, but the recipes don't even come close to overthinking it. Their instructions are direct and easy; you won't see measurements for things such as the amount of oil used in cooking a dish, other than to say you should just basically coat the bottom of the pan with oil. They want to take any iota of fear or intimidation you might feel about cooking, and obliterate it, gently. And offer you suggestions for alcoholic beverages with each dinner, too.
That approachable, friendly vibe runs right through the book, from the way the recipes are titled and written to the way they're presented. See, for example, "Ithai's Kind-of Sundae," which isn't quite a recipe but a list of ingredients: it involves vanilla ice cream, instant coffee and a good flaky salt like Maldon. The book's broken down into seasons—Taylor says it "feels more fluid and natural"—and smartly highlights the best of each. One of the desserts is simply titled "Bowl of Cherries," which serves "1 to a crowd," and instructs readers to "put the cherries in a bowl. Serve." (Mascarpone is optional.)
Don't be fooled though, by the no-brainer approach of presenting a ripe, luscious bowl of cherries in season. It's not a joke, but merely a reminder that sometimes food doesn't need to be gussied up. There are plenty of other places where the pair ups the ante with inspired flashes, such as charring apples as you would peppers on your stovetop to bring a savory hit to applesauce, toasting nuts in browned butter to amplify, you know, the nuttiness, and incorporating Earl Grey not once but twice—in a hot toddy and in a jam.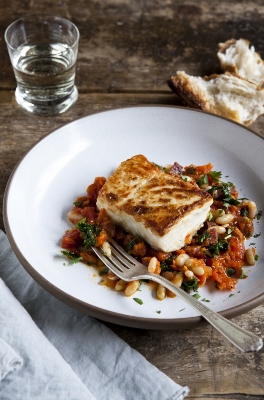 The natural, rough-hewn image is conveyed in the design and photography, too. Schori explains that they rented a house in upstate New York (Germantown, to be precise) and outfitted it with whatever décor fit the vibe. They loved the house so much that after they shot the cookbook there, the authors and a few of their friends decided to keep a long-term lease on it. Talk about livin' the dream: they've turned a conjured, ad hoc experience—an intense cooking extravaganza and photo shoot—into a sustained reality. Who gets to visit a permanent photo shoot, a magazine layout, whenever they want? These guys.
Some of the dinners offer a more comprehensive vision, complete with five courses (dinners 1-3, dinner 20), but most of them fall somewhere in between. Some of the menus prize simplicity and efficiency, with a mere two courses, such as dinner 9: White Bean Spread on Toast and a Spicy Tomato Stew with Seared Halibut from the winter chapter. All of the dinners offer a wine. "We wanted dinners that were a collection of recipes that were a palette that worked together, instead of random appetizers. It gives people an idea of how flavor profiles work together. . . without using the term flavor profiles," says Schori.
"That sounds like a whole lot of work"—interjects Taylor, laughing.
And the number fits in with their loose but not totally freewheeling approach to cooking. "Twenty is a good solid number you could grab a hold of. It's not too much," Taylor says.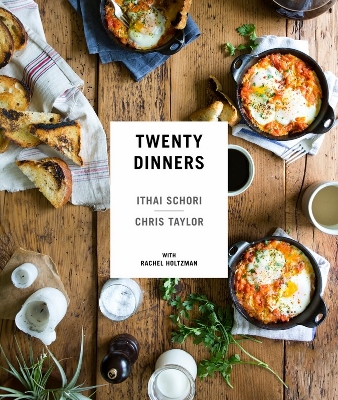 There's also a wide range of types of recipes, depending on how ambitious you're feeling. "Yeah, of course. That's the way you eat. Sometimes you're motivated, and sometimes you aren't," says Schori.
Speaking of motivation, one of the things fueling this book is a dash of nostalgia. See Ithai's Kind-of a Sundae, along with Meatballs (and Spaghetti), and something from Taylor's background—the Gruyere Puff. "It's straight outta Bon Appetit circa 1983; I made that as a kid. In fact, I've always had this dream of doing a series of dinners—beef stroganoff, meatloaf, and just kill it," says Taylor.
"We each had ideas as to what we wanted it to be, but at the end of the day, this cookbook is very much both of us," says Taylor. Most creative projects require some degree of collaboration; even for the most staunch of solo artists or multi-starred celebrity chef, it takes a team. As good collaborators, Schori and Taylor know their limits, and have brought in pastry chef friend Lillie O'Brien for the desserts and other friends to present unpretentious primers to wine, coffee and the home bar. "It's more fun to do things with other people than to do it by yourself," says Taylor. So go ahead, invite some friends over, pore through the book, and then "keep the dance going," says Schori.
Photographs reprinted from Twenty Dinners. Copyright © 2015 by Ithai Schori and Chris Taylor. Photographs copyright © 2015 by Nicole Franzen. Published by Clarkson Potter/Publishers, an imprint of Penguin Random House LLC.
Carrie Havranek is a recovering music critic and part-time baker who writes about food, farmers' markets, chefs and restaurants—and sometimes travel—from her home in Easton, Pennsylvania. You may have seen her work elsewhere in Edible Philly, the Kitchn, or Frommer's.I