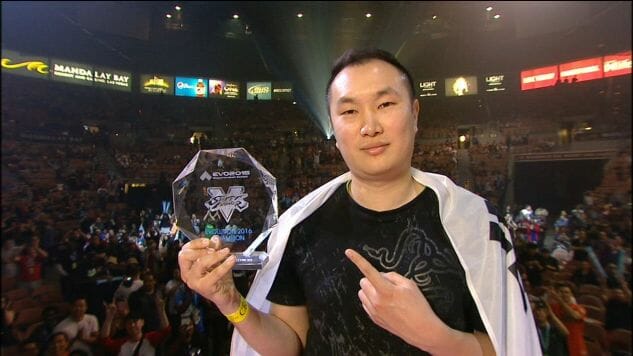 This year's Evolution Championship Series, or EVO, came at a critical time. Super Smash Bros. for Wii U was seeking its breakthrough moment, to trump older brother Melee; Street Fighter V was making its EVO debut, at a tournament defined by its Street Fighter legacy; and with ESPN broadcasting the top eight of Street Fighter V, the world (or at least those who bought the cable package) was watching.
Heartbreaks, upsets and more all transpired, and there's little doubt that this year delivered in some big ways. However, as the dust settles, now might be a good time to look back and assess what we learned from this year's EVO, and what should be kept in mind moving forward.
1. Fighting games were made for the main stage…
The choice to move the grand finals on Sunday to the Mandalay Bay Events Center was met with understandable apprehension. EVO was born in the grassroots efforts of passionate tournament organizers and players, and this was the first shade of "broadcast e-sports" moving into the fold. From the ESPN broadcast alone, though, the spirit was still alive, and competition across all games was electric. The lights and crowd only served to amplify the tension in sets like Armada vs. Hungrybox, or Fuudo vs. Infiltration.
2. …but it isn't perfect quite yet.
Of course, with the main stage comes some growing pains. Production was rough during the early hours at Mandalay Bay, and even during days prior. Graphics misfired, sound cut out and the broadcast crew didn't seem to anticipate issues like the massive PA system, or that having a separate crowd mic was a necessity. Cameramen had to stand awkwardly on-stage, right next to the players throughout the set. The glitz and glamour suits the play, but the details still need fine tuning.
3. It might be alright to splurge a little.
It's a shame to hit massive viewer numbers, yet still have the grand finals be on a small table, with banquet chairs and a tiny TV screen. Setting aside the CRT demands of the Melee crowd, a little bit more extravagance might be reasonable at this point. Keep the atmosphere by all means; having the stage so close to the crowd allowed for some great pop-offs, and keeping players next to each other makes sense logistically and for presentation. Still, banquet chairs?
This is the moment I'm talking about! It's just amazing! I'm so happy for him! Go Long Island Joe!!! pic.twitter.com/Wk0jVxhS84

— Joe Martinez (@JoeViewtiful) July 18, 2016
4. Storylines matter.
The key to a good finals isn't just engaging games, but compelling narratives. The audience gets more involved when they have someone to root for, to believe in, and no one better exemplifies this than LI Joe. A beloved organizer from the East Coast, with no sponsorships or major titles to his name, he was the e-sports Rocky for two hours on Sunday night. You wanted to see Joe win, to take the title for America and succeed against the gods of Street Fighter V. Even when he was eliminated, finishing fifth, there was a standing ovation and a touching moment with his father, who flew out to see him play. Moments like these define e-sports, more than gameplay. Joe went the distance, and the more tournaments continue to highlight stories like this, the more an unengaged viewer will become attached to the events.
5. Super Smash Bros. for Wii U got the short end of the stick.
It's hard to deny that Sm4sh (the less word-intensive term for the Wii U iteration) had a poor showing at EVO 2016. It's also hard to pin the blame on any single factor. Despite being the second highest in entrants, the finals were held on Saturday, with pool play going past midnight the night before. And yet, despite having so many entrants, viewer numbers were comparatively poor for Sm4sh's finals, even with little competition. Logistics were poorly handled, as though the game was given the same number of setups as other games' pools had, and their schedule ran well over the allotted time. There's a lot of finger-pointing, but the summary is that Sm4sh did not have the EVO it wanted to, and despite entrants or quality of play, still seems to be perpetually in Melee's shadow.
6. Street Fighter V is a blank slate.
There was no shortage of surprises in Street Fighter V's pools, where many top players fell to one another, or to surprise competitors no one had heard of, throughout Friday and Saturday. Daigo Umehara, Justin Wong, Ricki Ortiz, Alex Valle, Eduardo Perez, Bonchan and Momochi all fell before the top eight, despite being sure picks prior to the tournament. In their place, we saw newcomers to the throne in LI Joe, MOV, GO1, Eita and more. It was refreshing to see so many new faces, even if it was disappointing to not see some classic names in the top eight. EVO showed that there's still a long road to the Capcom Cup, and it's still anyone's game.
7. Guilty Gear Xrd continues to be the best game no one expects.
You would think after last year's pop-off that led to a SportsCenter Not Top 10 nomination, the general population would expect Guilty Gear Xrd's top eight to be entertaining. Yet the sentiment was still surprise when the finals showed game after game of clever, talented play and high-level technical skill. The "anime fighters," as they're usually called, were previously considered a niche amongst the fighting game community. The prevalence and entertainment of Guilty Gear has been driving them to the forefront, earning a primetime slot on Sunday. While Street Fighter and Melee continue to be the big names, Guilty Gear Xrd is one of the biggest rising success stories at every EVO.
8. As fighting games get bigger, EVO gets more panels.
Though the event is first and foremost a fighting game tournament, the celebration of fighting games has grown bigger every year alongside the genre. The high-profile releases of Street Fighter V, Injustice and Mortal Kombat X seem to have sparked renewed interest in fighting game amongst the general populace, and so EVO wasn't just tournaments and brackets, but panels and announcements. New characters, DLC, trailers and release dates were present at almost every panel, as the content train chugged on for many fighting games. It certainly won't be E3 anytime soon, but companies are realizing EVO gives them a chance to speak directly and frankly with their fan base in a way other expos and events don't.
9. Tension in toning it down.
It's no surprise that, for the ESPN broadcast of Street Fighter V's top eight competition, some elements common to the FGC were toned down. Some were good, as Mike Ross and Seth Killian took the mic without dropping vulgarities, and provided excellent commentary all night. Some were split, as restrictions were made on R. Mika's costumes that were deemed too revealing for the broadcast. There's likely to be more of this, as broadcasts get bigger and Street Fighter has to start wrestling with issues of representation in-game. Thankfully this proved that you can have a solid finals broadcast on ESPN that's accessible to a wide audience, without losing the heart of the FGC.
10. Culture still matters.
It was a rough year, between Sm4sh issues and sexual assault allegations, but one element that shone through was the camaraderie. Players were respectful to each other, even on the main stage, when tensions ran the highest. Side tournaments featuring passionate communities for games like Catherine, Windjammers and Melty Blood were huge successes. The "community" in fighting game community is still strong, and keeping that heart is going to be what makes EVO compelling to watch every year, more than anything else. As the stages grow and sponsorships abound, hopefully the sentiment will still remain the same; we can have a nationally broadcast grand finals, and still have Infiltration respond to questions about how he beat his opponent with "download complete."
---
Eric Van Allen is a Texas-based writer. You can follow his e-sports and games rumblings @seamoosi on Twitter.