With Barkley 2, Another Kickstarter Falls Apart Before Completion
Image via Tales of Game's/YouTube
Games
News
Barkley 2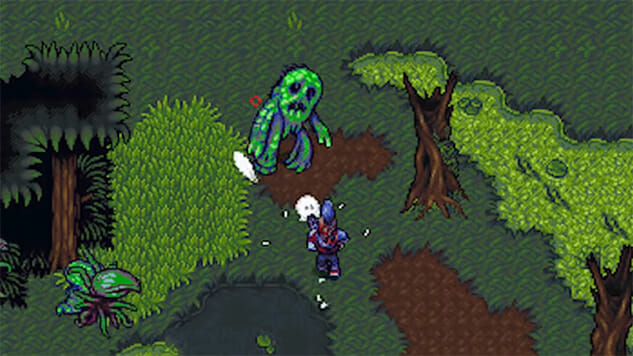 Another day, another Kickstarted sequel to a beloved cult hit devolving into chaos.
This time it's Barkley 2, the sequel to the 2009 SNES-era Squaresoft parody Chef Boyardee's Barkley, Shut Up & Jam: Gaiden, Chapter 1 of the Hoopz Barkley SaGa. The original game was an eccentric mash-up of an obscure videogame tie-in for the movie Space Jam and an even more obscure Genesis basketball game revolving around NBA star Charles Barkley. Keeping with tradition, the official name of Barkley 2 was The Magical Realms of Tír na nÓg: Escape from Necron 7 – Revenge of Cuchulainn: The Official Game of the Movie – Chapter 2 of the Hoopz Barkley SaGa.
Barkley 2's development started in 2012, when its Kickstarter raised a surprising $120,000. Unlike the turn-based original, the sequel promised to be an action RPG-meets-top-down shooter hybrid, like the child of Secret of Mana and The Chaos Engine. But trouble started to brew when the developers, Tales of Game's (twee apostrophe intentional), missed their original 2013 release deadline. Then the traditional Kickstarter tragedy unfolded: Updates starting getting sparse and cryptic, the team announced they had run out of money and finally, in 2018, a year of radio silence. Earlier this week, the team resurfaced to update backers about the delay.
A Tales of Game's developer explains in the update that "[a]s the game continued to age, people left the project for lots of reasons, mostly due to taking jobs or losing interest. Everyone still working picked up slack as the game went on, but this game always needed competent and constant development in order to come out under the lofty pretenses we had established."
The game's development cycle resembles the tales of many other crowd-funded videogames stuck in development hell, like Yogventures and Unsung Story.
The post clarifies that the game is still technically in development, though it doesn't include a release date or development schedule, so there's still hope. A 2015 trailer for the game once joked that the release date would be Nov. 11, 2023. That's not so far-fetched anymore.
Watch the Barkley 2 trailer below.