E3 2017: Frustration and Fatigue Both Before and At the Show
Photos courtesy of Getty Images
Games
Features
E3 2017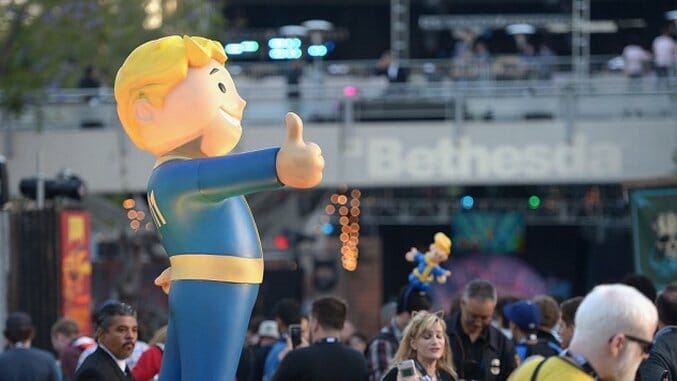 Assistant games editor Holly Green is at the annual E3 videogame trade show in Los Angeles this week. She'll be filing daily dispatches from the press conferences and show floor, and here's the first.
Sunday June 11
2:22 PM
I arrive at the convention center, having taken a cab directly after my flight. It's lonely, but satisfyingly quiet in the lobby. I've never seen it this dark before. Having missed the window to pick up my wristband for the Bethesda event later in the evening, I trek up to the media registration office, 70 lbs of luggage in tow. The ground is covered with an odd sheet of plastic, probably to help wheel in the many pieces of equipment needed on the show floor. Lucky for me, it works for suitcases too.
Microsoft employees are flitting about, while Twitch guys lurk nearby. Aware of how odd it looks for a five foot one woman to be dragging a tower of luggage as tall as she is through the convention center, I hurry and make my way outside to catch another cab.
3:58 PM
I've arrived at my Airbnb and have unpacked and settled in. Surprise, I'm sharing the loft with my host, which she did not specify on the listing. She also forgot her keys. I wait for several minutes as she fumbles in her purse, and finally she pulls out…a credit card. "My neighbor is Russian…and he showed me this trick when I got locked out time." Apparently this has happened before.
The accommodations are an adjustment, but that's okay. I'm too old to need privacy anymore. I have my own bathroom, for my 50 metric fucktons of makeup and hair products, and a separate alcove where I can write all night, and that's good enough for me.
As I remove each article of clothing, one by one, placing them in their temporary home, I wonder what the show floor will be like. This year's E3 (my eighth consecutive) marks the ESA's opening of the event to the public, a gesture that seems almost token at this point. In the past only a small amount of general admission tickets were sold, and for prices too steep for the general gaming fan. A lot of folks worked around this by maintaining a blog, and hundreds, if not thousands, of each year's attendees are fans who run a site solely for one sole purpose: to get into E3.
Paying a $250 admission fee is admittedly a lot less work than becoming a writer, so I imagine the E3 crowd this year won't be much different from the seven I've experienced before. Maybe a little bit more hallway blocking and swag collecting, but we'll see.
7:30 PM
I am standing in the line leading into the Bethesda event, pondering all the poor choices in my life that have led to this moment. Why didn't I leave the airport sooner, why did I have to stop and have a smoke break, why did I linger before heading over to the convention center to pick up my badge? If I'd made it just 15 minutes sooner I could have had a wristband and instant access. But instead I have to wait at least 45 minutes to get into an event that will end an hour after I get in.
A random attendee comes by to check in on his friends. He has a wristband. They do not. "Y'all are fucked! Because this line is at least a half hour long and it's another 20 minutes for drinks when you get in." Many sighs and groans are had.
8:45 PM
Random Dude wasn't kidding. Bethesda's carnival themed event has several mini-games and demo stations, and multiple booze stations. All of them are packed. The presentation is due to start in mere minutes and no one can even move through the hallways to get to the makeshift stage. What is the purpose of these events, exactly? From the chatter I overheard while standing in line, many of the attendees aren't in the media; the folks ahead of me were executives at a Montreal development studio. The dudes behind me were all YouTube streamers with specific focuses: No Man's Sky, Minecraft. Is Bethesda just trying to look popular? I recognize the value in attracting interest from the most involved members of the games industry. But when everyone is miserable at your event because there are approximately 23 lines with half hour long waiting times and it takes an hour to get beer—what's the point? Many of the journalists I run into complain that they could have covered the event from their hotel. Only IGN, Twitch, and Gamespot are given bleacher seating.
I finally make it to the railing that frames the main stage and find an empty spot up front. I have no idea what I'm doing there. I'm not an enthusiast, I have no idea what will be announced, and I have no idea who is performing at this promised "concert". What am I doing with my life? I am in my 30s. I don't need to stay out 'til 4 AM to prove that I'm alive.
I resolve to stay long enough to at least get a beer.
9:45 PM
With the Bethesda presentation over, The Chainsmokers take the stage, and the crowd scatters outward, heading for drinks, food, and smoke breaks by the porta potties. I join the queue for free alcohol, earning a Dixie cup's worth of beer for my trouble, then precariously totter over to the concrete steps and sit down for a cigarette. As much as I want to enjoy the carnival, there are just too many people, and my ankles hurt too badly. The event could have used more seating, and less attendees. Or maybe more pot. Someone in the crowd is smoking a joint. I admire their moxie, but also resent it because they didn't bring enough for everybody.
Monday June 12
1:24 PM
After filing a late story on the Bethesda event, I sleep in until 10 and wake up swollen and in tremendous pain from my adventures in Steve Madden heels the night before. Today is the Sony event. I did not get the Paste Magazine invite transferred to me in time. I have no one to blame but myself. I settle for beer and brats at Los Angeles Biergarten and resolve to rest and prepare myself for the big opening day.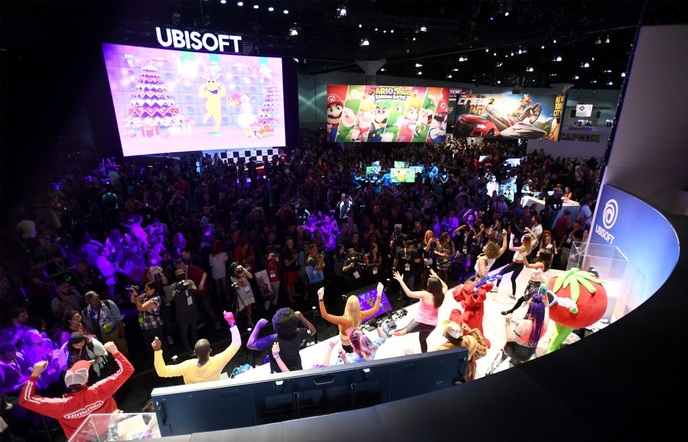 Tuesday June 13
8:54 AM
The show doesn't open until noon today, but I couldn't sleep so I got up early anyway.
E3 is different for me this year, in a lot of ways. I've been thinking a lot about my career, my motivations, the past 8 years of writing. In a lot of ways, at times, I've stuck around for the wrong reasons: the social scene, feeling obligated to be a part of it even when I don't want to. Sometimes I've remained for sheer petty revenge. But as I grow older I start to wonder if I'm wasting my life by being hung up on turning the games industry into my own little re-do of high school. I want to be liked, but I constantly do things that make people not like me. I self-sabotage, I'm principled to the point of combative, and I've alienated a lot of people. It's not a reason to quit games reporting, but it is a reason to stop and wonder if I'm living my best life, or merely waiting for my real life to begin.
These are some very heavy thoughts leading into a convention about videogames.
1:00 PM
Only one hour into the show and already it blows. Typically I'm rather cynical so I get grumpy in crowds as it is, but the lines are going out the door and even an hour after the show has officially opened, people are still trailing in. The exterior of South Hall was packed up to the sidewalk when I arrived in my cab, and in the past, it was the best place to grab a pre-show smoke. Not the case anymore. A sea of yellow plastic badges has formed an impenetrable wall at every turn.
So I hustle over to my favorite bar spot on the edge of South Hall, and wait 'til they start serving beer. I also grab a pizza from next door. There are no stools left so it's standing room only, but it sure beats trying to get through the show floor.
As I wait at the counter, the girl next to me asks, "Do they actually serve alcohol at the show?" The staff hasn't set up the back counter yet, so no one is being served. I assure her yes, and then introduce myself. Her name is Christina and it's her first E3, and she's here as an attendee. She's only been playing games for a year and a half. I give her a few good tips about where to find alcohol and food and wish her good luck.
Settling in with my beer, I try to form a gameplan. Getting photos has always been tricky at E3, what with the constant stream of people rolling by. Whereas E3 2016 was sparse and thus easy to photograph, this year is a logistical nightmare. And with only one day to get pictures, I begin to wonder if it can even be done.
3:00 PM
The E3 photo gallery I planned has been abandoned. The crowds are just too thick and chaotic. I arrive at my Activision appointment and they're at least an hour behind schedule. I assure them that I understand and will stick around for the demos and interviews I'm scheduled for, but I can feel the slight underlying tension.
I've never played a Call of Duty game but I decided to give the new one a fair shot; the trailer footage got me interested, and I figured now is as good a time as any. Better, even, since the game is is returning to its WWII roots. I had so many questions.
Questions, unfortunately, that I do not get to ask due to the schedule push-back from the crowds. And while I genuinely wanted to enjoy the demo, I found myself dumped in a room filled solely with other men, all of whom had played Call of Duty before (and one of whom, my next door demo neighbor, insisted on checking my screen to see how I was playing), with no instructions on how to play or what the demo mode even was. I was thrust suddenly into an unexplained multiplayer scenario without so much as a rundown of the console controls, and no idea how to parse the UI. Frustrated, I left after three minutes, despite the embarrassment of looking like a bad gamer girl. I'm sure my co-players are still laughing at me.
The Destiny 2 demo was much better, probably at least in part because it's on PC and I'm primarily a PC gamer. The PR rep I strike up a conversation with is also sympathetic to my Call of Duty experience and makes sure my demo attendant gives me a 30 second briefing on how the game is played. I pick up the combat easily, and immediately am charmed by the immensely fluid and adrenaline-pumping action. I did not expect to come away from the demo a new Destiny fan, and yet I find myself looking forward to its release. Bungie says they've responded to a lot of the criticism from fans the first time around, and I plan to follow up with them about that following the show. So far, it's looking pretty good.
I leave the show floor just before closing time, wondering what tomorrow will bring. Will I get to play more games? Will the show get any better as the days wear on and fans become either frustrated or fatigued? Stay tuned.
---
Holly Green is the assistant editor of Paste Games and a reporter and semiprofessional photographer. She is also the author of Fry Scores: An Unofficial Guide To Video Game Grub. You can find her work at Gamasutra, Polygon, Unwinnable, and other videogame news publications.