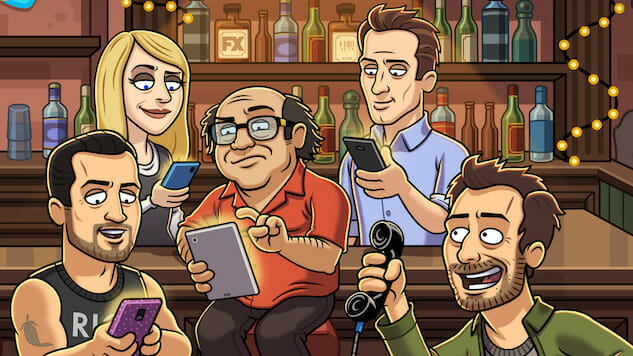 The pitch-black sitcom It's Always Sunny in Philadelphia is known for throwing its leads Dennis, Frank, Sweet Dee, Mac and Charlie into increasingly bizarre (and hilarious) situations in their quest for cash. The most unexpected venture yet might come in the form of a new, free-to-play mobile game. East Side Games has launched It's Always Sunny: The Gang Goes Mobile, a tap-heavy way for iOS and Android users to engage in their own money-making schemes.
The official description sounds appropriately shady:
In the game, Frank comes into a bunch of dirty money that he needs to hide from the Feds, so he recruits The Gang to do his dirty work. Players jump straight into the role of money manager for a series of exploitative, get-rich-quick operations, from Kitten Mittens to Dick Towels, and additional familiar scenes for fans of the show. As players amass funds, they can embark on painfully hilarious new adventures, unlocking the most memorable versions of The Gang, including Codpiece Dennis, Man-Spider Frank, Wildcard Charlie, Operation Badass Mac, and Ostrich Dee. Fan-favorite supporting characters will also be available in the game, including The Waitress, Rickety Cricket, Father O'Grady and more.
In other words, it's the perfect game to play while sipping wine out of a soda can and chowing down on some rum ham.
It's Always Sunny in Philadelphia's 14th season premieres Sept. 25, tying with The Adventures of Ozzie and Harriet as the longest-running live-action sitcom ever.
Check out a few screenshots from It's Always Sunny: The Gang Goes Mobile below. You can download the game here.