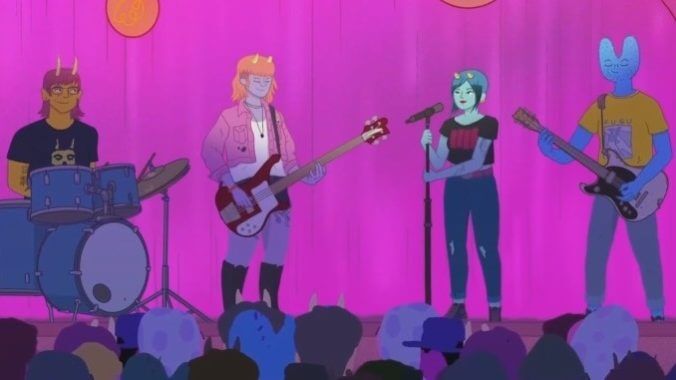 Last weekend was LudoNarraCon, a digital convention highlighting narrative-focused indie games. It featured panels on interesting topics, like depictions of labor and representation in videogames, as well as live streams, sales, and demos for close to 30 unreleased games. After sampling these, we've created a list of five promising upcoming titles encompassing a gamut of writing styles, genres, and aesthetic presentation. [Note: In addition to the standouts below, the convention also had demos for Sucker for Love: Date to Die For, Demonschool, and Slay the Princess, which we wrote about in our best games of PAX East 2023 wrap-up]
Harmony: Fall of Reverie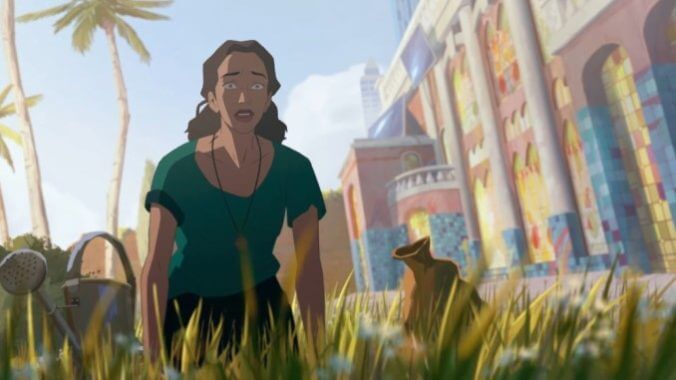 Release Date: 6/8/23
Over the last few years, Don't Nod has built a reputation as a studio known for its storytelling, thanks to their work on Life Is Strange series, Vampyr, Tell Me Why, and more. Their latest is Harmony: Fall of Reverie, a narrative game that follows Polly as she returns home to investigate her mother's disappearance. After coming in contact with a strange necklace, she finds herself torn between Earth and an alternate dimension called Reverie, as she is tasked with stabilizing this new world while locating her missing parent. Many tantalizing threads are introduced in the demo, such as how an oppressive mega-corp has taken over this island community and how Polly has to navigate interpersonal relationships with old friends and family to get to the bottom of strange happenings.
The characterization of its cast seems excellent from what I saw, with emotional moments and well-communicated motivations helping me buy into these decades-old relationships. So far, I've been more compelled by the family drama and political realities of this near-future Earth, but the more fantastical world of Reverie has enticing elements as well. Although it is populated by god-like entities which represent certain concepts (Joy, Power, Bonds, Glory, Chaos, etc.), these characters still feel enough like people to avoid entirely descending into tropes. Additionally, its backdrops are full of lived details, and Lena Raine's soundtrack sets the mood, helping establish a specific sense of place. 
If I have one major concern, it's that things are built around a decision-making system that appears to encourage min-maxing over weighty choices. In the LudoNarraCon demo, I felt incentivized to pick actions based on which would improve my standing with the god-like entities that inhabit Reverie so I could avoid "failing" certain checks later on, instead of deciding things based on moral or practical considerations. I'm not sure how this decision-making element will play out long-term, but aside from this, I'm already feeling invested in this tale.
---
Stray Gods: The Roleplaying Musical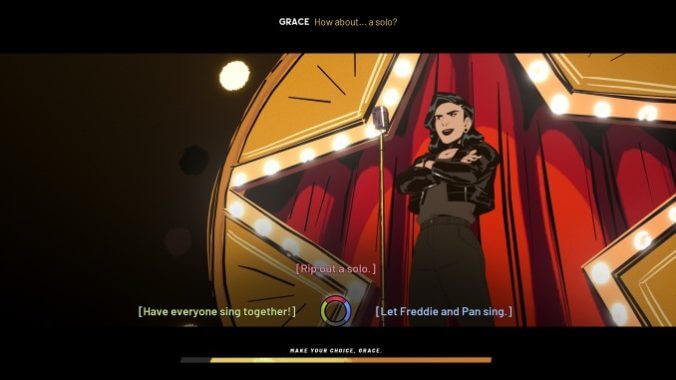 Release Date: 8/3/23
While plenty of games have shown interest in musical performance, as an abundance of rhythm titles can attest, I struggle to think of many that take inspiration from Broadway. Stray Gods: The Roleplaying Musical is a choice-based narrative experience that looks to fill that niche. At least based on its demo, it seems to be delivering on its premise. We follow Grace, a struggling musician who is accused of murdering a member of the Greek pantheon and is given a week to build a defense. First and foremost, its musical numbers are a blast, conveying the feelings of the cast through heartfelt show tunes. These songs are delivered by a group of well-known voice and screen actors, and the score is being composed by Austin Wintory (Journey, flOw, etc.), which also bodes well. Specifically, Laura Bailey's performance as Grace establishes the character's confusion about her future after dropping out of college, grounding us in her circumstances. The dialogue penned by David Gaider (lead writer on the Dragon Age trilogy and Star Wars: Knights of the Old Republic) appears similarly charming, capturing the rapport and conflicts between Grace's band.
One of its most notable elements is that it has a Bioware-style dialogue wheel that lets you make decisions, some of which alter the lyrics and delivery of its songs. This mechanic is the one that leaves me with the most questions, as I'm curious how greatly choices will impact the trajectory of the story and if the tracks could end up feeling disjointed based on the paths you pick. That said, between its catchy tunes, bold art design, and talented creatives, Stray Gods has the potential to live up to its unique premise, based on what we saw during LudoNarraCon.
---
The Invincible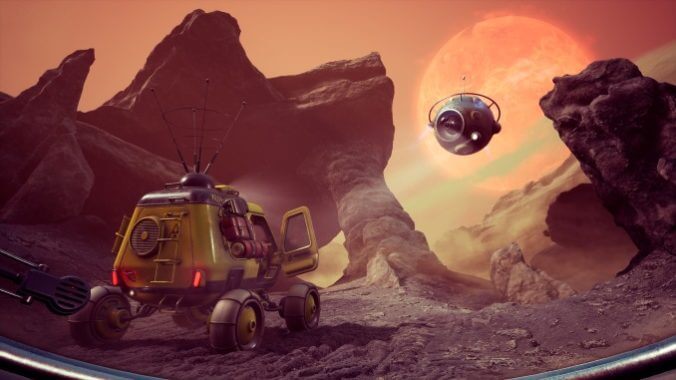 Release Date: TBA 2023
Leaning into its hard sci-fi aesthetic, The Invincible is an atmospheric first-person thriller inspired by the 1964 novel of the same name. The LudoNarraCon demo places us in the shoes of Yasna, an astrobiologist in the middle of a planetary exploration mission gone awry. There is a deliberate pace to the proceedings as you explore this seemingly desolate but oddly beautiful world, craggy stone columns and beige dust clouds creating the impression that if anyone once lived here, they have long since disappeared. Unlike most videogame sci-fi, you don't play as a superpowered space marine armed to the teeth, but as a feeble, flesh-and-blood person surrounded by a hostile expanse. But despite its less action-packed setup, there is a steady thrum of tension as you search for your missing crewmates, capturing that you're saddled with a heavy responsibility that will decide the fate of these people's lives. When combined with its sleek retro-futuristic look, it makes for a transportive experience. While I'm not completely clear on what The Invincible's moment-to-moment gameplay will entail, it seems to be working in conversation with walking-sim thrillers like Firewatch or Tacoma, and there were enough interesting sights to keep my treks engaging. Through its ambiance and well-portrayed setting, The Invincible offers a yarn I'd like to unravel.
---
Ghostpia: Season One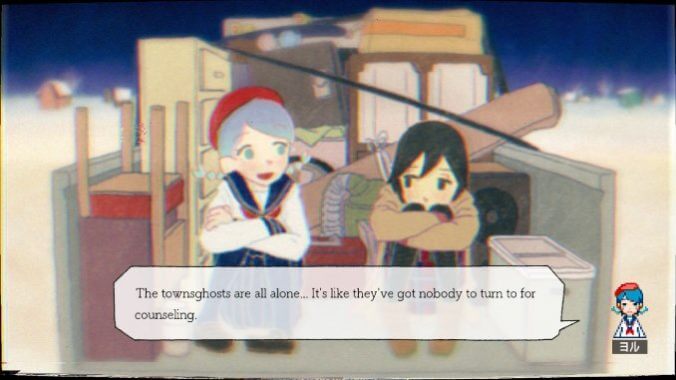 Release Date: 5/23/23
While I tend to associate visual novels with relatively reserved presentation, Ghostpia's pastiche of animation, comic style-paneling, and vibrant backdrops is positively striking. Sayoko is the protagonist of this story, an immortal living in a town where change is impossible. Through inner monologues, we learn that the beings here call themselves "ghosts" and have lived in this isolated place for as long as anyone can remember. This space deftly draws attention to its contrasts. While the colorful houses that line this community are undeniably cheery, a permanent blanket of snow and endless cold communicate that this is a hazy limbo. The art and character designs may look snatched from the pages of a cutesy picture book, but a layer of digital noise leaves an unsettling impression, making it seem like we're viewing a distorted VHS tape. 
At the center of these tonal contrasts is our heroine, her existence stretching on in an interminable malaise of identical days, some specific hang-up leaving her at arm's length from her closest friends. The demo successfully conveys Sayako's depression and the dream logic of this setting while establishing many intriguing questions. The developers have described the game as a "denshi (digital) graphic novel," which is a description that checks out. Its use of audio, paneling, and movement make it feel far more aesthetically dynamic than many of its VN peers, helping heighten this world's fascinating contrasts. If I have one complaint, it's that the dialogue can be a little stiff at times, but it still manages to get most of its sentiments across. I'm interested to see if Ghostpia can maintain its idiosyncratic vibe, but its impressive visuals have me eager to find out.
---
Dead Pets Unleashed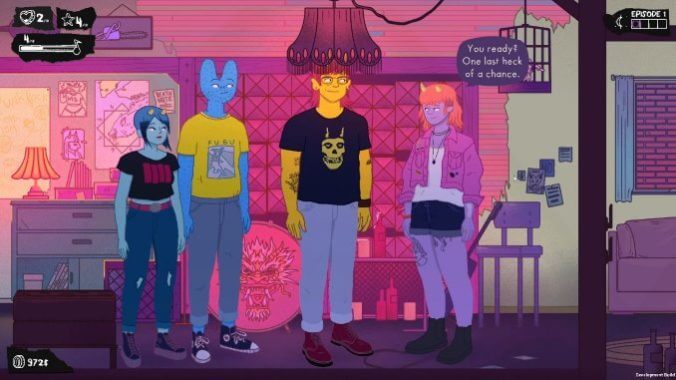 Release Date: TBA
On the other side of the music spectrum from Stray Gods, Dead Pets Unleashed is a punk-styled slice-of-life management game that follows a band taking one last swing at finding a record deal as they enter their 30s. The story centers on Gordy, a chaotic guitarist who is most invested in the group's success. There is a cohesive counter-culture energy here, as captured by its music, demon-themed world, and rebellious protagonist. Additionally, the characters appear flawed in nuanced ways, like how these bandmates butt heads over the importance of finally breaking out. There is a great deal of honesty in this depiction of adulthood, and its light management elements, where you balance Gordy's finances, social standing, and mental health while making decisions, naturally tie in with the game's focus on the difficulty of juggling passions and work. The well-implemented rhythm segments during band practice sessions let us hear their music as well, their songs vocalizing the protagonist's recent struggles in a way that make these segments feel entirely authored and in tune with the story. Dead Pets Unleashed is an honest look at adulthood that makes great use of its mechanics and punk aesthetic to place us in the headspace of its cast.
---
Elijah Gonzalez is the games intern for Paste Magazine. In addition to playing the latest indies and AAAs, he also loves film, anime, lit, and creating large lists of media he'll probably never actually get to. You can follow him on Twitter @eli_gonzalez11.