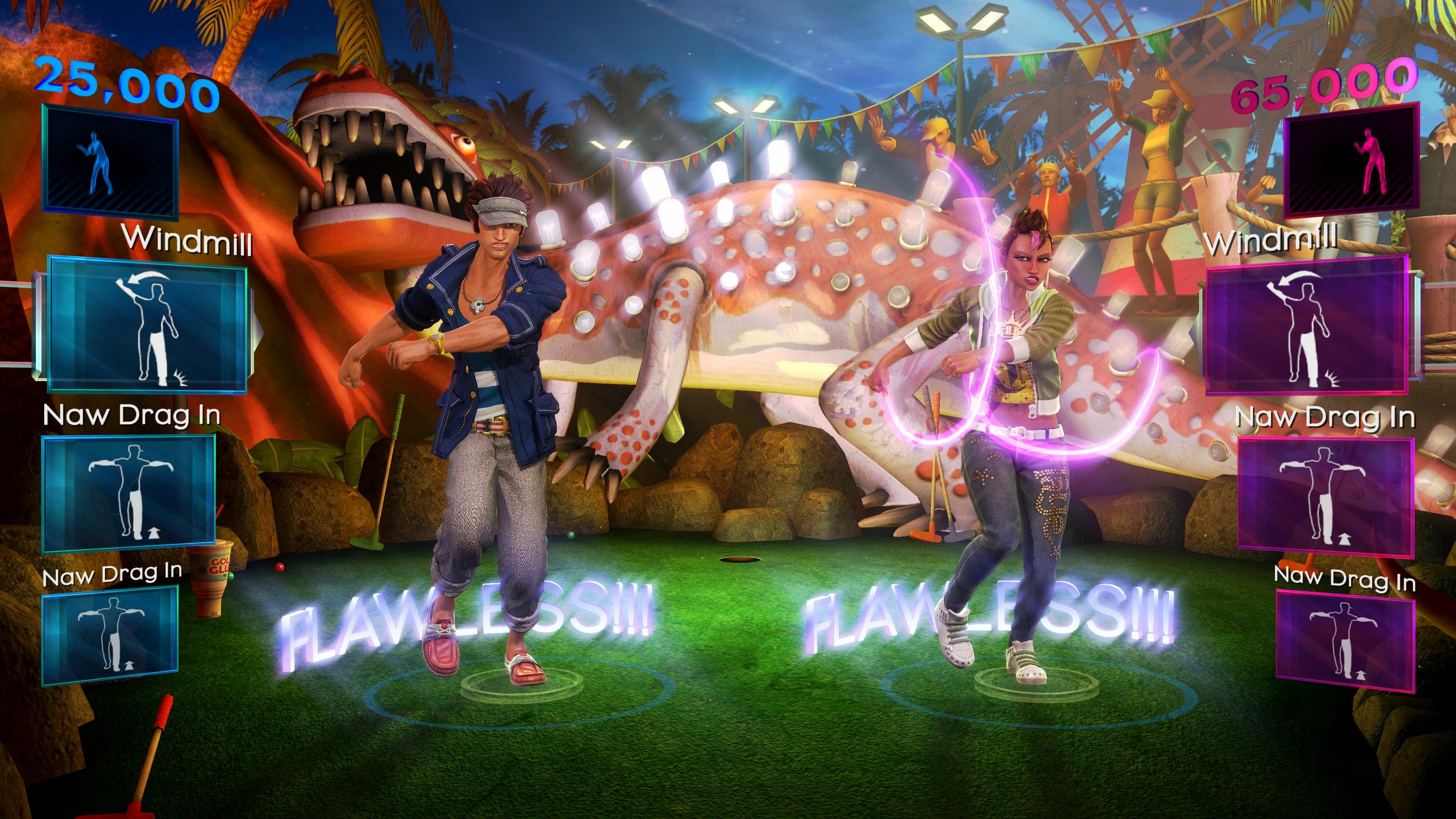 Hit the club with Dance Central 2.
A photo of myself is the last thing I want to see right now. My shirt's off, my pants are on the floor, sweat is soaking my hair and beard, and for some reason my left sneaker won't stay tied. I'm struggling to keep up with Daft Punk's "Technologic" and a move called the Toy Soldier, where you basically high step in place while oscillating your arms like a 1950s movie robot trying to swim. The freestyle section is coming up, and that means the Kinect will be snapping a pic of my bounteous form in most of its splendor. My wife used to semi-seriously joke about how that camera worried her, about how somebody at Microsoft could be staring in on our living room as we sat and watched Netflix. A year of barely turning on the Kinect later and I'm more worried about having to look at myself.
Dark Souls gets the rep, but Dance Central 2 is the most challenging game of the year. Maybe not for the young, active, and rhythmically inclined, but for old, out-of-shape, non-dancing drunks like me, it might as well be the Olympics. After three songs and the three preceding tutorials I am completely spent, wheezing like a lifelong smoker on his deathbed, and faced again and again with unflinching photographic proof of the long-term effects of unhealthy living. And yet, as predictable and sitcom clichéd as this sounds, I am absolutely loving it.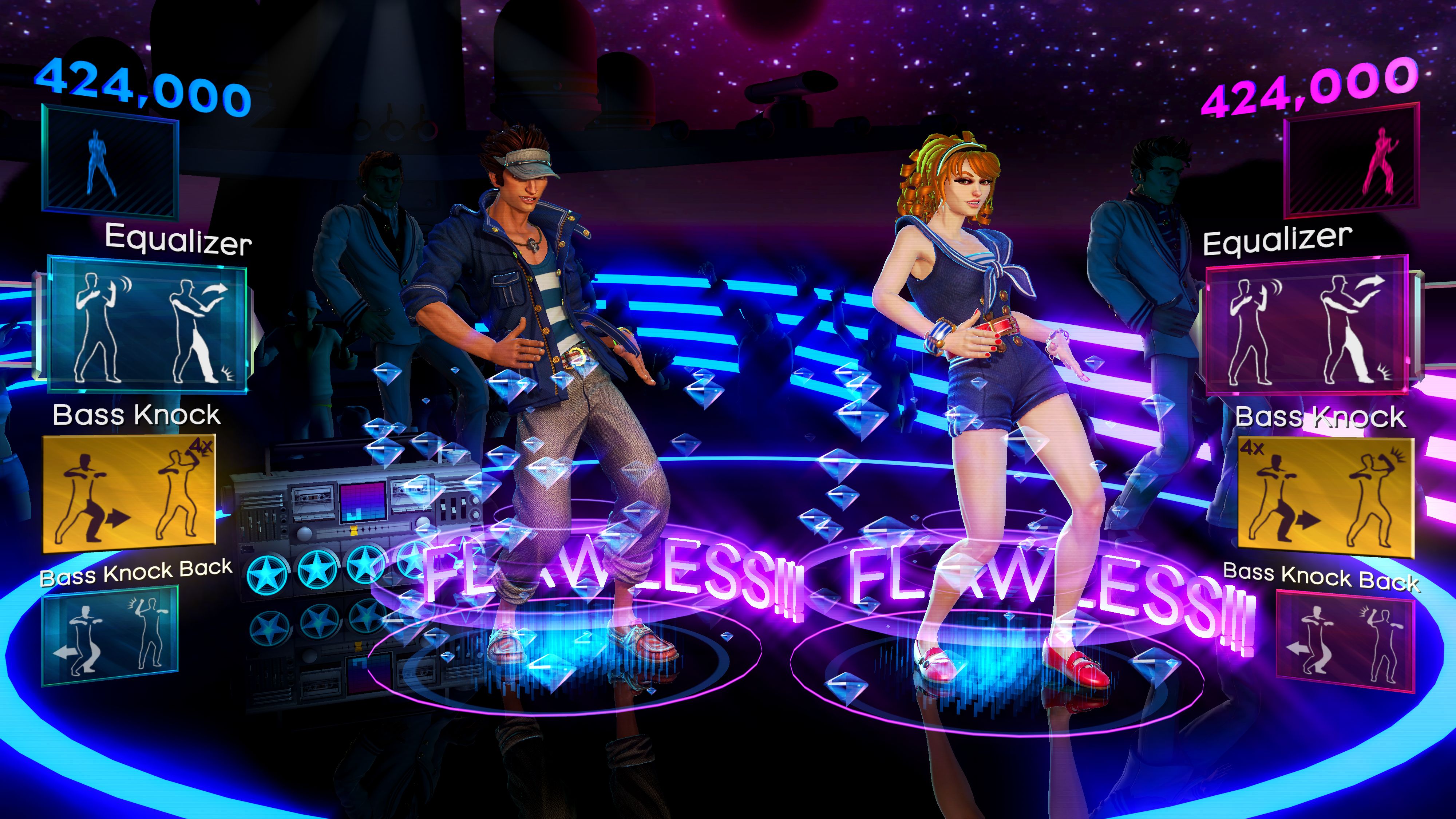 Dance Central 2, its predecessor, and the Dance Dance Revolution series are the only genuinely euphoric videogames. (Also that horse-racing game that almost threw my back out at Dave and Busters many years ago. And probably those games where Jillian Michaels is mean to you, but are those really games?) You don't play for a story that, if it's even capable of ever putting itself together, is guaranteed to fall apart. You don't load up Dance Central 2 when you want to flex your thumbs and pointer fingers over and over in hopes of seeing the same canned death animations and the momentary right to insult your friends over a headset mic. You play to dance, and maybe to hear some occasionally great pop music, and mostly to feel the same kind of burn you feel when you exercise and sweat until a warm ecstatic glow permeates your entire body. At least I've heard that happens if you exercise long enough.
The setlist is obviously restricted to songs appropriate for dancing, and that doesn't include the awkward formless sway or crossed arms and head nods of a rock show. This set is also relatively short, with only a few dozen songs. Every song from the first game can be imported for five dollars, though, and there are more songs and routines available through Xbox Live. There's still a good amount of musical variety, too, with styles ranging from 1970s disco to classic hip-hop to 80s new wave to the sort of electronic dance music heard in a Lowell Ganz and Babaloo Mandel movie when Billy Crystal or Robin Williams comically stumble into a club. I question the need for multiple tracks by a few certain artists when there are only forty or so slots, and the scarcity of funk and 80s dance music is disappointing, but this is nice collection of songs to feel inadequate about my fitness to.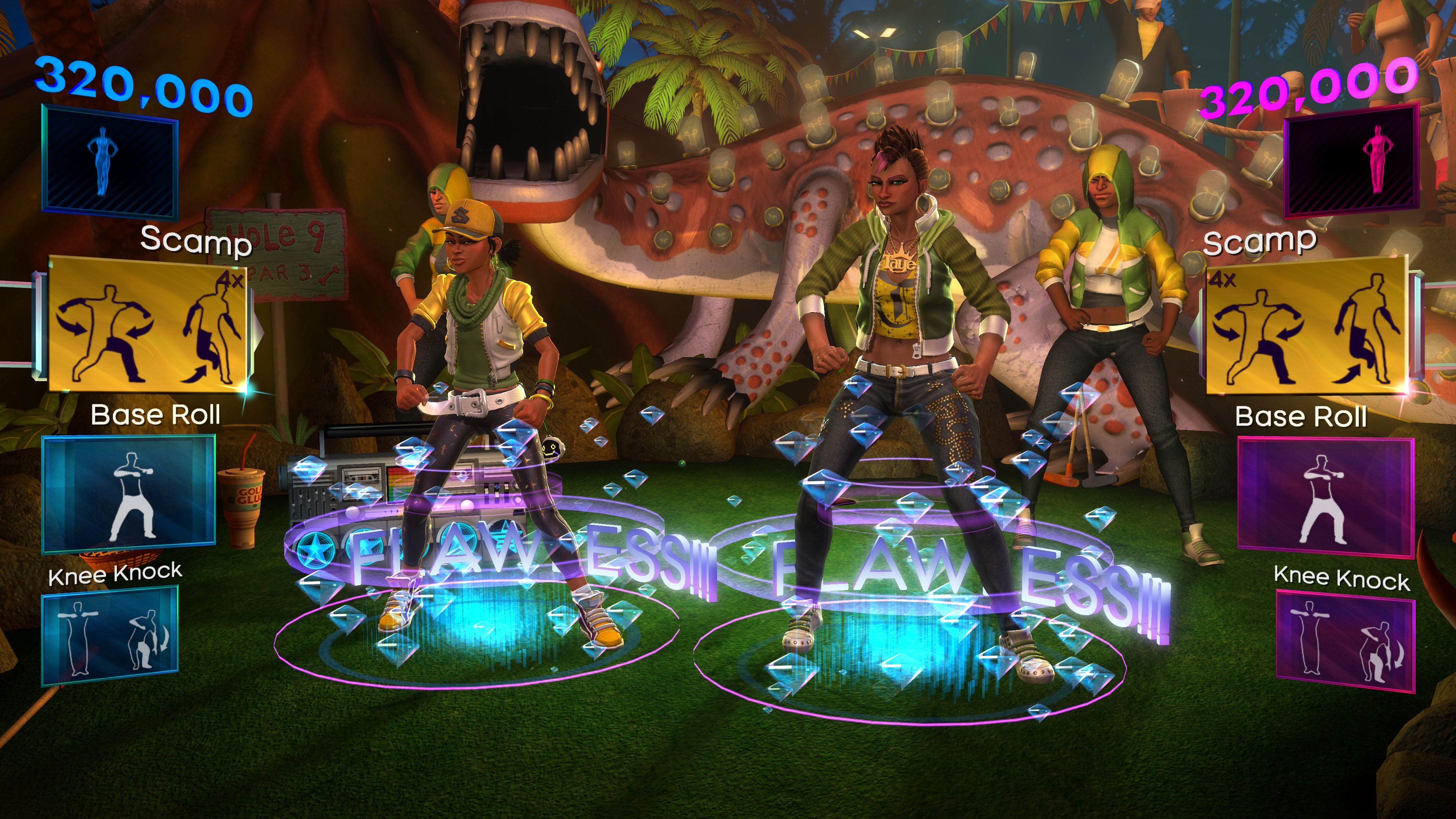 For first game obsessives that setlist is probably the main reason to get Dance Central 2. It's largely the same game. Two can now dance at once, which might make Dance Central 2 a better party game for those who don't already struggle to find the floorspace for one person to play, and it's easy for somebody to cut in or out mid- dance. The interface now supports more voice commands for those who want to live in a sci-fi movie. The visual aesthetic is unchanged, although the graphics appear slightly crisper. The fundamental experience remains the same, though, and as thrilling as it was the first time.
When people ask why I play videogames I might mention the few good traditional stories that exist in the medium, or how vividly realized worlds like the one in Far Cry 2 can thoroughly pull my mind out of the real one. I'll talk about how finishing or excelling at a good game makes me feel like I've accomplished something. With Dance Central 2 I actually feel that accomplishment. Like, with my body. That palpable rush, combined with good music and an addictive high score mentality fostered by a childhood spent in arcades, keeps me dancing on my own, through the pain, sweat and exhaustion. Maybe by Dance Central 3 I'll be able to go for more than thirty minutes at a time.
---
Dance Central 2 was developed by Harmonix Music Systems and published by Microsoft Studios. It is available for the Xbox 360 Kinect.
Paste Videogames Editor Garrett Martin just moved back to Atlanta after eight years in Boston. He also writes about games for the Boston Herald and the Sarasota Herald-Tribune and has contributed to G4TV.com, Edge Magazine, GamePro, Joystiq, and many others. He mostly tweets about 1990s indie rock and pro wrestling at @grmartin.