Downwell Creator Ojiro "Moppin" Fumoto Joins Nintendo
Images via Devolver Digital
Games
News
nintendo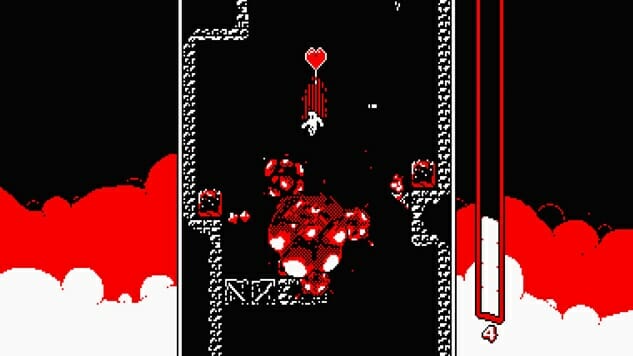 As the Nintendo Switch defines itself more and more as the go-to platform for indie titles, the mind behind one of the most surprising and satisfying indie titles of the last few years is making Nintendo his professional home.
Ojiro "Moppin" Fumoto, the creator of the indie darling Downwell, has joined Nintendo in a development capacity. In a short statement released on Twitter, Fumoto made the announcement, stating, "Got a job at Nintendo! I'll do my best." The news isn't too much of a surprise, as Fumoto announced he had taken a job at Nintendo in mid-December but gave no specific starting date outside of January 2018.
?????????????????

— ???? (@moppppin) January 23, 2018
Speaking to Polygon, Fumoto expressed excitement for this evolution in his development career. "It was super fun developing games as an indie, and I can't wait to see what it's like to develop games as part of a bigger team," said Fumoto.
Fumoto has become a prominent figure in the indie game community since the release of his vertically scrolling platformer in October 2015. Downwell received critical praise, drawing comparisons to Spelunky, arguably one of the greatest platformers of all-time. The project he began developing in 2014 while studying to be an opera singer at the Tokyo University of the Arts quickly garnered attention. Plus, it has gun boots. Who doesn't dig gun boots?
As Fumoto begins work at Nintendo, doubt is cast over UFO 50, a collection of 50 indie games developed by numerous luminaries of the indie development community. Fumoto was one of the most high-profile collaborators on the project, which harkens back to the days of multi-carts like Action 52 (though this one should prove to be much better than the Cheetahmen vehicle). Alongside Spelunky creator David Yu, Fumoto announced the title last summer.
Hopefully UFO 50 isn't dead, but fans of Downwell should be very excited to see what Fumoto is able to cook up with the tools Nintendo is able to provide.
Read Paste's review of Downwell here.