Nintendo E3 Plans Revealed: Hands-On with Super Mario Odyssey
Images via Nintendo of America
Games
News
nintendo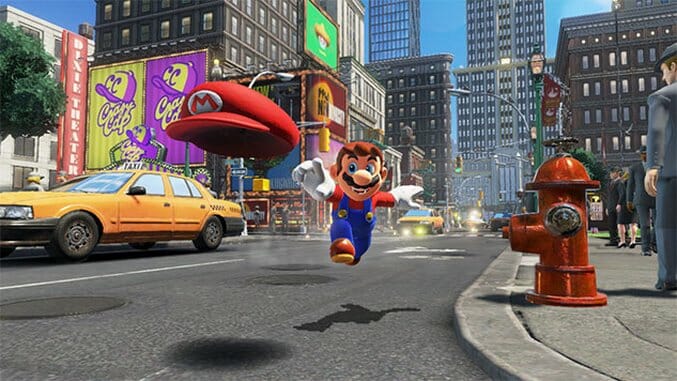 As usual, Nintendo won't be having a physical show at E3 Expo 2017 on June 13-15, but it will be having a presence on the show floor. This year, its bringing in the Switch for first-time hands-on play of Super Mario Odyssey.
To kick things off, Nintendo will be hosting a Direct broadcast at 12 p.m. EST on June 13. This year's broadcast will show off more details of Super Mario Odyssey and other Switch titles launching in 2017. Directly after, Nintendo gameplay central Nintendo Treehouse will broadcast live from the floor.
Nintendo's booth will open at 3 p.m. EST on June 13 so fans can get up close and personal with the first gameplay demos of Super Mario Odyssey on Switch. Later that day, the 2017 Splatoon 2 World Inkling Invitational tournament will commence. On June 14, the 2017 ARMS Open Invitational will take place live at Nintendo's E3 booth.
"Our various E3 activities will showcase the next steps for Nintendo Switch, from a summer of social competitive gaming to a holiday season highlighted by a milestone Mario adventure," Reggie Fils-Aime, president and COO of Nintendo of America, said in a statement. "With Nintendo Treehouse: Live at E3, fans at home can watch in-depth gameplay of Nintendo Switch and Nintendo 3DS games launching this year."
Can't make it out to E3? Never fear, you can catch all of Nintendo's E3 goodies streaming on its website or YouTube channel. For all things E3 Expo 2017, make sure to follow us right here at Paste Magazine, on Twitter and Facebook. Check out Nintendo's full E3 schedule below.