Overwatch Gets New Busan Map, D.Va Gets New Figure and Skin at Korea Fan Festival
Images via Blizzard Entertainment
Games
News
Overwatch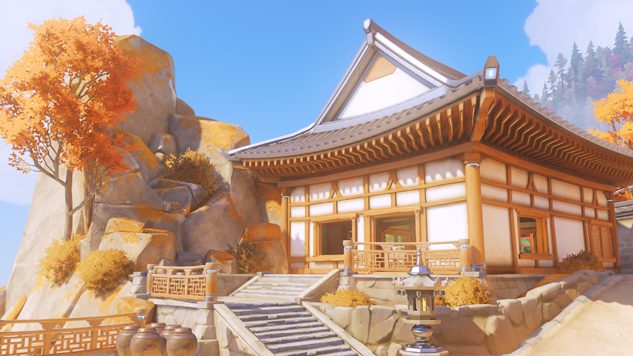 Numerous updates—among them, a new map, a new figure of Hana "D.Va" Song and a new in-game skin for D.Va—were unveiled at Korea's Overwatch Fan Festival on Wednesday, Aug. 22.
The most major update is the addition of a Busan, South Korea map following the latest Overwatch cinematic short, which focuses on D.Va and takes place in her homeland of South Korea. It is a control map, which means that a team has to capture a specific point and hold it until the capture meter reaches 100 percent. The map has three locales: Sanctuary, Downtown and MEKA Base.
The description for the trailer of the map states:
Explore the serene setting of the Sanctuary, surrounded by an ancient temple, beautiful gardens, and historic architecture. Clash in the bustling metropolis of Downtown, where players will fight across a busy PC bang, flashy karaoke bar, and central light rail station (just watch out for the train). Contest for position in MEKA Base—home of South Korea's frontline defense against the gwishin omnic attacks: D.Va and the rest of the MEKA squad. Teams must fight to hold each of the three stages to establish complete control of the city that refuses to surrender its way of life to any threat.
The map is already available on Overwatch's Public Test Region (PTR) on PC. Watch the new map trailer below.
Additionally, D.Va will receive a new in-game skin that was seen in the latest cinematic short. An employee at Blizzard Entertainment Korea who works on Overwatch shared a screenshot on Twitter earlier today, which you can see below.
???? https://t.co/79G7JkFN62 ?? ??(Nano Cola) ?? ?? ? ??https://t.co/79G7JkFN62 Nano Cola skin Soon! pic.twitter.com/d5Ey1zEUJv

— ???? ???? ?? (@OverwatchNaeri) August 22, 2018
Finally, although nothing has been officially confirmed, a new figure for D.Va is reportedly on the way. A representative of Good Smile Company, which has created action figures of Reaper, Tracer, Genji and Widowmaker, confirmed to Dot Esports that the figure will go up for preorder a week from now on Aug. 29 (Aug. 30 in South Korea). The figure is based on D.Va's look at the beginning of her cinematic short, and you can see an image of it here (via Dot Esports).