Playstation Boss Andrew House Leaving Sony by the End of the Year
Photos by Brad Barket/Getty
Games
News
PlayStation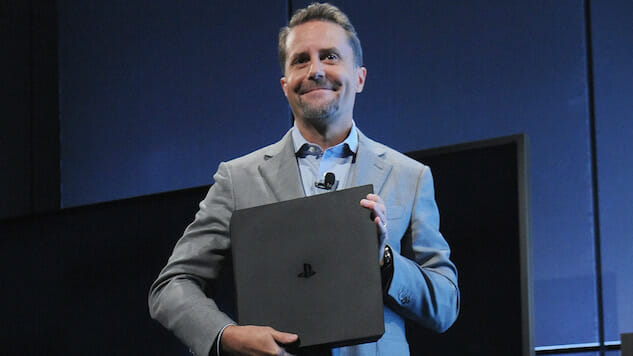 CEO of Sony Interactive Entertainment Andrew House has seen a lot since he took over as head of Playstation from now-Sony CEO and Ridge Racer enthusiast Kaz Hirai in 2011. Under his supervision, Sony's videogame division bumped back up to the top with the Playstation 4, and House oversaw the spinning off of Playstation and Sony Network into Sony Interactive Entertainment (SIE) in 2016. According to a press release, House's time at Playstation will be up by the end of 2017.
House says in the press release:
"I'm tremendously proud of what we've built with PlayStation and Sony Interactive Entertainment: entertaining millions globally with the best in games and creating a fully fledged digital entertainment company. PlayStation has been a huge part of my life for more than 20 years but with the business having achieved record-breaking success, now seemed to be the right time for me to pursue new challenges. I shall always treasure the friendships and people that have made SIE such a wonderful place to work. I'm also grateful to PlayStation fans and gamers around the world for their loyalty and support. John and the team at SIE are world-class and I know the future of PlayStation is very bright."
The departure is a bit sudden, but plans are underway to fill in House's position. SIE Deputy President John Kodera will step in as CEO and President, while House will remain throughout 2017 as Chairman to ensure a smooth transition in leadership. House has been with Sony since 1990, moving to a marketing and communications role for what was then Sony Computer Entertainment in 1995. Under his tenure as SIE President, Sony has launched the Playstation 4, videogame streaming service Playstation Now, TV service Playstation Vue and Playstation VR, which is receiving a hardware update soon.
A Sony spokeswoman tells WSJ that House "plans to spend more time with his family before embarking on a new career in the entertainment industry." We'll miss the presence of House in Playstation press events, with the dulcet tones of his Welsh accent basically making him the human equivalent of melatonin.