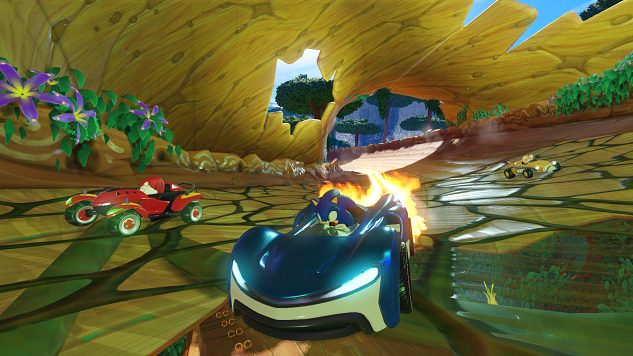 It seems Walmart is one big leaky faucet, as unannounced game reveals are apparently par the course for the big chain retailer as we get closer to E3. On Wednesday morning, a Walmart listing leaked the official name and details for Team Sonic Racing. Now, Sega has officially announced the newest Sonic-themed racing game with a brand new trailer, confirming that it will be coming to the PlayStation 4, Xbox One, Nintendo Switch and Steam this winter.
Team Sonic Racing arrives this winter! pic.twitter.com/H18ddQ5DxJ

— Sonic the Hedgehog (@sonic_hedgehog) May 30, 2018
In a press release, Sega officially revealed the same details found in the Walmart listing, including:
•Online Multiplayer & Local Co-Op Modes – 12 players per race, 4 player split screen, and various offline/online race modes including Grand Prix Mode, Exhibition Mode, Time-Trial and Team Adventure Mode.
•Team Racing – Race as a team, win as a team. Use various team moves to assist your teammates, knock out opponents and unleash your Team Ultimate.
•Performance & Skin Customisation – Alter the appearance and handling of your vehicle.
•Wisps – 14 spectacular offensive and defensive items to help overcome rival teams and get ahead!
•Adventure Mode – Unique story experience where players are introduced to basic game features and characters.
•Various Characters and Types – 15 playable characters from across the Sonic Universe and 3 distinct character types including Speed, Technique, and Power.
While Sonic is no stranger to racing games, having already appeared in the fantastic Sonic & Sega All-Stars Racing series, Team Sonic Racing seems to be more of a spiritual successor than a direct sequel. The game is being made by Sumo Digital, the same developers of the Sonic & Sega All-Stars Racing franchise. However, the newest title seems to be leaving behind the other famous Sega franchises, with just Sonic and his pals participating this time around.
There is still a lot to look forward to as the game's team mechanic seems to be an interesting twist on the racing genre. Hopefully, Sega and Sumo Digital will show more at this year's E3.