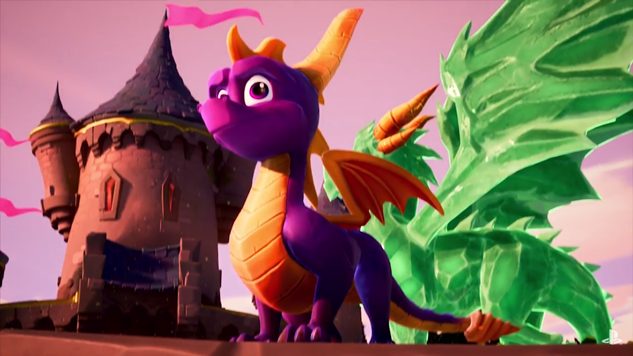 It finally happened: The winding trail woven by Falcon McBob, strewn with eggs, hay and the lifeless plastic eyes of Crash Bandicoot, has finally culminated in the official announcement by Activision of the Spyro Reignited Trilogy on Thursday.
The collection boasting remastered editions of the original Spyro the Dragon trilogy has been rumored since February, with an announcement expected by the end of March. The speculation might have extended a few days into April, but confirmation still ultimately arrived.
An initial leak through a Target support Twitter account gave way to more hints of the game's announcement being delivered at a quicker pace over the past week, including the delivery of assumed purple dragon eggs, the creation of Falcon McBob's @SpyroTheDragon Twitter account and its association with the official Crash Bandicoot Twitter account. The latest hint came earlier Thursday when an Amazon listing for the game popped up with the now-confirmed release date of Sept. 21. A few hours later, Activision confirmed the game through a post on the PlayStation Blog.
Contrary to previous reports, Spyro Reignited Trilogy will be developed by Toys for Bob instead of Crash Bandicoot N. Sane Trilogy developers Vicarious Visions. Known for remaining heavy players throughout the short-lived toys-to-life genre lifespan with their Skylanders series, Toys for Bob has previous experience with the diminutive flamethrower, incorporating him into the Skylanders games and Netflix animated series.
This collection stands to be the proving ground for Toys for Bob following the demise of their previous market, making the Spyro Reignited Trilogy a pivotal turning point for the studio. The initial trailer and screenshots show graphical promise, at least, and fans of the series continue to exhibit excitement.
The Spyro Reignited Trilogy flies onto shelves on Sept. 21 for PlayStation 4 and Xbox One. Check out the first trailer below.