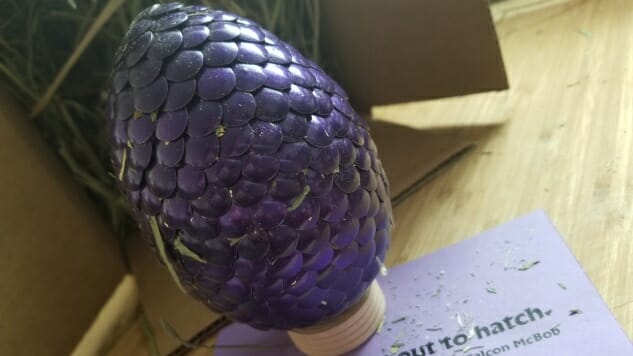 A few hours ago, I heard an unceremonious and telltale thump on my condo's front door. "What's this?", I wondered. "I wasn't expecting a package." Sitting neatly in the corner was a box from "Falcon McBob," a name I definitely didn't recognize. I gently closed the door, consulted Google on my phone, and breathed a sigh of relief. Ah yes, it's a thing. A name tied to Spyro the Dragon. With this mysterious delivery and its card reading "Something's about to hatch," the rumors about an upcoming remaster of the original trilogy must be at least partially true.
I sliced open the tape with a kitchen knife and opened the box to find… hay. As in, the actual straw they use on farms for animals to piss, sleep, and shit in. It smelled like livestock. On top, nestled deep into the dried grass was this beautiful shiny purple dragon egg, a small stand, and the card. Its cool metal scales mimic the natural armor of a reptile and they're interesting to touch and play with.
I'm a little torn when I get stuff from PR folks like this. It's one thing when I know to expect something in the mail, it's another when I get an unannounced delivery from a return address and name I don't know. There's some stuff I've gotten over the years that I like very much, like the collector's edition Destiny 2 gear that Activision sent over during launch. But sometimes I get items like this, a cool collectible that I feel obligated to keep but have no real use for.
So now I have a box of hay that I have no idea what to do with. I'm not sure if it goes in compost or the trash. The egg is cute and I like the scales, but I'm not already a fan of the games so putting it on my shelf feels insincere. Does this kind of stuff work, in terms of game promotion? My friends who worked in PR in the past have said that sometimes these silly sorts of things are at the behest of clients who have no idea how marketing actually works, and I suppose that could be the case here. And maybe it's fun for the enthusiast press. But for me, it's just another piece of swag accumulated over nine years of seeing game after game come and go. Gone are the days when E3 and other shows passed out massive plastic bags during the show to handle the sheer amount of game swag given away at every booth. And I still have boxes of the stuff packed away in my closet because I feel too guilty to just get rid of it.
I guess one thing's for certain though. I can't stop sneezing. And now I definitely know Spyro the Dragon exists.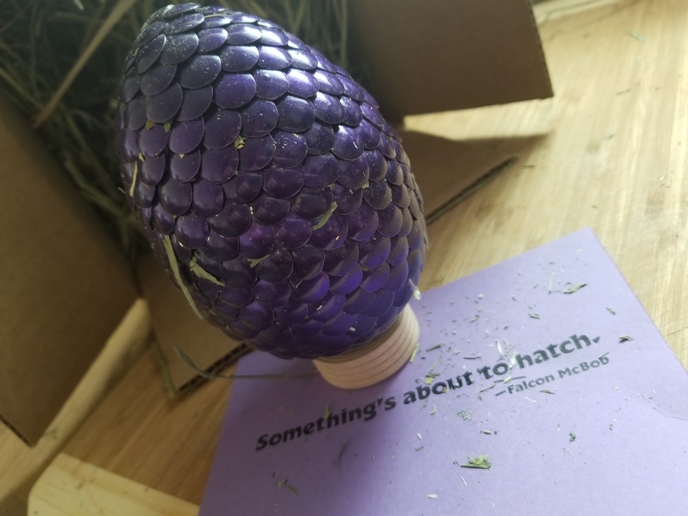 ---
Holly Green is the assistant editor of Paste Games and a reporter and semiprofessional photographer. She is also the author of Fry Scores: An Unofficial Guide To Video Game Grub. You can find her work at Gamasutra, Polygon, Unwinnable, and other videogame news publications.