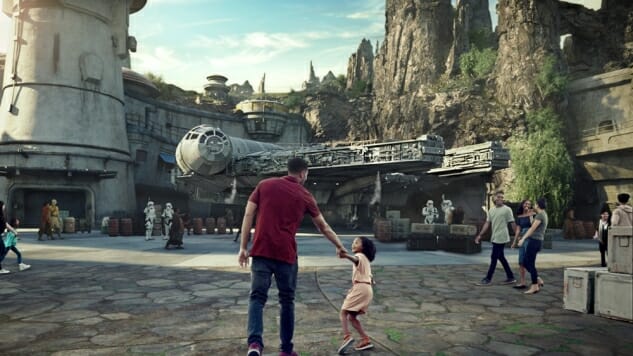 Earlier today Disney CEO Bob Iger finally announced what Star Wars and Disney fans have been waiting for: the opening dates for Star Wars: Galaxy's Edge, the immersive theme park area coming to Disneyland in Anaheim and Disney's Hollywood Studios in Florida. The Disneyland version will be opening on May 31, and the Disney World one follows three months later on August 29.
Getting into Disneyland's Galaxy's Edge won't be as easy as buying a theme park ticket, though. In order to moderate the massive crowds that are expected to flock to Galaxy's Edge during its opening weeks, guests will have to make a reservation (at no cost) if they hope to visit between May 31 and June 23. If they're staying at one of Disneyland Resort's three hotels, a reservation will automatically be made for them. Theme park admission is still required, as well, of course. Reservations will not be needed for Galaxy's Edge when it opens at Walt Disney World in Florida.
Disney also announced that Star Wars: Rise of the Resistance, one of the two rides in Galaxy's Edge, will be opening after the official launch date in a separate phase later this year. We've walked through both rides, and even though it wasn't in operation the size and scope of Rise of the Resistance was mind-blowing. There will still be more than enough to do in Galaxy's Edge without that running, though, from the Millennium Falcon: Smugglers Run ride, which lets you and a team pilot Han Solo's iconic ship, to the litany of immersive shopping and dining options. Just the design of Galaxy's Edge is a draw in and of itself, so it's hard to imagine guests being disappointed if only one ride is operating.
Star Wars: Galaxy's Edge aims to be more than just a theme park. It promises new heights in immersion, with a 14-acre village designed to look like a lived-in space outpost with no traces of modern life, cast members who stay in character, and an optional app that tracks both your experiences in the park and the reputation you build through your actions and decisions. The goal, as Disney told us during an intensive media briefing last month, isn't just to feel like a Star Wars theme park, but to make it feel like guests are actually in their own Star Wars adventure. From what we saw in California in February, it looks like they'll be able to pull that off.
For more information on Star Wars: Galaxy's Edge, read our comprehensive coverage, with inside, on-the-ground looks at its food, drinks, rides and merchandise.
---
Senior editor Garrett Martin writes about videogames, comedy, travel, theme parks, wrestling, and anything else that gets in his way. He shares stories and photos from his Disney journeys on Instagram at @garrett_goes_to_disney. He's also on Twitter @grmartin.