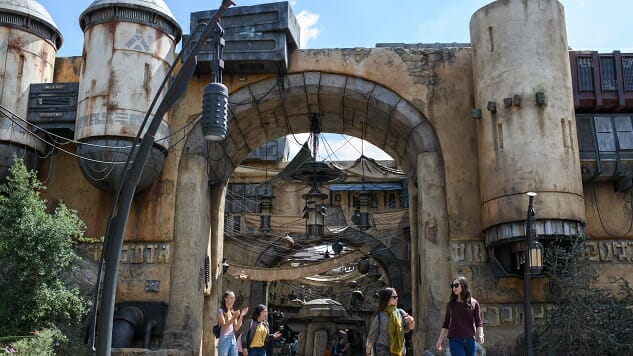 Update: Star Wars: Galaxy's Edge is now open at Disney's Hollywood Studios at Disney World in Orlando, as well.
---
Star Wars: Galaxy's Edge is finally open. If you've ever been a fan of Star Wars you'll find something to love at Disneyland's 14-acre tribute to George Lucas's enduring creation, whether it's the lifelike droids that pop up throughout the land, the realistic lightsabers you can build for yourself at Savi's Workshop, the adorable toys and stuffed animals you can buy in the marketplace, or the life-size Millennium Falcon. Batuu, the planet it's set on, might be a brand new creation that's never been seen in the movies before, but that doesn't mean it's not familiar. As soon as you walk into the Batuu settlement known as Black Spire Outpost you'll feel like you're in a Star Wars movie. It's a powerful and exciting sensation, and one that can be very overwhelming at first. That can be dangerous, since guests are currently limited to only four hours within Galaxy's Edge. If you want to do and see as much as possible, you'll need to know what to target, and not spend too much time lollygagging around. So here's a quick guide to what you should prioritize during your first visit to Galaxy's Edge, especially if you think it'll be your only visit.
1. Head Straight for Oga's Cantina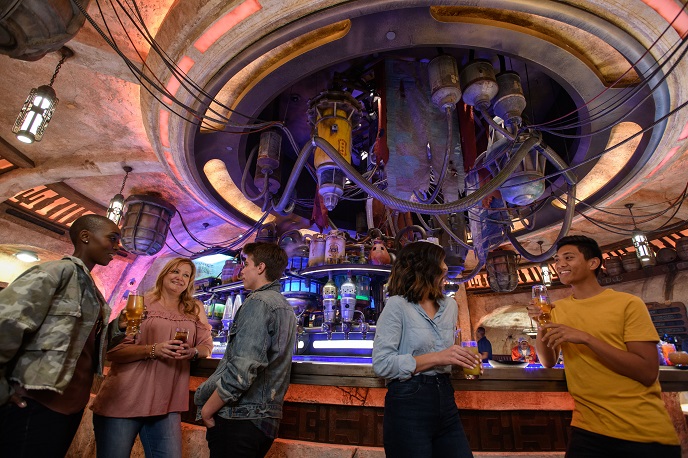 This works better if your reservation is in the afternoon or evening, but even in the morning you need to hit the cantina first if you hope to see it. It's not just the best part of Galaxy's Edge, the thing that most vividly captures the spirit of Star Wars, but also the most popular part of the park during its short life so far. The line for the cantina sometimes eclipses that of Galaxy's Edge's only ride, Millennium Falcon: Smugglers Run, and even with the 45 minute / two drink maximum the cantina's small size means that not every guest will get to see it during any four-hour reservation block. Disney's actually been cutting the line off early into those four-hour windows because of how long the lines have become—Todd Martens of the Los Angeles Times reported that the cantina line was closed at 9:30 a.m. during the 8 a.m. to noon window on opening day. Unless you have multiple trips to Galaxy's Edge planned this summer, I recommend heading straight to the cantina once you get in. Not just to have a drink or two (it has alcoholic and non-alcoholic cocktails, and is the only part of the original Disneyland park to serve alcohol), but to enjoy the ambience and check out the audio-animatronic DJ Rex spinning the latest and greatest space jams. Hives of scum and villainy have never felt so good.
---
2. Eat a Ronto Wrap at Ronto Roasters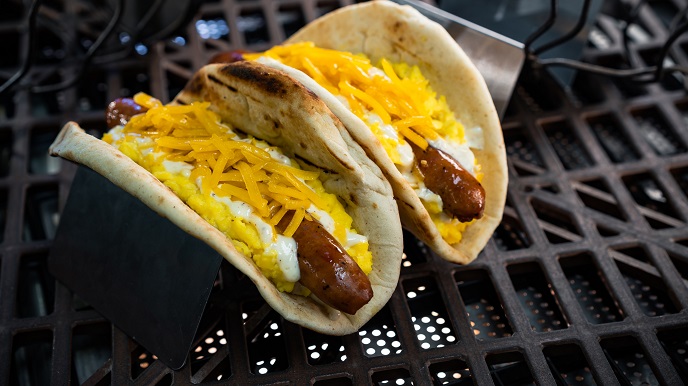 When Disney's chefs started designing the menus for Galaxy's Edge, the guiding principle was to make food that tasted familiar but looked alien. The main quick service restaurant in Galaxy's Edge, Docking Bay 7 Food and Cargo, is full of dishes that try to trick your senses, and everything I've tried there has been good. (And if you're worried about wasting too much of your four-hour window ordering and waiting on food, you can use mobile ordering to knock it out in advance.) The best food in Galaxy's Edge won't be found in Docking Bay 7, though. Ronto Roasters is a walk-up counter on the edge of the marketplace. Look for the giant pod racer engine blasting down on meet that's being perpetually turned by a welding droid. Here you can buy a Ronto Wrap, a delicious sandwich that combines sausage, pork, slaw and a peppercorn sauce inside a pita. There are four distinct flavors inside each wrap, and over the course of every bite I could taste them all—the tanginess of the slaw, the heat of the sausage, the spice of the sauce, and the pork acting as almost a base for all these different sensations. There are no sides sold at Ronto Roasters, unless you consider turkey jerky a side for a pork sandwich, so it's not really a place where I'd go to get a meal. Still, every visitor to Galaxy's Edge needs to try this wrap—it's one of the best things I've ever eaten at a theme park.
---
3. Build a Droid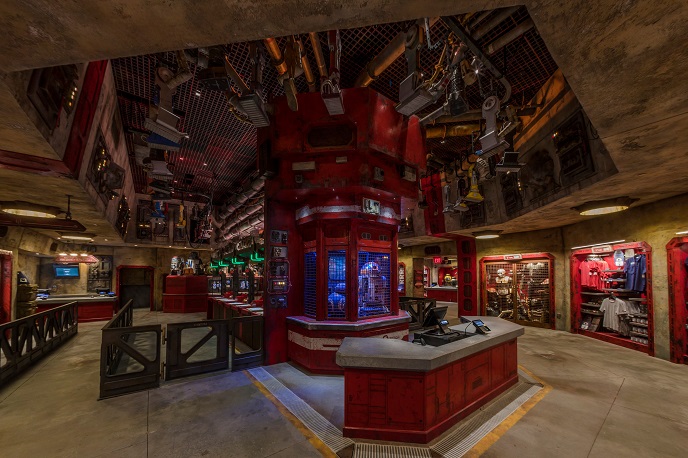 Galaxy's Edge has a couple of interactive shopping locations. One of them, Savi's Workshop, where guests can build a lightsaber, is a legitimate show, with cast members giving speeches in character and using props and lighting to lend an additional air of realism about the whole thing. It's also really expensive, though—at $200, it's hard to recommend building a lightsaber to a general audience. The Droid Depot offers a cheaper but still immersive experience, letting guests sort through parts to build their own loyal droid companion. At $100 it's half the cost of the lightsaber, and frankly I think a remote control robot buddy is a cooler thing to come home with than a toy sword, anyway. Sure, they're not alive by any measure, but these little R2 and BB units can still roll right beside me, whirring and chirping and making all the sounds expected from a droid. It's not hard to give myself over to the illusion that this little R2 is MY little R2, my own loyal friend who might look like a trashcan but is easily the least garbage person I will ever meet.
---
4. Play on the Datapad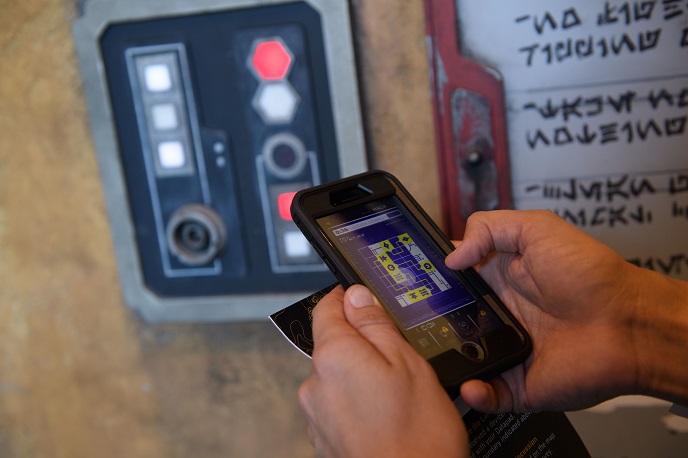 There's a notable (but optional) role-playing element to Galaxy's Edge, if you choose to participate. You can't necessarily dress in a Star Wars costume if you're an adult, but you can use the Play Disney Parks app on your phone to access the Star Wars Datapad, which turns the app into something that looks like it belongs in the Star Wars universe. With the Datapad you can interact with different points throughout Galaxy's Edge, performing such tasks as hacking into panels, droids or vehicles; scanning the Aurebesh signs and graffiti throughout the land, or cargo crates to find out what's inside; tuning into nearby antennas to intercept messages; and accept jobs on behalf of the local citizens of Batuu. Depending on your choices within the Datapad, your reputation with three groups within Batuu can grow: the Resistance, the First Order, and a loosely knit faction of smugglers. There's not much to the Datapad as a game—you'll perform the same basic tasks over and over, with only in-game cosmetic items as a reward—but it deepens the interactivity and immersion of the land, capturing a bit of the appeal of games like Pokémon Go while also encouraging you to explore Black Spire Outpost outside of its main attractions. If you're willing to commit to the fantasy, the Datapad will give you more reason to love Galaxy's Edge.
---
5. Just Enjoy the World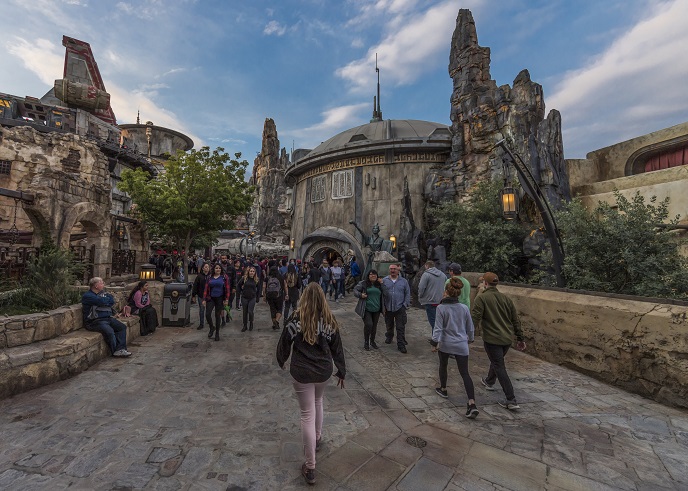 The cantina might be the best single location within Galaxy's Edge, but what makes it so great is what makes Galaxy's Edge itself a triumph of themed design. Once you're inside Black Spire Outpost, you really can't go wrong with what you do, because you're always going to feel immersed in Star Wars. From the architecture, which feels alien but vaguely familiar, and simultaneously futuristic and archaic; to the lifelike audio-animatronics and committed cast members, who both make this world feel like it's lived-in and not just a movie set; to the minutely detailed recreation of the Millennium Falcon, its cargo hold, and its cockpit, Star Wars: Galaxy's Edge genuinely feels like it's not of this earth. Don't rush through the land, hopping from the cantina to the ride to the shops; slow down and enjoy your time within it, and explore every inch of it. And don't take my downplaying of Smugglers Run as a recommendation to skip the only ride open in Galaxy's Edge so far; everything else about the ride, from the queue to the preshow to the cargo hold and cockpit of the Falcon, is an absolute must-see, as vital a distillation of the spirit of Star Wars as any other part of the park. This is a situation where the whole park area itself—all of Galaxy's Edge—adds up to a single attraction, and one of the best that Disney has ever built. It doesn't really fit the rest of Disneyland that well, but Galaxy's Edge itself a gorgeous space that brings perhaps the most popular series of movies ever made to life, without just mimicking or recreating what we already know. That's why it's such a powerful and artistically successful piece of design—it's old but new, nostalgic but forward-looking, and thoroughly transports us into a transformative space. I, for one, can't wait to go back.
---
Senior editor Garrett Martin writes about videogames, comedy, travel, theme parks, wrestling, and anything else that gets in his way. He shares stories and photos from his Disney journeys on Instagram at @garrett_goes_to_disney. He's also on Twitter @grmartin.