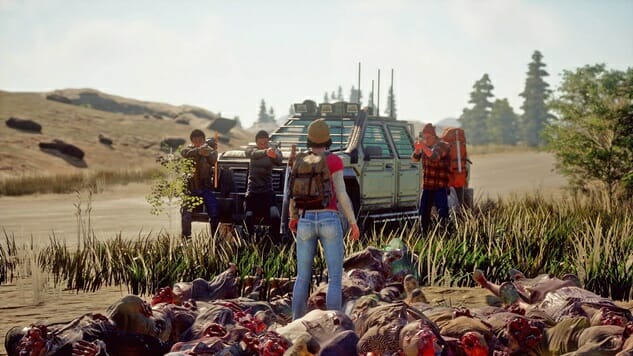 Fans of the surprise-hit zombie apocalypse sim State of Decay won't have to wait much longer for the chance to dive back into the cooperative crusade for survival amongst the undead. On Tuesday, IGN reported Microsoft's announcement that State of Decay 2 will be released on May 22 for Xbox One and Windows PC under the company's Play Anywhere initiative. The title will also be available via Xbox Game Pass on the same date.
The sequel, first announced back at E3 2016, is a no-brainer move after the first title caught fire back in 2013 when it released on Xbox Live Arcade. That game went on to sell 4.5 million copies and cemented developer Undead Labs as a formidable indie studio.
The major changes State of Decay 2 will introduce include a switch to Unreal Engine 4 and support for four player co-op, tasking players to work together to fight, survive and rebuild in the midst of the zombie apocalypse.
Just as exciting as the news of its release is the game's announced price point of $29.99. Microsoft GM of Marketing Aaron Greenberg said that the reduced cost of the game speaks to the publisher's desire to build and better foster the community around the title. "Our goal is to build a long-term relationship with the State of Decay community and to foster deeper experiences with the franchise … we want to give more players the opportunity to join in and experience this unique game," said Greenberg.
For those who do want to spend a little extra, State of Decay 2 will also release an Ultimate Edition for $49.99. This version of the game will include access to the Independence and Daybreak DLC Packs, and a free Xbox One copy of State of Decay: Year One Survival Edition, which includes all DLC for the original game, new content and updated graphics.
For those who can't wait until May 22, the game will be playable at PAX East in Boston this April.