I've been playing quite a bit of the Magic Origins set recently, and I've come up with this definitive list of the most interesting cards in the set. "Most interesting" does not mean that they're the best or most powerful cards in the set. In fact, some of them are objectively bad. Nonetheless, I think that each of the cards in the following ranking has something special that's worth highlighting and talking about.
15. Avaricious Dragon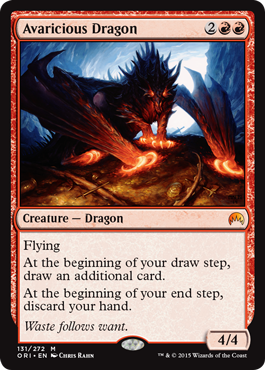 I love the simplicity of a dragon that gives you things only to take them away immediately. You've gotta play your cards, because if you don't you'll have to pitch them at the end of the turn. There's a real "don't give a damn" feel to this card, and plopping it down should always be followed by putting on a backwards baseball cap.
14. Archangel of Tithes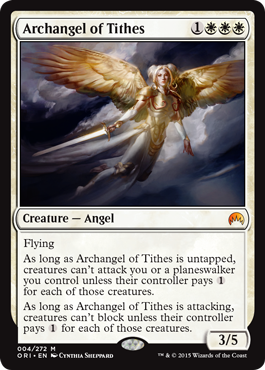 This is an angel who flies around and generally makes your life more difficult. That's the general tone of angels in Magic, so you have to wonder about the theological biases in the design time, but this card is excellent because it just slows everything down. It makes the game more expensive for the other player, and it actively discourages them from being able to do anything against your roving band of angels or whatever you want it to be.
13. Jace's Sanctum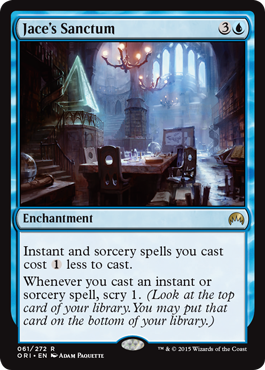 Jace Beleren is a Planeswalker in the story of Magic: The Gathering, and the card that represents his sanctum makes spells cheaper to play and rewards you for playing spells. More than likely, those would be counterspells or card draw spells, so this is really a card that rewards you for being a total stereotype of a blue player. It's the perfect card for the color, and it's beautiful.
12. Hixus, Prison Warden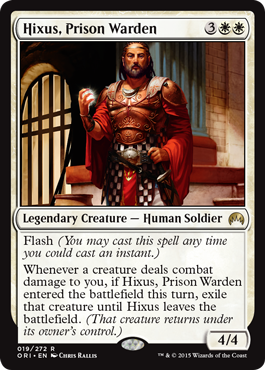 Hixus has the keyword Flash, which means that you can play him at nearly any time of the game. The gimmick of the card is that you can let an opponent attack you and then summon Hixus. Upon arriving on the battlefield, Hixus THROWS THOSE CREATURES IN JAIL. He's the ultimate offensive defensive jerk, and it's really the kind of behavior you would expect from a white creature.
11.Sigiled Starfish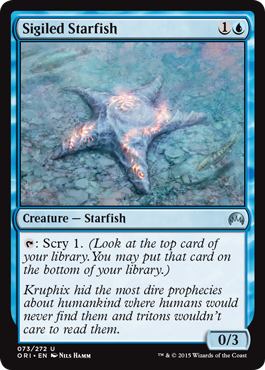 This is a starfish that allows you to see the future. In the theater of the mind, you can imagine this starfish just hanging out in the frontlines of battle. The player, a mystical Planeswalker, hollers at the starfish or maybe rubs it on its back. The player purrs, "tell me the future, li'l starfish." The sigil on its back glows a soft blue.
10. Dark Petition
In Magic there are black spells that allow you to search your library for a card. Those are generally called tutors, and the fiction behind these tutors is that you've made a deal with some devil or demon. It's pretty brutal. Dark Petition takes that a step further and combines a tutor with the classic card Dark Ritual, a card that gives you three black mana, which means that you've made a MEGA deal with the devil.
9. Priest of the Blood Rite
The player makes a deal with a demon when she uses Dark Petition. When she plays Priest of the Blood Rite, she controls someone else who made the deal. There's an additional complication, though, because that demon is going to siphon the player's life through the Priest, so the player's gotta get rid of that priest. It's a really complex interaction, but hey, if you figure it out in the end you'll have a giant demon to play around with.
8. Throwing Knife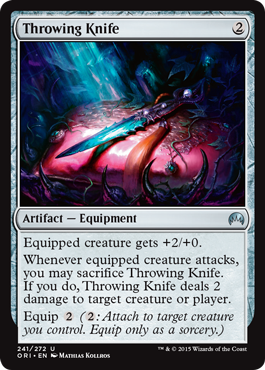 You play this card, equip it to a creature, and throw that creature at your opponent like there's no tomorrow. When that creature attacks, they grab the knife off their belt and throw it at something else with wild abandon. It's a cool little card, but even better when you realize that any creature can use it. Dragon with a throwing knife. Rhinoceros with a throwing knife. Sigiled Starfish with a throwing knife.
7. Molten Vortex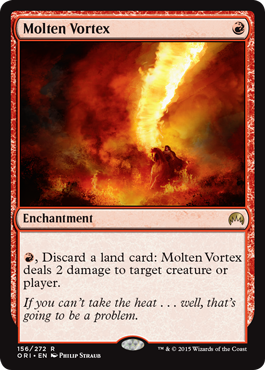 This card literally allows you to melt a piece of land and throw it at your enemies. Enough said.
6. Woodland Bellower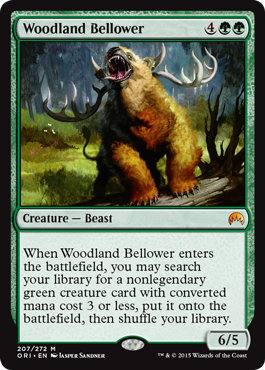 No, Joanna Newsom is not in Magic now. The art on this card is some kind of megagoofy bear with antlers who seems to spend most of its time screaming its damned head off in the middle of the woods. That's grand enough, but the moment you realize that it's hollering can allow you to contact a Sigiled Starfish to back the Bellower up is a grand one.
5. Meteorite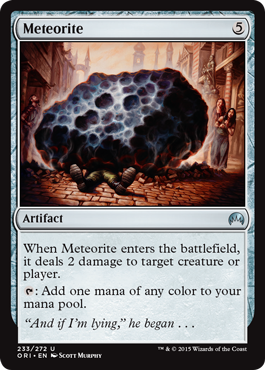 This card has the beauty of a Zen koan. It falls out of the sky and minorly squishes something, and then it begins to radiate magic. You could use it to finally get a Priest of the Blood Rite out of the way so you could have a real party with a flying demon, but that measly two damage would never be able to kill a Sigiled Starfish. The starfish would bask in the magical glow of the space rock.
4. Day's Undoing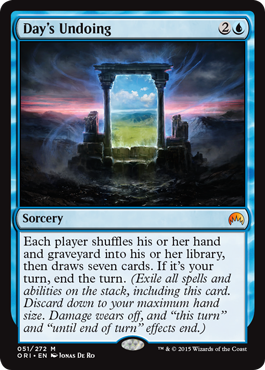 This card restarts most of the game, and it's basically a Back To The Future card in that the players stay the same but the world reverses to some kind of originary random state. You could also name this card Pissing Off Your Friends because that's definitely the only thing that's going to happen when you play it.
3. Demonic Pact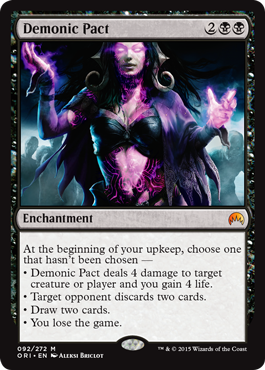 I'm a huge sucker for any card that has the potential to make its caster lose the game. The fiction of this card is even better. The demon is going to give you good things over and over again, but eventually it's going to sap your life and take your soul to wherever Planeswalkers go when they die. It's probably somewhere that exclusively plays Legacy format.
2. The Great Aurora
The aurora is a toned-down version of one of the best cards ever printed in Magic, Warp World. Where the warp allowed you to put all kinds of weird stuff in play, the aurora only lets you reset and change up your lands and cards, but both of them make for really strange games where each player is just shuffling the entire world into strange shapes. It feels good to play, and it's guaranteed to either make everyone laugh or make everyone scream in rage. It's the best kind of card.
1. Turn to Frog
Turn to Frog might be the best card ever printed in a Magic set. It's beautiful in its simplicity. Whatever a creature was, it's now a frog. It can punch a little. It can take a little damage. But, end of the day, it's just a blue frog. Watch the blue frog fight. Do not be afraid of the blue frog.
Cameron Kunzelman tweets at @ckunzelman and writes about games at thiscageisworms.com. His latest game, Epanalepsis, was released on May 21. It's available on Steam.