Godzilla Made Official Tourism Ambassador of Shinjuku, Tokyo with Opening of Godzilla Hotel
Geek
Video
godzilla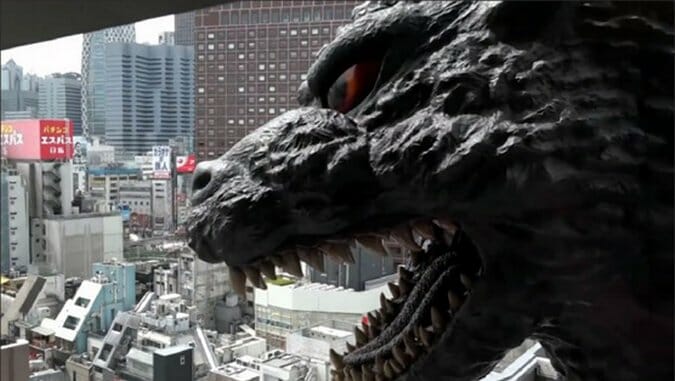 In Godzilla's stomping grounds in Shinjuku district in central Tokyo, a full-scale Godzilla head was unveiled 170 feet above the ground on Thursday. The monster was granted official residency and made tourism ambassador for the district.
Built alongside a hotel that will feature Godzilla view rooms and a themed suite, the 80-ton model of the monster's head is based on the 1992 Godzilla vs Mothra film directed by Koichi Kawata. The model roared and breathed smoke during the opening ceremony. Shinjuku Mayor Kenichi Yoshizumi presented the scaly beast with a special resident card for the district and the tourism promotion association pronounced him an official ambassador.
The 31-story Shinjuku Toho building will open the capital's biggest theater on April 17, with the high-rise Hotel Gracery above it opening April 24. Hotel Gracery hosts three themed rooms. Two are viewing rooms, which overlook the massive head of the King of Monsters that erupts from the roof of the theater, while the third is a Godzilla Room boasting its own statue, movie posters and a gigantic claw over the beds. The hotel also offers Godzilla-themed memorabilia and treats.
While the Godzilla room goes for a pricey $334 to $417 a night, depending on the date, the view rooms cost a more reasonable $125.
Toho is rebooting its' Godzilla franchise in Japan with filmmakers Hideaki Anno and Shinji Higuchi at the helm, with a release set for 2016.