New to Multi-Day Hiking? You Should Consider Iceland's Laugavegur Trail
Photos by Melanie Carden
Travel
Features
Iceland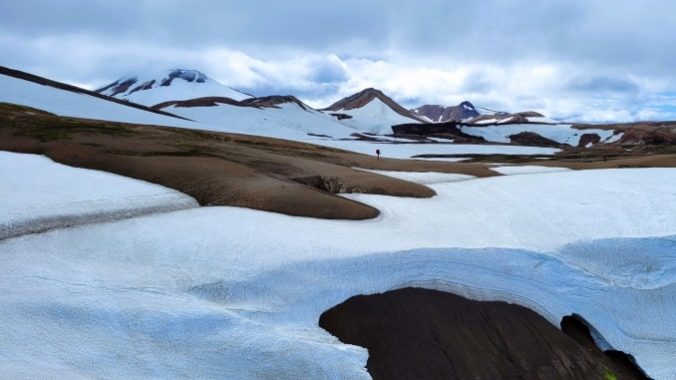 A boiling fumarole nearly scorched the flesh from my naïve, inquisitive fingers, but onward I hiked. I navigated 10 miles of volcanic landscape and then shoveled buttery campsite falafel into my mouth. All in all, a proper welcome to a gritty multi-day hike in the unforgiving realm that is the highlands of Iceland.
I'm here to report that if you're an experienced day-hiker looking to take it to the next level, Iceland's Laugavegur Trail should be on your shortlist for consideration.
No, I didn't slip on a glacier and bonk my head, rendering me obscenely incapable of making quality hiking trail suggestions. Laugavegur Trail's 34-mile trek through the unforgiving terrain of Iceland was, in fact, my first multi-day hike. And to answer the common question: no, I didn't do a guided trip.
My friend and I—both experienced hikers—decided it was time to up our hiking game. And truth be told, when an adrenaline-driven travel writer and adventure photographer decide to try something new, sometimes it gets a little weird—like tackling a world-renowned bucket-list trail as multi-day newbies. But here's the thing: Laugavegur is very doable and entirely life-changing.
The trail runs from Landmannalaugar to Thorsmork and usually opens in mid-June and remains accessible through mid-September. And although most of Iceland is not as treacherous as its name suggests, the highlands—where the trail is located—is notably gnarly. So much so it's a popular filming location when directors need otherworldly locations, as in Thor: The Dark World and HBO's Game of Thrones.
The weather changes quickly and is sometimes unforgiving, but it offers the chance to quench the soul's craving for untamed beauty. In just four days, we trekked through volcanic elevations, glaciers, waterfalls, and pebbly basalt deserts and stumbled upon areas riddled with fumaroles—holes in the earth, spewing boiling water and sulfuric gasses.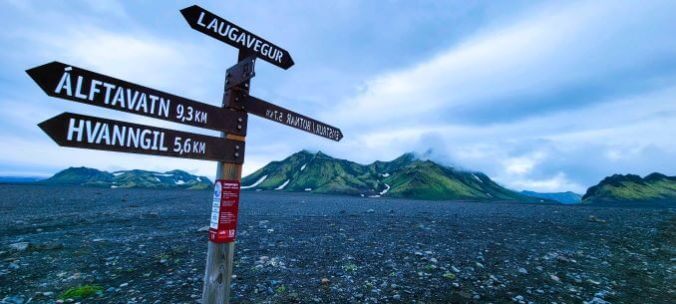 Since the weather fluctuates, there were periods of utter bliss and times when I just put one foot in front of the other while dreaming of the sugary, gluten-free faux-but-fabulous Pop Tart tucked away in my sack. But the daily mileage is, ultimately, moderate. Over four days, we banged out between seven and 10 miles per day, though the weather and traction slowed our usual pace. So from a technical standpoint, there's nothing too crazy, but with the weather and landscape changing quickly and dramatically, I found myself grateful for trekking poles and paid close attention to foot placement.
For example, when we started in Landmannalaugar, the trail was mostly clear. But shortly after, we encountered our first walk-through-size snow arch and fumaroles. Then—BAM—just endless stretches of barren, tough-on-the-hips snow fields. This squishy terrain, like running on sand, calls upon the lower body's hidden muscles for balance and momentum. But whatever momentum we had slowed to a snail's pace when a blinding fog rolled in. And although it was the only time that I felt nervous (borderline terror, if I'm being honest), it's also why I'm confident this is a great multi-day hike for first-timers.
I read about these blinding fogs and how, in 2004, a man named Ido Keinan died when he got caught in one. Sadly, he was a half mile from the Hrafntinnusker hut, but when the fog rolled in, he became disoriented—visibility nearly zero. Unfortunately, a storm was on the heels of that fog, and as close as he was to the safety of the hut, he perished.
We could see it coming at us, like some menacing Marvel movie smog wall, and then my hiking buddy—just a few feet behind me—disappeared from sight. Having read about the trail extensively before arriving, I knew to stay calm. I locked my eyes on a set of severely faded bootprints in the snow, and we kept chatting loudly.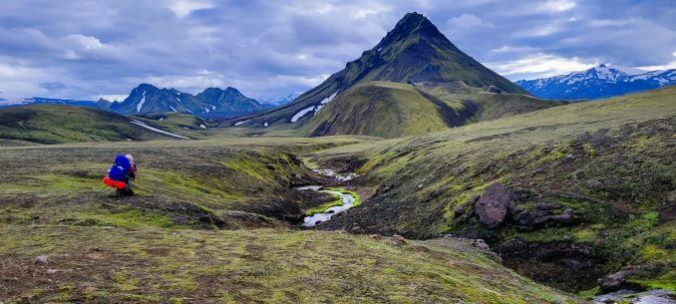 In the meantime, I made a mental list of the just-in-case supplies in my pack—a flare, the SOS feature on my Garmin, reflective emergency blankets, proper first-aid supplies, and more. Suddenly, in that brief, blinding fog, my once OCD-ishly overladen pack became a treasure trove of survival tools. And that was the moment.
It was then that I realized our chances of unrecoverable harm were nearly nil. Read that again—"unrecoverable harm." I'm not saying nothing difficult or unpleasant could happen, but rather, we were overly prepared. Which is to say, we were prepared—hard stop.
I took a wilderness first-aid course and had pages of research, navigational settings, maps, and insight—and even emailed trail experts. I read oodles of blogs and reviews regarding which navigation devices have the most reliable functionality along every inch of the 34 miles of trail. And I scoured the depths of the internet for trustworthy sources to answer essential questions.
What is the wind and water resistance rating of my hiking buddy's tent? Do I have sufficient layers, and is my emergency Ziploc bag—with a spare set of merino wool base layers—without compromise? Sure, maybe we hike through some sideways rain, but there are also a few river crossings. So, if all else fails and the rapids are too strong, and my bag goes in, I'll be okay.
Going into my first multi-day hike along the wild and majestic terrain of Iceland's highlands, I had a solid foundation of day-hiking experience. And when I combined that with earnest, robust preparation, I had what was needed to navigate the potential challenges.
Ultimately, Iceland's Laugavegur Trail is daunting but very doable for experienced day-hikers. If you're new to multi-day hikes, there are three key takeaways. First, do your research, of course. But once on the trail, put yourself in the middle of the pack. It's a popular trail and is only open a few months a year—meaning there's a steady stream of hikers. We just made sure to leave camp on the earlier side each morning; this ensured that there were always people ahead and behind us. So if we had a challenge, the odds were good that other hikers would be along sooner or later.
And lastly, make friends. The community of hikers on Laugavegur Trail—from around the world—are happy to chat and share resources. Plus, the hut wardens will crowd-source information from the trail family in the unlikely event of an accident. Mostly, though—it's the awesomeness of trading trail treats, like chocolate or nippers of booze.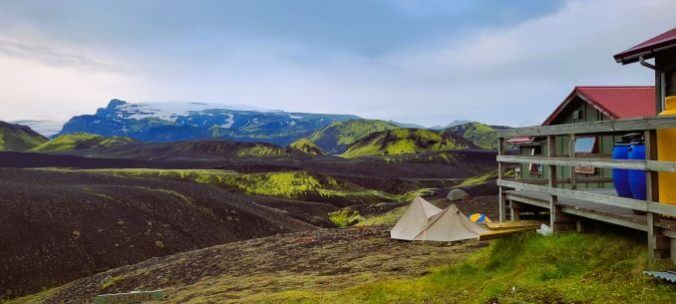 Kick-start Your Laugavegur Trail Planning
If you're down for the adventure of a lifetime, the first step is to do the research. We started with Ferðafélag Íslands (FÍ), which is the Iceland Touring Association, and added to that a deep pool of resources. From there, book a rental car as early as possible; they sell out fast. In terms of cheap car rental in Iceland, Lava Car Rental offers oodles of value and free coffee coupons; plus, the insider tips they gave us made us feel like locals. 
When it comes time to book the accommodations, Hotel Rangá—located close to Thormork, where the trail ends—somehow creates a near-dreamy balance of making you feel spoiled yet also like family. Plus, they have their very own stargazing observatory, making it an all-around, easy yes. Lastly, connect with the folks at Southcoast Adventures; they can help get you to and from the trail. But do yourself a favor: tack on a few days—plan a day of post-hike rest, then get in on one of Southcoast's ice cave tours. Iceland's wonders await, folks!
---
Melanie Carden is a Boston-based travel and lifestyle writer.