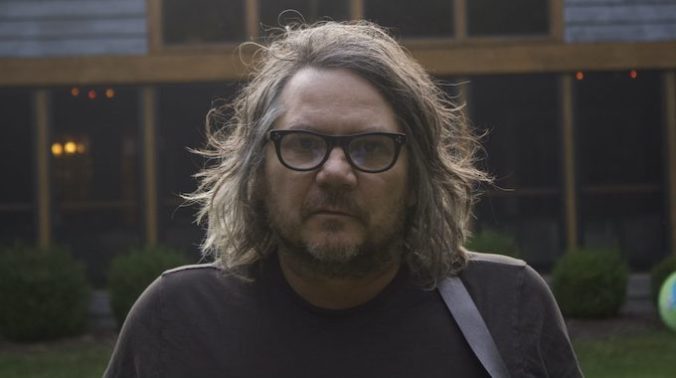 Jeff Tweedy has a lot going on in 2023.
That's not terribly unusual for the 55-year-old artist, but his schedule feels particularly packed this year. Toward the end of this month, he will join his Wilco bandmates for a run of shows — including a pair of multi-date residencies in Chicago and Port Chester, New York where the band promises to not repeat any songs. And this summer, the band will cross the pond for some European festival and theater gigs. In May, just as Tweedy is off playing a few solo shows, The Chicago Sessions, an album he produced for legendary country-folk singer-songwriter Rodney Crowell will be released.
Then towards the end of the year comes the release of Tweedy's third book, World Within a Song: Music That Changed My Life and Life That Changed My Music, a memoir filtered through the lens of different tunes. Capping off the year, he, his band and a bevy of their favorite artists like Makaya McCraven, Cate Le Bon and Built To Spill will head across the border into Mexico for another curated "concert adventure" dubbed Wilco's Sky Blue Sky.
Somewhere amid the planning and rehearsals and writing, Tweedy took some time to record an entry into the Audible Original series Words + Music where an artist talks about the inspiration behind some of their songs and plays stripped down versions of those same tunes. Tweedy's installment Please Tell My Brothers is an unusually intimate listen as he opens up about his relationships with his family members, his days in Uncle Tupelo, marriage and fatherhood and his struggle with drug addiction.
With all that fresh on his mind (minus the Sky Blue Sky announcement which happened after our chat), Tweedy spent a few minutes on the phone with Paste to dig a little further into his unique position in the music world, working with Crowell and laying it all on the line for all to hear.
Paste: Why did you want to participate in this Audible Original series?
Jeff Tweedy: I think it's an interesting way to present some stories around some songs. I have done a few audiobooks for my books. This seemed like kind of an extension of that idea. An intimate storytelling device.
Paste: The premise seems simple enough, but as you were going through it, did you surprise yourself with what you were willing to reveal as you were talking through some of these songs?
Jeff Tweedy: Yes and no. I've made it a habit in my life of being pretty open, or trying to be as open as possible. I don't have much energy for maintaining or curating a persona. My habit has been to just tell the truth. It's just simpler that way.
Paste: In some cases, it sounded like you were still figuring out what some of the lyrics were about, or at least not wanting to pin them to one inspiration or concept. Was that a matter of wanting to leave it for listeners to be able to make their own interpretation of your lyrics?
Jeff Tweedy: No. I mean, I definitely am happiest about songs when they're malleable enough to allow a listener to pour themselves into it — maintain their own kind of connection to its meaning. For myself, songs tend to evolve, to change. I tend to forget what the original intent was sometimes. And sometimes it comes back to me and it's clear. I feel like new connections get forged. New feelings attach themselves to songs from performing them for people and they generally stay in the same ballpark over a long period of time. Different lyrics hit you differently over time. I change too, you know?
Paste: In this, you talk a bit about the level of success that Wilco has achieved. A comfortable level of success where you can play multiple nights at one venue and they often all sell out. You're busy all the time. But is there any discomfort that creeps in? Does it put you on your heels at all to know that there are all these people here to see you perform?
Jeff Tweedy: No. I really feel more comfortable with what I get to do. I mean, there's no substitute for experience, and you know, as I get older, the more experience that I've had with my whole life playing in front of audiences. I think it would be a waste if I didn't get better at it somehow. And part of getting better at it is just allowing yourself to be present with the people that come to see you. I used to look at audiences as being somewhat adversarial when I was younger, like they were there to judge me. It's kind of silly, but, you know, there probably are a certain number of people in any audience that are there because somebody dragged them there. But they're not the ones you should be focusing on. It's pretty funny that you'd have to learn that over a long period of time, but I did. Now, it's a lot easier to remind myself that people are on my side or on the side of the music or on the side of the experience being something that we all enjoy. That's a big relief to get to that point.
Paste: Having gone through all of this for the better part of 30 years, has it made it easier to help your sons navigate their own journeys through the music industry?
Jeff Tweedy: Well, yeah. I mean, it's the one area of expertise I have. I don't really have solid advice to give them other than just trying to be empathetic and remember that I don't know a lot and I made it. I'm still here. It's all we can look forward to — getting to do something for a long period of time. I think when it comes to giving them advice, in terms of a career, I tend not to be particularly interested in supporting or not supporting that. I really spend a lot of time talking to them about how to maintain music as an important thing. It's too important to look at it as a career exclusively. My youngest son just played his first show. He's doing some experimental electronic music and he got a gig opening on a three-band bill. I told him, "The audience might not be there for you, but that's not your problem. Your job is to go up there and make things that you want to hear." I was able to simplify it for him a little bit and it felt really good as a parent to be able to do that. As far as whatever kind of business advice, I will answer those questions when they come up if they need me to, but I'm more concerned with music saying something that's beautiful and fulfilling and fun and poignant.
Paste: I wanted to ask a bit about the album coming out that you made with Rodney Crowell. How did that project come together?
Jeff Tweedy: I met Rodney Crowell on a cruise ship, believe it or not. We were both on the Cayamo Cruise, right at the beginning of the pandemic. We were on a boat together when all the news reports were starting to come in of cruise ships being quarantined. We got off the boat. We didn't get quarantined. But we met on the boat. Eventually, I got word that he was interested in me helping him make a record. It was fun. I was really excited to get to work with somebody a little bit outside of my normal community of people I work with. I don't do a lot of outside productions. So it was great.
Paste: Were you familiar with his work already?
Jeff Tweedy: I would say yeah. Probably when he was at the height of his popularity in terms of album sales was when I was working in record stores. So he was a part of the New Traditionalist stuff, which was much more interesting to me and my group of friends at that time. We were paying attention to him, for sure.
Paste: Working with someone like Rodney or working with other legacy artists like Mavis Staples and Richard Thompson, is it a challenge for you to think, "What can I bring to this project for an artist with decades of experience in their rearview mirror?"
Jeff Tweedy: I guess so. On one level, it's a challenge to earn your keep, but I think the thing that I'm most valuable for, and the reason maybe it works is that I'm pretty good at intuiting what they don't need. I really like it when they're able to make a record that you can hear them being in a room being Richard Thompson, being Rodney Crowell, being Mavis Staples and that's good enough. I think I'm good at intuiting what doesn't need to be done that will make something that's great even better.
Paste: When it comes to folks like Rodney Crowell and Richard Thompson, those are very celebrated songwriters. And you've written an entire book about writing songs. When you're working with them, did you learn something about songwriting — a trick of the trade or something else?
Jeff Tweedy: I'm sure. I don't know if I can put it into words, but every time you spend time with somebody who's that accomplished and has written that many great songs and spent that much time with other great songwriters you learn something. It's really kind of mind blowing to work through like, hard rhyming versus my tendency to not be that concerned with hard rhyming. Rodney's a real hard rhymer. It was a lesson in how Boudleaux Bryant would write. That's a real disciple. And, you know, he's right. When you can find the hard rhyme, it has a lot more music to it, and it's probably a little bit more powerful.
Paste: To that end, you've got a book coming out later this year that sounds really interesting. Was it fun to sit down and think about and write about songs that are important to you and that impacted your life?
Jeff Tweedy: It's all I think about anyway, so yeah, it was nice to write down some of my thoughts. This one isn't necessarily about songwriting. It's about how songs live with us and keep us company, and the randomness of a song being able to bring back the memory of your father. It's such a powerful medium for introspection and connection. I'm just trying to honor that part of it that gets put together in the listener's mind, not the intention of the writer. The world that emerges from putting a song out into the world and the countless different worlds that get created in the mind of the listeners. From my own perspective, it's what I'm mostly focused on. How different songs have become mine, that version of any given song that belongs to me exclusively because it's attached to my life, my experiences. That's a really fascinating thing. It's harder to carry around a painting in your head. It's harder to carry around a lot of other art forms.
Paste: Not to tip your hand at all, but are there going to be some songs in the book that might surprise some folks?
Jeff Tweedy: Hopefully. It's not like, "Here are the 50 best songs that I've ever heard and how they changed how I write songs." It's more like, "Here's a song that was a minor hit in 1978 that my dad listened to 45 times a night."
Paste: Looking at the concert calendar, you've got some pretty amazing shows coming up. You're doing some runs of shows with Wilco where you promise to not repeat any songs over three nights. That has to be pretty fulfilling to know that you have enough in your arsenal to be able to pull that off.
Jeff Tweedy: I think technically we could probably play about seven or eight shows, maybe even up to 10, without repeating anything if we were really gonna push ourselves to play everything that we've ever played or everything we've ever recorded. Three nights is great. Hopefully it'll be the cream of the crop.
Paste: Does that put any stress on the band to be ready to play certain songs or to be ready in case you want to throw one into the mix on any given night?
Jeff Tweedy: We're pretty ready to play almost anything. We don't throw stuff in that we haven't rehearsed. But I at least feel confident that we can play anything that we run through. Our general practice, even on shows when we're not doing no repeat nights, is to go through the setlist and find the one that everybody feels like we need to touch up or something. Usually before we play on any given night, we have a set up backstage where we practice and we practice right up until showtime. It's just the way we work.